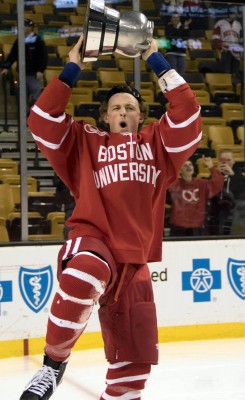 Star freshman center Jack Eichel, by his standards, had a quiet Beanpot Tournament for the No. 4 Boston University men's hockey team. He recorded just one point in the two games of the tournament — a secondary assist on the game-winning goal in Monday's championship game against Northeastern University at TD Garden.
But the Hobey Baker Memorial Award candidate hit a milestone with the point: the secondary assist was Eichel's 50th point of the season.
In overtime, Eichel won a puck battle along the boards and subsequently chipped the puck out to senior assistant captain Evan Rodrigues, who found junior captain Matt Grzelcyk to set up the winning goal for BU (20-6-5, 13-4-3 Hockey East) in the team's 4-3 victory.
The North Chelmsford native was one of 11 BU players to record a point in the two Beanpot games.
With 16 goals and 34 assists, Eichel is the first Terrier to score 50 points in a season since Colin Wilson (55 points) and Nick Bonino (50 points) did so as sophomores during the 2008-09 campaign. Eichel continues to lead the nation in points per game (1.67) and assists per game (1.13).
BU head coach David Quinn said following the game that Eichel's presence, whether he is on the scoresheet or not, is a beneficial factor in the team's success.
"Well, I think an underrated part of his game is the way he defends," Quinn said. "He's really strong on the puck. He ends a lot of plays … He draws the penalty. His speed is so intimidating to people when he starts getting that puck through the neutral zone, carrying it through the neutral zone. The other team is always aware of him."
Quinn also noted that Eichel's contagious attitude gives BU an advantage when it comes to preparing for games and staying motivated during games.
"He gives us a swagger — it's infectious," Quinn said. "One of the things about our team is we do have swagger to us, but it's a respected swagger. It's not like we think we're great. I think each player has a belief in himself, and then he looks around the locker room, and I think he's got a belief in everybody in the room … That's why we've been able to, so far, win games like we did tonight."