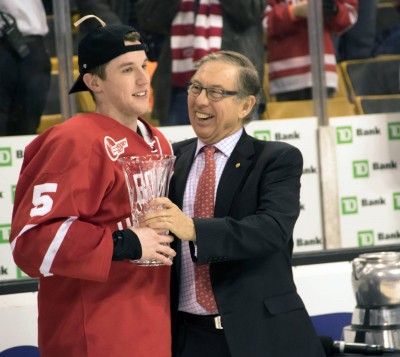 Reality still hadn't registered with Boston University men's hockey junior captain Matt Grzelcyk by the time he spoke with the media Monday night at TD Garden.
Less than 30 minutes had passed since the No. 4 Terriers (20-6-5, 13-4-3 Hockey East) clinched their first Beanpot title in six years with a 4-3 overtime triumph over Northeastern University, but Grzelcyk had yet to relish in the long-awaited tournament win.
Ever the focused leader of the Scarlet and White, BU's veteran blueliner, was still fixated on finishing what his team had already achieved.
"It still hasn't really set in," Grzelcyk said. "I was just talking to [senior assistant captain] Evan [Rodrigues] right before, it kind of feels like, 'Are we going out for the next period?'"
Grzlecyk's dedication to the game of hockey and his aptitude at leading his teammates out on the ice comes as no surprise to his fellow skaters or his coaches.
Nor did it come as much of a shock that the Charlestown native would be the one to carry his team to Beanpot glory.
Playing under the bright lights of the TD Garden and on the biggest stage of his collegiate career, Grzelcyk rose to the occasion, notching two goals — including the game-winning score in overtime — to spur the Terriers to a thrilling win over the Huskies (15-13-4, 10-8-2 Hockey East).
Grzelcyk's clutch tallies in the deciding tilt led to his appointment as tournament MVP, BU's first Beanpot MVP since then-sophomore forward Nick Bonino earned the same moniker during the 2008-09 season.
The junior first lit the lamp at 14:18 in the second period, blasting the puck past NU netminder Clay Witt by way of a slap shot to give the Terriers a 3-1 lead at the time.
With the Terriers and Huskies embroiled in a 3-3 draw at the end of regulation, Grzelcyk made the only shot of overtime count, uncorking a shot from just outside the left circle that sailed past Witt and into the Northeastern cage just 51 seconds into the extra frame to propel the Terriers to victory.
"Grizzy has been working on his shot an awful lot over the last two years, and I couldn't be happier for him," said BU head coach David Quinn. "His two goals were a direct result of an awful lot of hard work."
Just over a year removed from major shoulder surgery, Grzelcyk has been a spark plug for the Terriers on both offense and defense, orchestrating the top power-play unit in Hockey East (24.8 percent) while also leading a defenseman corps that has helped hold opponents to just 2.29 goals per game, good for fourth in the conference.
While his playmaking ability and his speed might serve as the first things that come to mind when dissecting Grzelcyk's game, he has quickly morphed himself into the Terrier's deadliest sniper from the point.
After being held without a goal through BU's first 23 games of the season, Grzelcyk has found the back of the net seven times over the past eight games, easily surpassing his previous season high of three goals that he achieved in both his freshman and sophomore campaigns.
His contributions to the stat sheet has paid dividends to the Terriers over the years — none more so than Monday night — but Quinn said Grzelcyk's true value to his team does not lie in his production out on the ice. Rather, it's the reverence that he seems to draw from everyone who interacts with him.
"Well, number one, he's a great player. He's not a great player by accident," Quinn said. "Like I referred to earlier, he's improved his shot dramatically because he spends a lot time working on it. But when you've got a guy who has been known for being an elite player for a long time, with that type of work ethic and his type of personality … He sets such a great example. He's as likeable as a kid as you meet.
"You add all of that up, and you get a guy that all his teammates have an awful lot of respect for, the coaching staff has an awful lot of respect for. The trainers, the equipment people, people around campus. That's what makes him a great leader."