It was a situation that they were all too familiar with.
Senior assistant captains Evan Rodrigues and Cason Hohmann were in the same spot as freshmen — overtime of the Beanpot title game with a chance to win the Boston University's 30th tournament championship.
That fateful February day in 2012, the Terriers did not win. They lost to rival Boston College with 6.4 seconds remaining in overtime.
Having gone through that experience, the two gathered after the third period this Monday and discussed what was at stake this time. They vowed that they wouldn't lose again. The championship would be theirs.
And in their last year donning the scarlet and white, BU's two senior forwards finally have a title to show for it.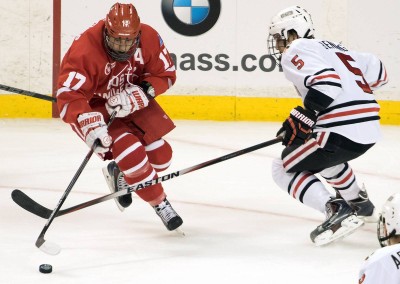 Rodrigues fed a pass over to junior captain Matt Grzelcyk, who wristed a shot past Northeastern University goaltender Clay Witt's blocker 51 seconds into overtime. This time, the championship was indeed theirs.
It was a long time coming, not only for BU's (20-6-5, 13-4-3 Hockey East) two senior assistant captains, but also for the men's hockey program as a whole. The weight has been lifted off the team's shoulders.
"We just told ourselves we weren't gonna lose," Rodrigues said. "BU hasn't won a Beanpot in way too long, and we weren't going out without a Beanpot in our career, and we told each other that we were gonna make it happen."
Watching his players throw their gloves in the air and smile wide with excitement gave head coach David Quinn much joy. Seeing the seniors hoist the tournament trophy was a tremendous feeling.
"Just to see the way these guys enjoyed the victory and how much it meant to them and how much they put into it," Quinn said. "I was just standing there watching them just feeling so good for our players, in particular our seniors because they've been through a lot."
A lot might actually be an understatement. Coming into this season, BU's senior class had never won a championship of any kind. They only boasted two wins at TD Garden. They held BU's longest Beanpot losing streak at five games. Individually, Hohmann and Rodrigues only had 19 and 14 points in the 2013-14 season, respectively.
The Terriers needed their fortunes to change. The seniors made it happen.
BU wouldn't have played in Monday's championship without its effort from its most veteran class in the semifinal against then-No. 6 Harvard University on Feb. 3. That day, much like this one, the seniors set the tone.
In the first period of that game, Rodrigues passed the puck cross-ice to Hohmann, who finished with BU's first goal of the game. Down a goal at the end of the second period, Hohmann was again in the middle of things. He fought hard down by the crease and let junior winger Ahti Oksanen do the rest to tie the game.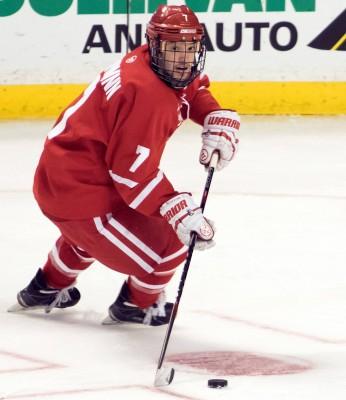 With Rodrigues' steal and subsequent assist on junior forward Danny O'Regan's game-winning goal in double-overtime, the seniors had combined for four total points in BU's first Beanpot win in three seasons.
They did not get four points this evening, but the two points they did contribute were just as important. Hohmann set up the Terriers' second goal of the game on the rush with a shot from the slot, creating a big rebound for sophomore center Robbie Baillargeon to finish into an open net a little over five minutes into the second period.
Even with the efforts of Rodrigues and Hohmann, the Terriers blew a two-goal, third-period lead. The intermission between the third and overtime periods gave the seniors ample time to regroup and get themselves and the team mentally prepared.
"No matter what it took," Rodrigues said, "we rallied the guys in the room, and we got it done."
Under a minute into the sudden-death period, they did get the win. Rodrigues corralled a loose puck along the right-wing boards and found Grzelcyk open for the winning goal.
It almost seemed too surreal for Rodrigues. It was a situation he was not all too familiar with.
"It was a huge relief just seeing that puck get through the guy, get through the defender and past the goalie," Rodrigues said."It's been great ever since."
Through many ups and downs in four years, the senior class got an elusive victory. Grzelcyk said the championship was special to the program, but also to a veteran group that persevered in difficult times.
"Our motto is definitely, 'We have nothing to lose.' Just kinda go out and lay it out there on the line for our seniors. I'm truly happy for these two," Grzelcyk said."They definitely worked hard and they deserve it, so I'm really happy right now."