[rawr]
[/rawr]
When Cason Hohmann was about 12 years old, he played in a hockey tournament where his team was the clear underdog. The opposing team was the tournament favorite — ranked first in their age division — and Hohmann's team was playing without its two best players, who had been suspended.
Somehow, Hohmann's team was able to force the game to overtime, only to be knocked out of the tournament thanks to a game-winner from a young Evan Rodrigues — now Hohmann's roommate and fellow senior assistant captain for the Boston University men's hockey team.
Hohmann recalls that moment, now from nearly a decade ago, with a look of pain on his face.
"[It was] probably the hardest I've ever taken a loss in my life," he says. "I was really emotional after that one."
His roommate laughs at the recollection, admitting that he used to joke about it with Hohmann, but he hesitates, then backtracks.
"It's something we don't really talk about anymore," Rodrigues says.
---
Ask anyone who knows Cason Hohmann well — his best friends, his father, his coaches, his teammates — and they'll all say the same thing. He hates losing.
You can even ask Hohmann himself.
"I'm really a big competitor," Hohmann said after a practice. "I always like to win every battle. I like to go out there and get in front of pucks and block shots for the team.
"I just like to think of myself as a winner. I hate losing."
He's this way in every aspect of his life: in the locker room, on the ice, even playing video games. It's an inherent character trait, one that defines him.
"He just has that inner chip that he always wants to win, no matter what it is."
"It's just a given skill, like being fast or being strong," said Chris Hohmann, Cason's father. "He just is very competitive and driven to win. That's just something that he always cares about. He works really hard, and he expects to do well with all that hard work."
Rodrigues, the only other senior on the Terrier squad, has seen that competitive nature more than anyone in the BU program, both on and off the ice.
"He's competitive about everything he does," Rodrigues said. "He just has that inner chip that he always wants to win, no matter what it is."
---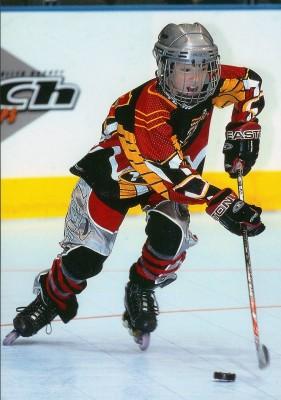 Cason Hohmann went the traditional Texas route sports-wise early, playing tee-ball, football, basketball and soccer. He was good at all of them.
He didn't start playing hockey in any form until he was 7 years old, when he started playing roller hockey. He practiced roller blading with his friend, Christian Frey, now a goaltender for Ohio State University's hockey team, at the high school tennis courts near Cason's home in Texas. They got kicked out a lot, Frey admitted.
Cason wasn't good at hockey. In fact, he was terrible, he said. There was no option but to get good at it. He had to be good, he told himself.
He started skating every day in his cul-de-sac. Eventually, he became so good at roller hockey that he took on ice hockey just before he turned 9 years old. He was a good goal-scorer in roller hockey, so there wasn't any reason why he couldn't score goals in ice hockey, too.
"His competitiveness, without a doubt, is his strongest personality trait," Frey said. "He never quits, and I think that's one thing that's got him to where he is now."
"He never quits, and I think that's one thing that's got him to where he is now."
Cason ended up unexpectedly trying out for an ice hockey team when he was just starting out ice-skating. There was a tryout being held right after open skate at the local rink, and his dad decided he could stick around for it. Cason tried out for the team in rental skates and his roller-hockey pants — he was referred to as "Roller Kid" — and he made the team.
All of it was the result of hard work. Hockey, once his worst sport, became his entire life.
"I was just so bad at this sport, and I was good at every other thing I've ever tried," Cason said. "There's no way I'm gonna be bad at this sport. And then I just worked. I'd never really worked hard at anything before in my life."
---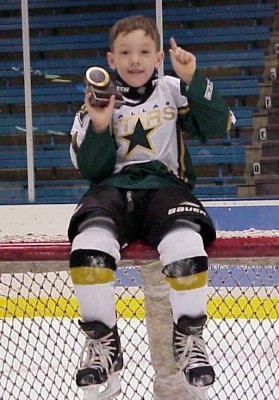 What Cason Hohmann lacks in size, he makes up for in passion and energy. He's listed at 5-foot-9, making him the second-shortest member of the Terriers. He says he views his size and strength as weaknesses, but that in turn makes up one of the best parts of his game: his stubborn hatred of losing, his dedication to hard work.
"Cason, because he's a tenacious player, because he never stops moving his feet, he works hard. His energy allows him to be the player he is," said BU associate head coach Steve Greeley. "For Cason to be effective, he has to be tenacious. He has to be relentless."
""It's something that gnaws at him."
Cason's passionate desire to win makes him a positive leader. With three younger siblings and two younger step-siblings, he's had a lot of practice. He's long encouraged his younger siblings, expected them to work hard and excel at what they do. That same sentiment translates to the guidance of his younger teammates.
His dedication to winning is contagious, his coaches and teammates say. He gets them motivated before games and keeps them motivated throughout the game. It doesn't matter if BU is up two goals, or down two goals. He wants to win more than anyone out there.
"You definitely see that," said BU head coach David Quinn. "It's something that gnaws at him."
---
For Cason, playing hockey at BU was a perfect fit. The culture fit his mentality perfectly, according to his father. BU was a place where hard work was an expectation, where success was the norm. Once Cason visited the campus and athletic facilities, he didn't want to go anywhere else. He wanted to play for a winning program.
In his four years at BU, Cason has a career total of 84 points on 27 goals and 57 assists. His most successful season to date was his 34-point sophomore campaign. He hit a slump and ran into injury during his junior year, a down year for the entire BU program, which mustered just a 10-21-4 record.
Until Monday, Hohmann's BU teams had yet to win any major trophy. But that isn't his style. He expects more.
"I think last year was not very fun coming to the rink every day," Cason said. "We haven't really won very much when I've been here. But I'm looking forward to winning a lot of things this season."
He's already helped BU win one thing: Its first Beanpot title since 2009, thanks to a goal and two assists from him during the tournament. This year, he's posted a total of six goals and 17 assists for the turnaround BU team, which has posted a record of 20-6-5 — already double its win total from last year with two regular season games remaining.
"He's a guy that works hard every day."
"He's done a better job of simplifying his game and not overthinking it," Quinn said. "Some of the goals he's been scoring have been at the net front, just simple goals. He's moving the puck better. He's a guy that works hard every day, and it's been paying off for him statistically."
In the waning weeks of his final regular season, Cason has played high-quality hockey. He nearly had a hat trick against the University of New Hampshire on Feb. 13 — he came within inches of a third goal on an empty net — but settled for a pair of goals and an assist instead. Nine of his points this season have come over the span of the past month.
Right now, Cason is playing the best hockey of his career, his coaches say. And if there's a good time to be hot, Greeley said, it's most certainly right now.
---
Cason Hohmann, in that tournament as a 12-year-old, estimates he came off the ice three total times during the matchup against Rodrigues' team. He had played all of overtime — about nine minutes elapsed — before Rodrigues scored. That made it sting that much more.
Cason has found himself on a number of shorthanded teams throughout his hockey career. He's found himself in a number of tough situations at every level of hockey. He's found himself injured, in scoring slumps, on losing teams.
But it doesn't matter how tough the situation is. Cason doesn't settle. He wants to be a winner. That's what he's always worked to be, and what he expects to be, even if the odds are against him.
One time, when he was young, he played on a team with just eight members, against, again, a much better team. Cason played nearly the entire game, his father recalls, and scored nine total goals, including the game-winner with a few seconds remaining.
"Just looking at him," Chris said, "he wanted that game more than anything."