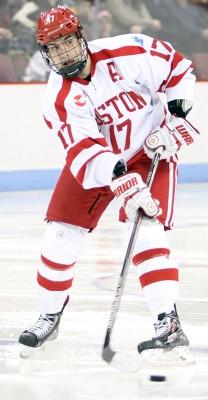 Sole possession of the Hockey East regular-season crown will have to go unclaimed for yet another day.
Buoyed from goals off the sticks of six different skaters, Northeastern University held off the No. 4 Boston University men's hockey team, 6-5, in a dogfight tilt Friday night at Agganis Arena.
With the loss, the Terriers (20-7-5, 13-5-3 Hockey East) will need to earn a win or tie against the Huskies (16-13-4, 11-8-2 Hockey East) tomorrow in order to control their own destiny when it comes to securing outright possession of the conference regular-season title.
Northeastern's trouncing against the Terriers might serve as fitting retort in wake of BU's Beanpot win over the Huskies Monday night, but for BU head coach David Quinn, his team's poor play on the ice simply highlights a "disturbing" trend of unacceptable performances that have been plaguing the team as of late
BU has only been able to muster one win in its last five games — its last conference win coming on Feb. 13 against the University of New Hampshire.
"This game was going to be about which team handled Monday night better," said BU head coach David Quinn. "Were we going to handle winning the Beanpot better than they did having a tough loss. It was obvious they did a much better job handling Monday night's game than we did."
Quinn continued: "I want to be respectful to [Northeastern] and their effort, but that's about as bad as we've played all year. We showed some spurts, obviously our power play gave us a chance tonight, but the better team won tonight, without question."
Not only did Northeastern's win soil BU's annual Senior Night ceremonies, it also overshadowed a hat-trick performance from senior assistant captain Evan Rodrigues — his second three-goal game of the 2014-15 season.
In a game marked with erratic goal spurts, the Huskies cashed in twice, netting three straight scores in both the first and second period to build up a lead that they would not relinquish.
Northeastern's offensive onslaught proved to be too much for BU starting goaltender Matt O'Connor, who was pulled from the game after Huskies winger Dylan Sikura potted in his team's fifth tally on the night at 9:11 in the second frame.
O'Connor recorded 25 saves in the loss, while his replacement — freshman Connor LaCouvee — compiled nine stops in 28 minutes of play.
BU could do little in terms of mustering offense against NU goaltender Clay Witt over the first 10 minutes of the first, with the Huskies outshooting the Terriers by a 13-2 margin during that stretch. Witt, the unlucky loser in Monday's Beanpot loss, compiled 24 saves in the victory.
Northeastern's suffocating presence in BU's zone eventually paid dividends, with the Huskies netting three goals over a span of less than two minutes.
At 14:17 in the opening frame, Huskies defenseman Dustin Darou fired a shot from the point that was tipped by forward Mike Szmatula into the BU net to hand Northeastern a 1-0 lead.
The Huskies were gifted with a power-play bid just seconds after Szmatula's strike and once again capitalized, as forward Kevin Roy bested BU junior netminder Matt O'Connor at 15:40 to make it 2-0.
Left winger Nolan Stevens capped Northeastern's flurry of goals just 23 seconds later, deflecting another Roy wrister into BU's cage to extend the Huskies' lead to three.
"It's unacceptable," Quinn said. "You can't go down 3-0, and in the fashion that we did, I mean, it was just — the zone time that they had was just unacceptable," Quinn said. "You gotta defend with your legs. You can't lunge and lean and shadow people, you got to end the play, and we did none of that tonight."
As the opening period drew to a close, the Terriers finally found life, scoring a pair of goals over the last 1:15 of the frame.
Sophomore forward Nick Roberto lit the lamp at 18:45, while Rodrigues set a new career high with his 15th tally of the season at 19:21.
After collecting the puck near the right circle, freshman center Jack Eichel careened the puck to an advancing Rodrigues, who fired the puck into NU netting to make it a one-goal game.
Any momentum gained from BU's strong play at the end of the first was quickly negated once the following period commenced.
Once again, the Huskies erupted for a trio of tallies, chasing O'Connor from the game and handing the Terriers a 6-2 disadvantage in the waning moments of the second.
Rodrigues chipped in his second score of the game with 54 seconds left on the clock, but the Terriers still skated into second intermission on the losing side of a 6-3 score.
Junior forward Ahti Oksanen's 20th goal of the season cut into Northeastern's cushion just 39 seconds into the third, but a slap-shot score from freshman defenseman Brien Diffley at 8:41 was later waved off by officials after a BU skater was whistled for being in the crease.
BU's next bid on net would not be denied, as Rodrigues snapped the puck past Witt with just about five minutes left to complete the hat trick and bring the Terriers within one goal.
The Terriers pulled LaCouvee in favor of an extra skater over the final two minutes of play, but could not push the puck past Witt and the Huskies — who skated off the Agganis Arena ice with two points in hand.
Quinn noted multitude of negative takeaways following Friday's game, but the one that seemed to resonate the most with him was his team's physical mentality after the whistle. For Quinn, the attitude of his players during between stretches of play factors little into the team's success out on the ice. He would rather see it during the game itself.
"This is a man's game, and we better be ready to play like men tomorrow night, and I don't mean like acting like Joe Tough Guy after the whistle and pushing and shoving," Quinn said. "I'm talking about taking a hit, I'm talking about 50-50 pucks, having an attitude … That's hockey, and we didn't have enough of that tonight.
"They [Northeastern] did."