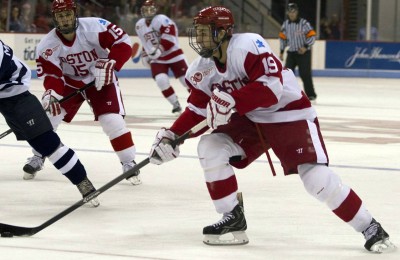 To start the 2010-11 season, the Boston University men's hockey team traveled to the Scottrade Center in St. Louis for the Warrior College Hockey Ice Breaker. At the end of the two-game tournament, the Terriers were crowned champions. At the moment, it was just another win in a long list of victories for a storied program.
But up until Monday night, this was the last championship of any kind that the men's hockey program could boast. No national championships, no Beanpot trophies, no conference titles.
The Terriers (20-6-5, 13-4-3 Hockey East) have a chance to change all that this weekend as they have a chance to not only to win one, but two titles in a five-day span.
BU took home its 30th Beanpot title on Monday night after a thrilling 4-3 overtime win over Northeastern University at TD Garden. And this weekend against the same Northeastern (15-13-4, 10-8-2 Hockey East) squad, the Terriers have their eyes set on securing another prize — the Hockey East regular season crown.
Monday's title was indeed an achievement, but this BU team is looking toward what's ahead and not what's in the recent past. There's more to accomplish in the coming days.
"I think we've been a focused group," said BU head coach David Quinn. "We've done a nice job not getting distracted. Obviously, we haven't faced a distraction of this magnitude up to this point, but I think we're past the Beanpot. It was nice. It was a great win, it was a fun win in a championship, but we can win another one [Friday] night, so we need to take advantage of it."
For a group that has 10 freshmen on its roster, getting veterans to step up down the stretch will be crucial for the Terriers. Junior captain Matt Grzelcyk has filled that role.
In BU's win over Northeastern, the Charlestown native netted two goals, including the game-winner, 51 seconds into overtime. Held scoreless in the first 23 games this season, Grzelcyk has now scored seven goals in his last eight games. Although the season is not yet finished, his goal total this season is now higher than his first two seasons combined (6 goals).
Grzelcyk hasn't changed a tremendous amount to his offensive game, but Quinn said the bounces, which once seemed to be going against him, are now in his favor.
"I think it's a little bit of puck luck, and I think it's a guy who is more confident in his shot and playing with good players and making good decisions and getting the puck off quickly," Quinn said. "All that adds up to scoring goals. But he's certainly going through a great streak right now, so hopefully he keeps it going."
Getting offensive production from the blue line has aided the Terriers, but having another source of scoring from the forward corps is another nice asset to have. Sophomore center Robbie Baillargeon, who was in the midst of his own scoring funk, tallied BU's second goal Monday night. It was a long time coming for him, as it was his first time scoring since opening night October 2014 at the University of Massachusetts Amherst.
After battling mononucleosis for much of the first half of the season, Baillargeon appears to be back in the form he displayed his freshman year. He's been a point-per-game player through his last nine contests.
"We need him [Baillargeon] to be productive offensively," Quinn said. "In order for him to do that, he needs to have all the physicality to his game and play at a pace. And I thought he did that the other night. And when he does that, he's a very effective player."
Whether it's Baillargeon or the top line, BU will need to keep up its scoring pace to top a resurgent Northeastern team this weekend. Although the Huskies fell in the Beanpot final, it was not without great effort.
Northeastern overcame a two-goal deficit halfway through the third period and forced overtime. And for extended periods of time Monday, the Huskies dominated the flow and possession of the game.
"They played well," Quinn said about the Huskies. "I thought they played at a great pace. I thought they were physical."
The Huskies battled through a 0-8-1 start to the year, but have since won 15 games and are 10-3-3 in 2015. Thanks in part to junior Kevin Roy's 40 points in 31 games, Northeastern has one of the top offenses in the league and the No. 2 power play unit (20.7 percent) in Hockey East. Over their last nine games, the Huskies have averaged 4.67 goals per game, which includes four games with five or more goals.
With another trophy on the line against a now-familiar opponent, the strategy for Quinn this weekend is simple — clean up the mistakes.
"After watching the [Beanpot] game, I didn't love our game," he said. "We're going to have to play a lot better tomorrow night if we're going to have a chance to win."