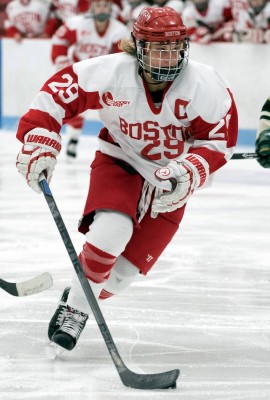 The No. 7 Boston University women's hockey team will begin a Hockey East quarterfinal series this weekend when it hosts the University of Vermont at Walter Brown Arena.
This 2014-15 season marks the first season that the quarterfinal round of the conference tournament is a best-of-three series. Game 1 will be Friday, with puck drop scheduled for 5 p.m. Saturday's Game 2 is slated for 3 p.m., and Sunday's game, if necessary, will begin at the same time. BU (21-8-3, 15-5-1 Hockey East) is the second seed in the tournament, while Vermont (15-17-2, 6-14-1 Hockey East) is the seventh seed, earning the Terriers home ice advantage.
"It's a testament to what you've done through the course of the season," Durocher said. "You've gotten your share of wins, and now you're in familiar grounds and a familiar place."
The Terriers took the regular season series against the Catamounts 2-1, including a 9-2 win in the last meeting on Jan. 25. Freshmen forwards Victoria Bach and Rebecca Leslie each scored twice in the game, while freshman goaltender Mia Becker made her first collegiate appearance in relief of Hanson.
That game came right on the heels of a 2-0 loss to Vermont the previous day. Catamount juniors Gina Repaci and Dayna Colang netted goals, and sophomore Madison Litchfield recorded the 39-save shutout for the victory. BU also notched a 4-1 win in Burlington earlier in the year, with junior forward Sarah Lefort leading the charge with two goals in that contest.
"It's going to be a good battle here for two, or three games, if necessary," Durocher said. "We've got to make sure that nobody is looking at the small picture of what happened the last game. It's going to be our job to just take it one shift at a time and make sure we're ready and respect our opponent."
Vermont features a balanced scoring attack at the top of their lineup. Colang leads the team in goals (18) and points (31), but seniors Amanda Pelkey and Brittany Zuback are not far behind in the point column. Litchfield has started in goal in 26 games for the Catamounts, recording a 12-13-2 record, 2.79 goals against average, .901 save percentage and three shutouts on the year.
"[Colang] has had a real good year this year," Durocher said. "Brittany Zuback and certainly Amanda Pelkey are a couple of the others that are very recognized players on that team. If I was picking one, [Pelkey] is probably the most talented kid on their team, but maybe this was a year where she hasn't had as much success as in past years. But on any given day or any given weekend, she's a serious threat, and we're going to have to keep an eye on her, as well as [Colang] and [Zuback]."
The Catamounts are coming off a weekend sweep of Providence that moved them into seventh position in the conference. Vermont edged the Friars (6-23-4, 5-15-1 Hockey East) 3-2 in both contests, with Pelkey and sophomore Bridget Baker each scoring in both games.
"We'll want to do a little studying on what they've been doing and what's gotten them some success," Durocher said. "The best way to deal with that is to not take too many penalties, so if we can keep our focus there, certainly it will help us playing five-on-five hockey."
Lefort and senior captain Marie-Philip Poulin, who was named a top-10 finalist for the Patty Kazmaier Award on Thursday, continue to pace the Terriers, and along with linemate and junior assistant captain Kayla Tutino, account for 114 of the team's 294 points this season. The goaltending tandem of Hanson and freshman Erin O'Neil have played strong in net for BU as well, posting a combined 2.48 goals against average and .904 save percentage.
BU also finished its regular season with a strong effort on Saturday afternoon, earning a point in a 2-2 tie with No. 1 Boston College. Fresh off a 5-0 loss to those very same Eagles (30-1-2, 20-0-1 Hockey East) in Chestnut Hill on Feb. 19, sophomores Maddie Elia and Samantha Sutherland scored for the Terriers in the tie. Hanson made 34 saves for the draw, including a breakaway stop on the nation's leading goal scorer, Alex Carpenter, with under 20 seconds remaining in regulation. The game was an important rebound for BU, and Durocher hopes they can carry that momentum into the postseason.
"Everybody is feeling good about themselves," Durocher said. "We let the second period get away for a little while, but overtime and the first and third periods were pretty solid games. Victoria Hanson played extremely well, so let's hope that carries a little momentum as we go forward."