Evan Rodrigues would've rather had the win. The senior assistant captain for the No. 4 Boston University men's hockey team had a brilliant game on Friday, recording his second hat trick of the season in BU's comeback attempt against Northeastern University at Agganis Arena.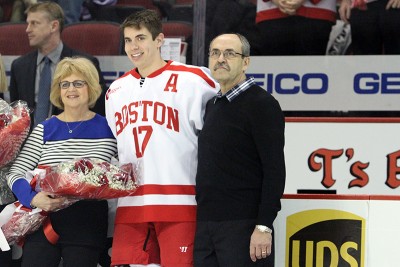 A win or tie would've clinched the regular-season Hockey East title outright for the Terriers — on Senior Night, no less. Instead, BU (20-7-5, 13-5-3 Hockey East) fell 6-5, and now must win or tie on Saturday at Northeastern (16-13-4, 11-8-2 Hockey East) for control of its postseason seeding.
And because of that, Rodrigues' hat trick didn't matter to him.
"It's obviously nice to do that," he said, "but a win and clinching Hockey East would've been a lot better than that. We have one more shot now, and we have to start getting ready to get it done."
Rodrigues was joined by his parents, Christine and Norbert, in the Senior Night ceremony prior to the game. The ceremony also recognized senior assistant captain Cason Hohmann, graduate student goaltender Anthony Moccia, transfer redshirt junior forward/defenseman J.D. Carrabino and team managers Brittany Miller and Ken Sumsky.
BU's second-leading scorer, Rodrigues, was the only person recognized at the ceremony to tally a point on the night — though he and Hohmann were the only ones to record playing time.
Rodrigues set a new career high in goals in a season with his first tally — his 15th goal of the season. With BU on the power play, Rodrigues collected the puck from freshman center Jack Eichel, and subsequently shot it past Northeastern goaltender Clay Witt from the right circle with 40 seconds remaining in the first period.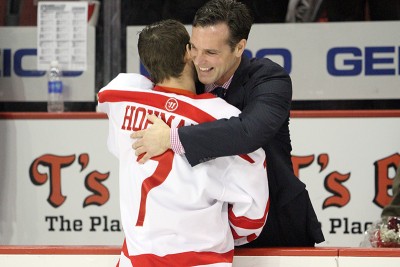 He then added to that new career high by chipping in a loose puck near the netfront with 54 seconds left in the second period. His third goal came on a laser from the top of the right circle with 5:33 left in the third, bringing BU within a score of 6-5.
But even Rodrigues' efforts couldn't give BU the victory on Friday — a 6-2 deficit accumulated by the halfway point of the second period was too much to overcome.
"Frustrating playing the way we did on Senior Night," said BU coach David Quinn. "We've got to make sure that we take care of business on our side of the street, and we didn't do that tonight, that's for sure."
Rodrigues is the only Terrier to have two hat tricks this season. His other came against then-No. 11/12 University of Massachusetts Lowell on Feb. 6. He ranks second in the nation behind Eichel in total points, with 47 on the year.
But Rodrigues reiterated several times postgame that he's more concerned about the team's success as a whole.
"We haven't played BU hockey in a while, we have spurts of it throughout games, but we haven't had a full 60-minute effort in what feels like a while here," Rodrigues said. "We've got to start focusing up, and start getting prepared right now because we have to be better than that. Playoff season's coming around the corner, and it's unacceptable."
Rodrigues added: "We have to do better than that."