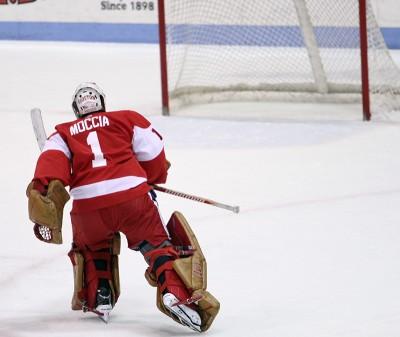 Graduate student goaltender Anthony Moccia didn't have much to say about his game following No. 4 Boston University's 6-1 win over Northeastern University Saturday night at Matthews Arena.
Despite earning his first regular-season appearance of the 2014-15 campaign, the long-time BU backstop chose not to focus on individual accomplishments.
Ever the team-first player, Moccia instead focused on the Terriers' (21-7-5, 14-5-3 Hockey East) conference-clinching victory over the Huskies (16-14-4, 12-8-2 Hockey East).
"First place in the league, second title in one week. Whether I play or not, it was a great night," Moccia said. "It was a great bounce back from last night. I'm just proud of my team. That's all I got for you guys."
The Medford native played the final 3:17 of Saturday's contest, signifying just the third regular-season nod of his collegiate career. Moccia earned just six minutes of ice time in his two previous regular-season appearances — both occurring during the 2013-14 season.
The outcome of Saturday's game was all but sealed by the time Quinn replaced junior goaltender Matt O'Connor with Moccia — the Terriers had mustered a five-score lead over Northeastern with 3:19 left on the clock — but the situation mattered little to Quinn.
"It's awesome. He's special person, I'll tell you that," Quinn said. "I wish he had five more years."
It's been a theme that Quinn has reiterated throughout the year whenever talk of BU's third-string netminder surfaces. While playing time has been a scarce occurrence for Moccia during his tenure with the Terriers, he has always impressed his teammates and coaches with his dedication to his craft and his ability to support his fellow players despite seeing little ice time as a result.
Moccia manned the Terriers' crease for the waning minutes of the game, attempting to keep a buzzing Huskies offense from salving the tilt with a last-second tally.
The Buckingham Browne and Nichols product did not notch a save in his appearance — and NU defenseman Dax Lauwers pinged a puck off the crossbar during a scrum near the net — but Moccia and the Terriers held on, closing out their regular season with an impressive win over one of the hottest teams in the nation.
Just a year removed from a ninth-place finish in Hockey East, BU clinched an outright possession of the conference regular-season crown with its win over Northeastern — signifying another achievement notched during an impressive turnaround campaign for the scarlet and white.
"Wow," Moccia exclaimed. "It's an absolute blessing to be back here for my fifth year. Wow. We've all spring, all summer, all fall. Worked every day to get into this position and now we're here. That's what hard work gets in. It's great."
With the Hockey East regular-season title now in hand, the Terriers now hold the top seed in the Hockey East tournament and will earn a bye before resuming play in the conference quarterfinals from March 13 to 15.
For Moccia, the biggest key to continued success in the postseason lies in the Terriers continuing what has worked for them all season long: grinding out results.
"Keep working hard," Moccia said. "Keep doing exactly what we've been doing to get us to this point. Just keep that going."
In the midst of what could have been a stressful evening of bracket watching and seeding rigmarole, finding a window to put Moccia out on the Matthews Arena ice could have proved to be a difficult task for Quinn.
When did BU's bench boss weigh the option of putting his steadfast goalie into the game?
"When we got into the building," Quinn acknowledged.