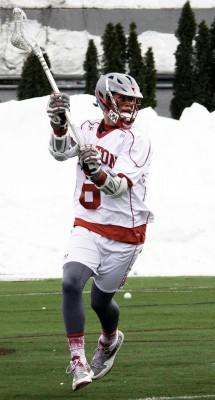 Following two frustrating losses, the Boston University men's lacrosse team got back on the winning track Saturday afternoon with a convincing 15-7 non-conference win at the University of Vermont.
With the victory, the Terriers (3-2, 0-1 Patriot League) surpassed their win total from their inaugural 2014 season. Nine BU players tallied goals on the afternoon, with freshman attack Jack Wilson and sophomore Cal Dearth each garnering a program-record seven points.
The Catamounts (0-4) took an early lead after they won the opening faceoff, and midfielder Matt Gudas scored less than two minutes into the game. BU was quick to respond though, as the Terriers corralled the subsequent faceoff and Dearth fed the ball to sophomore midfielder Sam Talkow to knot things up at the 13:06 mark of the quarter. Each team would tally another goal, and the score remained tied 2-2 at the end of the opening 15 minutes of play.
Midfielder Karl Weller scored at the 10:30 mark of the second frame to once again give the Catamounts a one-goal advantage, but the Terriers owned the quarter as they strung together six unanswered goals, including two from Wilson, to take an 8-3 lead into halftime.
Sophomore goalkeeper Christian Carson-Banister made four of his season-high 14 saves in the quarter, and the Terrier defense went 6-of-8 on clear attempts and forced five turnovers to help keep the Catamounts at bay.
In the opening minutes of the third, Vermont cut the deficit to 8-4 on a strike from junior James Barlow. The Terriers then regained control of the game as a man-down goal from Wilson at the 10:03 mark kickstarted a four-goal run for the Terriers to end the quarter.
After the Catamounts scored twice to cut the BU lead to six with 13:09 remaining in the game, Wilson singlehandedly quelled any further comeback attempts as he tallied three straight goals to help the Terriers cruise to a 15-7 win.
Perhaps the most encouraging part of BU's victory was the strong return of sophomore attack Pat Myers. Myers recorded 15 points in six games in 2014 before he was sidelined for the remainder of the Terriers' inaugural season and the opening four games of the 2015 season due to injury. In his first game back in the scarlet and white Saturday, Myers came off the bench and tallied an assist and a shot.
The Terriers will conclude their four-game road trip when they visit Patriot League foe Colgate University Saturday afternoon. The Terriers will be looking to avenge a 7-5 loss to the Raiders on March 8, 2014, in which then-freshman attack Ryan Johnston scored all five goals.