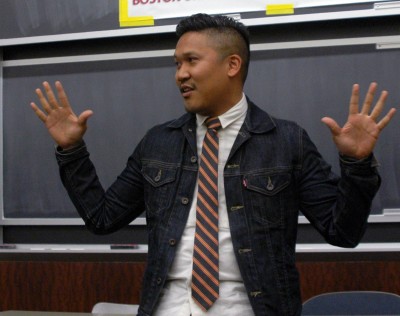 The Boston University Filipino Student Association hosted Dante Basco as their guest lecturer on Friday, opening a forum to talk about the intersection of culture and art.
Basco, a Filipino-American actor, spoke about the difficulty of being an Asian-American artist and whether or not that difficulty will always exist.
Growing up in California as one of four siblings, Basco said family has always been a priority for him.
"My dad was a telephone man and my mom stayed at home … Family is important to me," he said.
Keeping with his emphasis on family, Basco would later star in "The Debut" with all of his siblings.
"'The Debut' was the first role I ever got where I played a Filipino. It made an impact on me," he said. "It was amazing, even though I still played a whitewashed Filipino."
Basco's experiences with Asian culture in television are not a rarity. In early 2014, an episode of "How I Met Your Mother" received backlash after its portrayal of characters in "yellow-face," or made up to appear Asian, spawning the hashtag #HowIMetYourRacism.
"A lot of times, if you saw an Asian person, it wouldn't be the main character. It would be someone owning an Asian grocery store, or a little old Asian man screaming at you on the street in Chinese," said Trisha Serquiña, vice president of BUFSA. "They were never really portrayed as leading characters."
Basco's career, on the other hand, has seen something of a departure from those stays. His most renowned roles are Rufio in "Hook," Zuko in "Avatar: The Last Airbender" and Jake Long in "American Dragon: Jake Long."
"When I got the script for 'Avatar,' I knew immediately it was Asian … that it was like anime. I had no clue 'Avatar' would become so huge," Basco said.
Serquina said many of Basco's roles, including his role as Rufio, have been ground-breaking in their own ways.
"He is Asian-American, but he's been able to play a lot of non-traditional, non-stereotypical Asian-American roles," Serquina said. "He was playing these roles, showing people, 'Hey, I'm not a white actor, but I can still be a strong leader, and I can do all of this.'"
Basco attributed some of his success to his ability to portray emotion and play vulnerable characters.
"I'm comfortable with being vulnerable," he said. "I know what that is. It's good that when I read my poems, I can tap into those moments when I first wrote the poem. Sadness, vulnerability, heartbreak."
On the other hand, Serquina said, the industry has also been shifting, which is another potential key to Basco's success.
"I think culture nowadays is more accepting towards things that are different," she said. "Maybe it's the Internet. Maybe it's social media, but I think it's more accepting of multiculturalism now."
Serquina and Basco both said "Fresh Off the Boat", a new ABC sitcom that follows a Taiwanese-American family during the 1990s, is another recent example of multiculturalism in pop culture.
"They're friends of mine. I'm super happy for him [series star Randall Park]. We did a film together. We auditioned against each other for years," Basco said. "Everyone should watch it because it's really good. We need to see our faces on television."
In pursuit of increasing Asian American prominence in television and other media, Basco said, he and other Asian-American artists founded a production company, Kinetic Films, aiming to create exactly the kind of roles they want to see in the industry. In the meantime, Serquina said, culture will try to pick up the slack.
"People are taking the steps towards it," she said. "Once again, it's one big step that we need to make in order to keep making those steps."