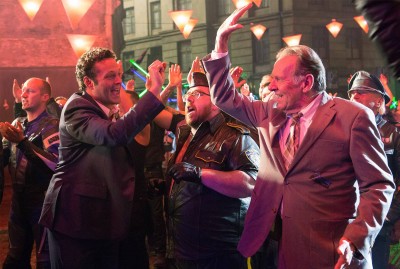 Though Bostonians everywhere are complaining about the record-breaking snow and brutal winter temperatures, for Vince Vaughn, filming a movie in Boston in the dead of winter felt like a warm summer day.
In "Unfinished Business," which hits theaters Friday, the cold-weathered Chicago native plays Dan Trunkman, a small business owner traveling to Europe with his business associates — played by Dave Franco and Tom Wilkinson — to sign on a career-defining deal. Unsurprisingly, the ordinary turns extraordinary, transforming the trip into an adventure of spontaneous decisions, sexual escapades and adult comedy.
The maturity of the humor, in fact, is what turned Vaughn on to the movie. Recently, Vaughn said, he's found himself acting in a series of PG-13 movies, most of which weren't intended to receive that rating but were pushed that way by the studio. With an R rating, "Unfinished Business" planned to deal with the storylines in a more adult tone, which attracted Vaughn to the characters.
"What I liked about this was that they were going to deal with it with adult language and tone and situation, and so for me, the concept of guys going on a business trip, the relatability of the family and the interplay of the guys seemed exciting," Vaughn told The Daily Free Press in a video chat conference call.
Having experience in the acting, writing and producing sides of film, Vaughn said there's always something exciting about an original idea, such was the case with the "Unfinished Business" screenplay.
"Nowadays, there is in the marketplace a real kind of sense that you have to have a big ID or kind of a franchise in order to cut through in the movie theaters, and I think that the fault of that is a lot of the character stuff or people-specific stories go by the wayside," he said. "Personally, I like original, character-based stories."
In preparing for his "Unfinished Business" character, Vaughn said he used the same foundation he does for all parts: finding a level of relatability with the character. Ultimately, he said, the best tool actors and actresses can use is their imagination, learning to prepare for the role through developing an understanding of the person in the script.
"There's always more than one way to the waterfall," he said. "Everyone has their own process in anything in life. What's fun is, when you work with someone, trying to complement them, trying to figure out how you work together. The good news on this one is Dave Franco is hilarious … and he's also really easy and fun to be around, and Tom Wilkinson's a great actor, so both those guys were really easy to do it with. They made me laugh everyday, and we had a good time."
Nick Frost, who plays Bill Whilmsley, one of the men involved in the business deal, also emphasized the fun had on and off set with the variety of actors and actresses in "Unfinished Business." Even while sitting through a four-hour Fleetwood Mac concert — in which Frost knew a grand total of one song — Vaughn convinced Frost and Franco to stay the entire time.
"Literally, every day, we just go and we have great fun," Frost said in a phone conference call.
Frost prepares for his roles in a similar manner as Vaughn, often sticking to the same foundations, which include knowing his own lines and taking responsibility for understanding the entirety of the script.
"I never want to be in a position where I don't know my lines or I don't know my business," he said. "I've never seen a film crew necessarily have a bad day, so I don't think it's fair for actors to come to set and not nail it like the crew does time after time."
Going forward, Frost plans to continue filming — next up is "The Huntsman," scheduled to be released in 2016 — cooking, spending time with family and potentially writing a memoir.
When it comes to Vaughn's unfinished business, he says he has none. Rather than make extensive plans for the future, he just listens to himself and ensures that he feels good about the choices he makes.
"The biggest goal is to get the most out of what you do next," he said. "Have the best experience. Grow from it. Find material and people that excite you. Find the sparkle."

"Unfinished Business" will be in theaters on March 6.