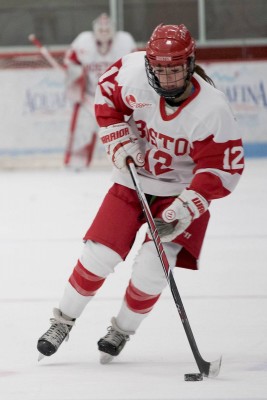 The No. 7 Boston University women's hockey team will head to Hyannis this weekend in search of its fourth straight Hockey East Tournament championship.
The Terriers (23-8-3, 15-5-1 Hockey East) will first face Northeastern University in the semifinal round on Saturday afternoon, and if victorious, will take part in the championship on Sunday.
BU took the season series with Northeastern (14-16-5, 11-8-2 Hockey East) 3-1 with three games in conference play and one in the Beanpot Tournament. The Terriers edged the Huskies 3-2 in their home opener at Walter Brown Arena on Oct. 28, 2014, behind two goals from junior forward Rebecca Russo and a career-high 37 saves from freshman goaltender Erin O'Neil.
A few weeks later, Northeastern soared back to a 6-3 win over BU at Walter Brown Arena before the Terriers took the final two meetings. Senior captain Marie-Philip Poulin scored twice as BU captured a 4-3 win at Matthews Arena on Jan. 18, while Poulin again had two goals and junior assistant captain Kayla Tutino also scored in a 3-1 Beanpot Tournament consolation win.
"There's definitely a little bit of confidence there," said BU coach Brian Durocher. "But unfortunately, when you get into a one-and-done situation, you hope you get the bounces, you hope you play well and you hope that some of the stars line up. They're a good team, and a team that's had a couple of injuries that hampered them a little bit, but they've got a very good goaltender and a very dynamic player."
Northeastern is led by junior Kendall Coyne, who ranks fifth in the nation in points with 51. Coyne is a member of the United States national team, and she has already scored seven goals against the Terriers this season, including two hat tricks. Goaltender Chloe Desjardins has also had a memorable season, posting a .922 save percentage and 2.50 goals against average.
"It's not one against one. It's team against team," Durocher said. "But without a doubt with [Coyne], you've got to keep a mark on her. They play a style where they let somebody freelance at any given time in the game and sort of send somebody up the middle. So if you're just a step slower or a little hesitant to react, they can find a path going up there and generate 2-on-1s or breakaways, and you don't want that to happen."
The Terriers are coming off a two-game sweep of the University of Vermont in the Hockey East quarterfinal series. On Friday evening, it took just two periods for Tutino and Poulin to each set a tournament record. Tutino scored four goals and Poulin added four assists, both tournament records, as BU cruised to an 8-1 win. Freshman forward Rebecca Leslie (two), junior forward Dakota Woodworth and Russo also scored, while freshman forward Victoria Bach added three assists. Even sophomore goaltender Victoria Hanson, who made 22 saves for the win, contributed to the scoring, recording an assist on Leslie's goal at the end of the first.
A 7-2 win on Saturday afternoon capped the sweep for the Terriers. Bach had another three-point night with a goal and two assists, and sophomore winger Samantha Sutherland had two goals. Hanson recorded the win in net again, this time turning away just 18 Catamount (15-19-2, 6-14-1 Hockey East) shots, but Durocher said it will not be as easy this time around.
"Last weekend, the stars lined up for us, and for whatever reason, Vermont, who is a much better team than they showed last weekend, didn't bring their 'A' game," he said. "The kids know this one is going to be a battle and probably a one-goal game."
Both Bach and Poulin earned monthly honors from Hockey East for the month of February. Bach was named Rookie of the Month while Poulin took home her second-straight Player of the Month award. Bach led all NCAA rookies with 12 points on five goals and seven assists in February. She is the second Terrier to earn the award this season, as Leslie also took the honor for October. Poulin led the NCAA with 17 points (5 goals, 12 assists) in the month, and she averaged 1.89 points per game over nine contests.
"They've both had fantastic seasons," Durocher said. "Getting those awards in the last month of the season is a good sign for them and for us because people are on a good roll at a good time of the year. Hopefully, they can take that with them into Hyannis and maybe even a little further."
The winner of this semifinal will advance to face either No. 1 Boston College or the University of Connecticut. BU won all three meetings with Connecticut (11-17-8, 5-11-5 Hockey East) this year but finished 0-2-1 against BC (32-1-2, 21-0-1 Hockey East). Two more wins separate the Terriers from a fourth-straight Hockey East Championship, but Durocher said he and his team are only focused on this first contest.
"Our only focus should be the first shift, the first period," Durocher said. "We've got to make sure we have 100 percent focus on that game and respect our opponent and then see where we go from there."