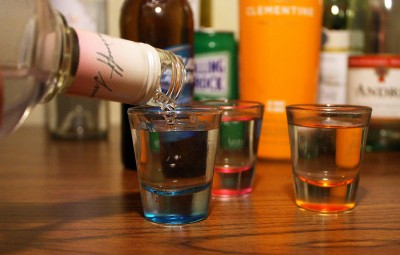 Super-sized flavored alcoholic beverages can increase the risk of binge drinking and alcohol-related injuries for underage drinkers, researchers from Johns Hopkins University and Boston University found in a study, a Wednesday press release stated.
The study, published in the American Journal of Public Health on Feb. 25, found that underage drinkers who reported consuming malts, premixed cocktails and alcopops drank more on average and were more likely to experience "episodic heavy drinking," the report stated. About 1,000 people ages 13 to 20 were surveyed online.
David Jernigan, an author of the study and director of the Center on Alcohol Marketing at Johns Hopkins, said heavier drinking occurs with these flavored beverages because of the serving sizes. Most of these beverages hold the equivalent of 4 to 5 beers in one container, he said.
"We particularly found the correlations between the largest size of these drinks and negative behaviors because one of these super-sized drinks is the equivalent of four to five beers," he said. "Even though the can may have serving size though most don't, teens are treating them as a single serving. Some people in the field call it a binge in a can."
Study co-author Alison Albers, a professor in BU's School of Public Health, said the study brings up important issues and will help determine future policies.
"These findings raise important concerns about the popularity and use of flavored alcoholic beverages among young people, particularly for the supersized varieties," she said in the release. "Public health practitioners and policymakers would be wise to consider what further steps could be taken to keep these beverages out of the hands of youth."
Jernigan said careful packaging should be implemented in the production of super-sized beverages.
"The re-sealable top is more of a joke," he said. "These are being treated as a single serving, and the results suggest this may be a dangerous form of packaging."
Katharine Mooney, director of Wellness and Prevention Services at BU, said the university takes steps to prevent the overconsumption of alcohol.
"We discourage against any kind of risky behavior, and these oversized sugar sweetened beverages definitely all into the category of risky," she said. "[It's] just like a punch bowl at a party."
Mooney said because the drinks do not taste entirely like alcohol, it is difficult to determine how much alcohol is in them, which often leads to over drinking. Over drinking can affect students' physical, social and academic wellbeing.
The Boston University Police Department has noted that the number of alcohol violations and transports for the spring 2015 semester has increased compared to numbers from the spring 2014 semester, The Daily Free Press reported Thursday.
Mooney said BU Student Health Services tries to do whatever possible to inform students about the dangers of binge drinking and learn how to drink in a less dangerous way.
"One of the things we work really hard to educate students about our standard drink portion. A standard beer has the same alcohol content as one shot," she said. "A student needs to be particularly aware of what they are consuming when drinking these so that they don't drink more than they intend to."
Several students said they recognize how super-sized flavored drinks can be risky.
Brock Guzman, a freshman in the College of Engineering, said the drinks are popular because of their cheap prices, and because some items contain caffeine, young drinkers find them even more appealing.
"It's appealing because you can get really drunk and you stay awake," he said. "They have caffeine in them and don't really taste like alcohol."
Sergio Araujo, a junior in Metropolitan College, said he has seen a friend in a dangerous scenario after consuming Four Loko, a popular super-sized alcoholic beverage. Though Four Loko's contents used to include caffeine, the company chose to remove caffeine from their product in 2010.
"One guy I know drank them a lot, and he left a party alone, then he got lost in a snowstorm and was too drunk to find his way home," he said. "He almost had to sleep in the snow."
Jaqui Manning, a freshman in the College of General Studies, said she has seen firsthand the consequences when others drink the types of alcoholic beverages described in the study, as well as the products that contain caffeine.
"I've heard a lot of people have had really bad experiences with them," she said. "Especially drinking them really fast is really dangerous because not only is there alcohol, but there is so much sugar and caffeine that goes into it, and your body sometimes can't handle it."
CORRECTION: A former version of this story did not clearly distinguish the students' understanding of caffeine in products from the non-caffeinated products examined in the study. The story has been edited for clarity purposes.