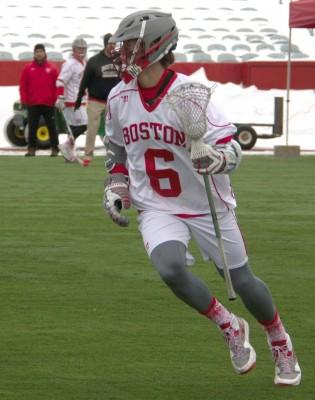 The Boston University men's lacrosse team will conclude its four-game road trip this Saturday when it takes on No. 18 Colgate University in Hamilton, New York in a Patriot League matchup.
The Terriers (3-2, 0-1 Patriot League) will look to win their first league game and build a winning streak, after knocking off the University of Vermont Saturday, 15-7. This will be the Terriers' second conference game. In their first Patriot League matchup on Feb. 21, BU lost a close battle to Lehigh University, 10-9.
The Terriers go into this game against the Raiders (4-0, 2-0 Patriot League) averaging 11.8 goals per game and 7.4 assists per game this season, both good enough for second overall in the Patriot League. A large part of this offensive success has been due to the emergence of freshman attack Jack Wilson, who is coming off a six-goal performance against Vermont (1-4) last weekend. The Manlius, New York native is averaging 2.8 goals per game, 3.6 points per game and was recently named the Patriot League Rookie of the Week for the second time this year.
BU coach Ryan Polley was quick to point out that his whole team has been excelling offensively as of late.
"Our whole team is playing pretty well right now from an offensive standpoint," he said. "We have some guys that are doing great with getting Jack the ball, some guys that are feeding the ball through to Jack. Our whole team has been playing at a very high level, but certainly Jack had a great game against Vermont and decided to pick the team up since that Lehigh game."
But there is more to this young squad than Wilson, as freshman attack Ryan Hilburn and sophomore midfielder Cal Dearth have also been playing exceptionally well. Hilburn and Dearth are fifth and sixth in the Patriot League in scoring, as they are averaging 2.0 and 1.8 assists per game, respectively. Polley said he credits his team's early success to working hard during practices.
"A key part of our game is bringing energy to practice Monday through Friday, then realizing you won Saturday's game in the preparation week and not on Saturday," he said. "We've been working hard. Our staff has been doing a great job preparing my guys and having them ready to go on Saturday and making sure that we have a ton of energy at practice."
The Terriers will need strong energy to take down Colgate, who remains undefeated on the season. The Raiders make 30.1 percent of their shots and are second in the league in man-up goals, averaging two per contest. Seniors Ryan Walsh and Matt Clarkson lead Colgate. Both are captains for their team and average a combined seven points per contest. The Raiders also boast a threat at the faceoff X in midfielder Peter Marchetto, who owns a .547 faceoff win percentage.
"Colgate is a great team. They're very well balanced, they're terrific in the goal and they have a new face-off guy who is doing really great work," Polley said. "They have two great offensive players that are kind of the catalyst, but they still have complimentary players around them that do a great job and they certainly do very well defensively.
"So it's gonna be a heck of a challenge. Certainly, it's gonna be important for us to make them work for everything, to make sure we don't give up any easy goals in transition, and to make some great passes and shots, and not allow them to get anything easily on offense," he added. "Going against them defensively, we're going to have to win some of our individual matchups, hopefully make some shots. It's definitely going to be a big challenge for us."