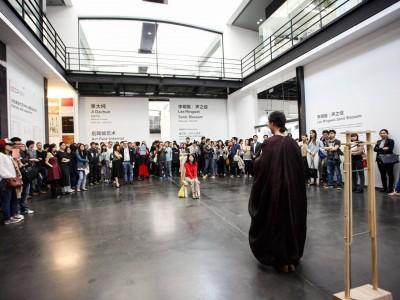 When John Cage debuted his now-celebrated composition "4'33"" in the early '50s, audiences and critics were confused and appalled by the composer's performance of what was seemingly four minutes and 33 seconds of silence. Despite negative reviews, Cage insisted that his piece was an interactive arena composed not of the music he played (or didn't play), but of the symphony of chance sounds created by the audience.
Sixty years later, Lee Mingwei is incorporating the same themes of music, chance and interaction into his art. Next week, the Taiwanese-born, New York-based artist will debut his interactive and musically charged performance piece "Sonic Blossom" at the Museum of Fine Arts.
The exhibition will run from Wednesday to April 9, featuring eight Boston opera soloists who will roam around galleries, approach visitors and ask them if they would like to be "given a gift." If the visitor accepts, the soloist, dressed in an ornate Japanese costume, will seat the visitor in a chair and sing them one of Franz Schubert's "Lieder," or "art songs."
It was an opportunity that one of the performers, Boston University alum James Dargan, said was "too crazy to pass up."
Mingwei conceived the premise of "Sonic Blossom" after caring for his mother following surgery. During her recuperation, the two listened to Schubert, an experience they both believed promoted healing and peace. In 2013, Mingwei's "Sonic Blossom" debuted at the National Museum of Modern and Contemporary Art in Seoul, South Korea.
Since 2013, "Sonic Blossom" has been on in display in contemporary art museums across Korea, China and Japan. Its latest iteration at the MFA will be unique in a few respects: it is the first time the exhibition will be displayed in an encyclopedic (not contemporary) museum, and, more importantly, the first time it will be shown in the United States.
"While I expect that audiences will have more varied approaches and reactions to the project in Boston [than in Asia], the fundamental premise is more universal: the notion of gift giving, live singing and respect for the beauty in others translates across continents," said Jen Mergel, the MFA's Beal Senior Curator of Contemporary Art.
Dargan, himself, is looking forward to connecting and interacting with strangers. He said the exhibition, while potentially uncomfortable for some patrons, will be well received.
"It's like when you drop a pebble in a fish tank. At first the fish swim away, but eventually they are drawn back in to see what happened.  The costumes and idea are so fascinating. I know people will be intrigued," Dargan said.
As a performer, Dargan said the most appealing part of the project is the intimate feeling of connection to those he sings to that he doesn't always get when performing on stage. He also said he sees "Sonic Blossom" as an opportunity to inspire and share his passion for music with others, and he has a specific audience in mind.
"I tend to be drawn to kids and younger people. My hope is that they'll form a memory of the music and come back to it later in life," he said. "Also the plethora of little old ladies; they usually really enjoy being sung to."
Mingwei's commitment to inspiring trust, self-awareness and openness in those who view and participate in his art is evident. The artist will be present at the MFA for a portion of "Sonic Blossom" to answer questions people may have about the exhibition, his art or life in general.
"He has always been exceptionally inviting, sensitive and perceptive in ways you can feel in his art. I think when you witness – or participate in – 'Sonic Blossom' at the MFA, you too will feel the joy and thrill that I have felt throughout the project planning," Mergel said.
The most important thing, Dargan said, is to be open to the experience.
"People think art is something that is presented a jewel box, but it's not. Art is communication," he said. "I want people to expect to see art in their lives and to stop believing there is a segregation between art and life."