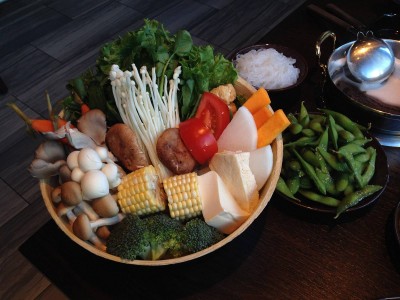 Deep in the softly lit, marble halls of the Back Bay's Westin Copley Place lies a secret garden of sorts in Japanese restaurant ShabuMaru. Real plants burst from the wall, boasting a rich array of greens. The same richness is delivered right to the table in the form of vegetables and meat that are bright, fresh and sourced from farms only a stone's throw from the bustle of the city.
"It [locally-sourced food] provides a different kind of experience," said Luke Arcovio, operations manager at Shabu. "It's enriching and rewarding to know that … what you're eating is from the area. It's Japanese style but also very local."
Shabu specializes in "hot pot," a Japanese cuisine in which guests are offered an array of raw meat, seafood, tofu and vegetables that they cook in a pot of broth right on the table.
It's a style that's become much more prominent over the last 10 to 15 years, Arcovio said, especially in Boston. A simple Google search yields an entire list of hot pot restaurants scattered across the city and into the suburbs, yet Arcovio said Shabu offers a unique experience.
"There are so many variations of hot pot, but the offerings in Boston are limited," he said. "A lot of them lean toward flavoring broths or customizable menu choices. There wasn't enough focus on ingredients and quality."
The Shabu team decided to draw their ingredients from local farmers, Arcovio said, making the rounds at farmer's markets and utilizing connections established through Shabu's sister restaurant, Douzo, a sushi lounge also located in Back Bay. This required some research into not only what farmers were selling and what people would buy, but also which ingredients would be harmonious with Shabu's signature style.
"Eggplant … is not so good boiled," he said. "We wanted what would be consumed as delicious in this style of cuisine."
With the change of seasons will come a change in what produce is available locally, something Arcovio said will provide a natural way to mix up the menu at Shabu.
"We offer that consistency of place, but you're also being exposed to new things," he said.
Shabu offers diners the choice of rib eye, short rib, chicken, lamb, pork, seafood or vegetables to be paired with a mushroom-based vegetable broth or a chicken broth, both made in the Shabu kitchen every morning. Bowls of the broth are carried out in metal vats and placed in heating spaces in the table. Once the broth is boiling, which takes only about a minute or two, diners can cook the meat and vegetables to their liking.
The meat — all local except for the Japan-imported Wagyu beef — is served in delicately thin slices, rolled up and arranged on a rectangular plate, Arcovio explained. The vegetables arrive spilling out of a sturdy wooden bowl and bursting with color — bright tomatoes, vividly green broccoli, sunny butternut squash and pure white daikon radishes.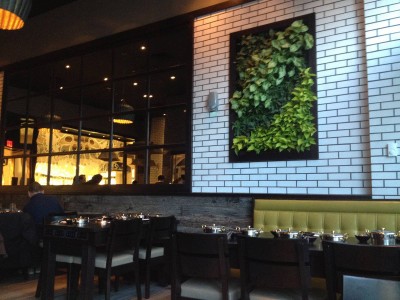 Because the restaurant is located in a hotel, Arcovio said Shabu gets a lot of customers who know their way around a hot pot. Yet he assured that the staff is willing to walk anyone through the process.
"We're very simple," he said, referring to Shabu's relatively small selection of appetizers, including dishes such as a neon green, delightfully tangy seaweed salad and a small plate stacked with warm edamame. "It's an alternative to fine dining, where you have your appetizers and then you wait 20 minutes before your entrée is served and then maybe in 40 minutes, you have dessert. It's less structured than that. We disregard eating as a method and focus on dining for enjoyment."
And there's certainly enjoyment to be had in the process of dunking different items in one's broth of choice and then selecting a dipping sauce — a citrus-tinged ponzu or a rich sesame. A combination of garnishes can be used in the sauces or added to the broth itself — chili relish, scallions, crushed daikon radish and pureed garlic. The entire process places the diner in a sweet spot between feeling like both a seasoned chef and a mad scientist.
"We're giving people a memory and an experience," Arcovio said. "We're trying to provide a connection with a different kind of cuisine, so we source everything we can to local farmers."
But soon enough, this practice that is seen as a novelty could become the norm. Rachael Garrett, an assistant professor in the earth and environment department at Boston University's College of Arts and Sciences, said she has seen an increase in awareness about what we eat.
"It's [sustainable food] much more a part of the consciousness of society than 10 years ago," she said, citing the success of stores like Whole Foods and authors like Michael Pollan, whose 2006 work "The Omnivore's Dilemma" broke down how food arrives on our plates.
Although it's usually more expensive for restaurants to source their food locally, the financial relationship forged between a farm in Framingham and a restaurant on Newbury Street can be sustaining to both, Garrett said. And with more consumers for a higher end market, she added, some restaurants can afford to take on the higher cost.
"There's some sort of demand that restaurants are picking up on," she said. "And as a consumer, it feels like you're doing your part by supporting local farmers and businesses trying a different model … It's nice to be able to contribute to that with your pocketbook."
More than anything else, however, what it boils down to at Shabu is building a community, Arcovio said. "We have a feeling here that Bostonians should be proud of eating things straight out of their own backyard."