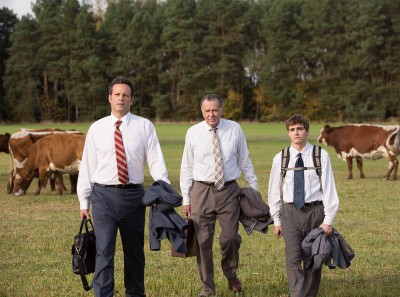 As its title suggests, "Unfinished Business" may not fully accomplish its task. But that depends on what you're looking for the task to be.
Dan Trunkman (Vince Vaughn), who takes on the lead persona of a daring entrepreneur and a caring (yet often absent) parent, sometimes fails to even finish the simplest of business — for example, his elementary school daughter's biographical sheet about her father. Typical of any good ol' American comedy surrounding the tales of an underdog (to which Vaughn is no stranger), Trunkman does not hesitate to stick it to the man – or woman, given his boss, Chuck (Sienna Miller). He quits his corporate job early on, but Trunkman is a hardworking type, confident that his envisioned start-up will soon ruin Chuck's company.
Trunkman meets his two new business partners just as he leaves his workplace. Timothy McWinters (Tom Wilkinson) is a witty, unhappily married 67-year-old, recently let go from the same company, and Mike Pancake (Dave Franco) is an awkward college-aged kid with very little to offer professionally. Nonetheless, a friendship forms among the trio. It's strange and unlikely, but rest assured, that all lends itself to laughs later on. After a year of business meetings at their local Dunkin' Donuts "office," they — dubbing themselves Apex Select — begin their business adventure by traveling to Hamburg, Germany in hopes of presenting some clever numbers and closing a lucrative business deal, preferably before Chuck does.
From here on, antics ensue and the movie is downright hilarious. Director Ken Scott has made sure the audience will quite literally have no time to breathe — the laughter cannot be stifled. It sometimes becomes evident, however, that the film tries a bit too hard to be funny. Think of everything that can possibly go wrong on a business trip to a foreign country: "Unfinished Business" presents this and more. Even things that could not have possibly happened somehow manage to occur. Veering off-course in a vehicle following a deer-in-headlights scenario, sleeping in a hotel that turns out to be a museum that displays you — the guest — as art to visitors and presenting your business plan to an associate in her birthday suit at a unisex spa all somehow made the cut in the 91 minutes of antics.
As a matter of fact, nudity seems to take more precedence than anything else in the plot. Little attention is devoted to the matter of business, work-life and the professional world itself. There is not much time for that, in this business trip-turned-spring-break of sorts.
In this sense, the film lacks intellectual substance, but quite nakedly stands out in terms of humor. Even various interactions among Trunkman and his sidekicks bring out the giggles. McWinters speaks quite crudely about his desire for divorce, and Pancake introduces himself to managers of top companies as "Breakfast," literally. These situations not only elicit a smiley, scoffing response from Trunkman, but also from the viewers themselves.
R-rated as it should be, "Unfinished Business" is no family-friendly film. Yet Scott, for some reason, makes an effort to incorporate this familial element into the movie. Trunkman demonstrates care for his wife and two kids – growing up in parallel to their misguided father – by providing for them in a tangible way, even when he's over 1,000 miles away. This secret touch of home life lends insight and depth to their relationship. Other romantic relationships in the movie, though, are greatly predictable and carry no weight, which makes Trunkman's family business stick out in an unimportant manner in context.
Laughter of all kinds, though, is definitely guaranteed. While it might fall through on other expectations, "Unfinished Business," as a comedy, gets the job done.