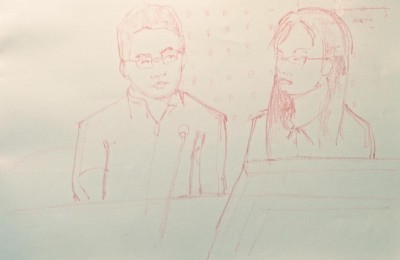 As he sat in his car on the night of April 18, 2013, Dun Meng, a young business owner originally from China, received a text from his roommate.
The message, written in Mandarin, stated, "Where are you? It's dangerous outside."
Such a scenario was all too real for Meng.
Just a few feet from Meng, seated in his car, were alleged Boston Marathon bombers Tamerlan and Dzhokhar Tsarnaev.
The testimony of Meng, who said he was hijacked and held hostage by the Tsarnaev brothers, comprised the bulk of the proceedings discussed during the sixth day of Dzhokhar Tsarnaev's trial at the John Joseph Moakley United States Courthouse Thursday.
Dzhokhar, along with his deceased older brother Tamerlan, are accused of orchestrating the Boston Marathon bombings on April 15, 2013. The attacks killed three and wounded at least 260 bystanders. Tsarnaev is charged with 30 federal offenses, including counts related to both the bombings and the murder of Massachusetts Institute of Technology Police Officer Sean Collier just three days later.
The night of April 18, 2013 appeared to be like any ordinary evening for Meng, who came to the United States on a student visa from China in 2009 and earned a master's degree in transportation and engineering from Northeastern University in 2012.
After leaving work at approximately 10:30 p.m., Meng hopped into his 2013 Mercedes-Benz SUV and began driving along Memorial Drive in Cambridge, with no clear destination in mind.
After crossing the Boston University Bridge and proceeding into the neighborhood of Allston, Meng pulled over to answer a text message.
"A few seconds later, I saw another car, a sedan … I noticed it was pulling up to the curb really fast," Meng said.
A man, whom Meng identified as Tamerlan Tsarnaev, knocked on his passenger-side window. Meng, thinking that perhaps the stranger needed directions, lowered the window.
Almost immediately, the man jumped into the car, pulled out a gun and asked Meng for money, he said.
After handing over his wallet to Tamerlan, Meng said Tamerlan removed the magazine of his gun to show the bullets located within it.
"'I'm serious. Don't be stupid,'" Meng recalled Tamerlan saying to him.
According to Meng, Tamerlan then declared, "Do you know the Boston Marathon explosion? Do you know who did it? … I did it, and I just killed a policeman in Cambridge."
Tamerlan, still in the passenger seat, then ordered Meng to drive away. After a series of sudden stops, U-turns and short conversations with his newly acquired hostage, Tamerlan eventually ordered Meng to pull up on Dexter Street in Watertown, Meng said.
A sedan then pulled up behind Meng's Mercedes, while Tamerlan ordered Meng to get into the passenger seat. Meng said he heard what sounded like Tamerlan and the individual from the sedan moving something into Meng's vehicle.
After finishing their task, Tamerlan jumped into the driver's seat, and the man from the sedan sat in the backseat, behind Meng.
"Do you see the man who sat in the back?" prosecutor Steven Mellin asked Meng.
Meng motioned toward Dzhokhar, sitting less than 10 feet away from him in the courtroom.
"That gentleman over there," Meng responded.
After 10-15 minutes of driving, Tamerlan stopped the car outside of a Bank of America on Main Street in Watertown. Using Meng's card, Dzhokhar withdrew $800 from an ATM before attempting to take another $800 just a minute later, according to William O'Keefe, Bank of America vice president of corporate security in Boston.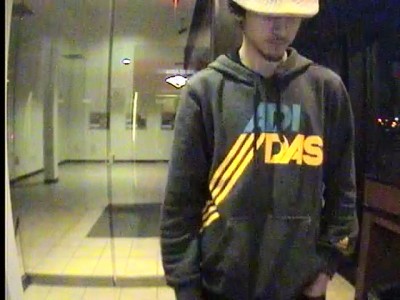 The second attempt to withdraw $800 was denied, as taking out $1,600 would have exceeded the 24-hour limit placed on Meng's account.
With money in hand, the Tsarnaevs continued driving, with Tamerlan asking Meng at one point if his car "could go out of state … Like New York?"
Meng acknowledged that the car could indeed travel out of Massachusetts, but lied when Tamerlan asked if he had a GPS in the car.
As they began driving toward Waltham, Meng said, Dzhokhar addressed him for the first time, asking if his iPhone could connect to Meng's car to play music.
The Tsarnaevs then drove Meng's car back to Dexter Street, where the sedan driven by Dzhokhar was still parked. Dzhokhar ran to the sedan, grabbed what appeared to be a CD, according to Meng, and jumped back into the Mercedes.
The Tsarnaev brothers put the CD into the SUV as they once again drove away. Meng said the CD had music he had never heard.
"It was weird. Sounded very religious," Meng said.
Tamerlan then drove east, back toward Boston. Minutes later, Meng's roommate called him through his car's wireless phone feature. After letting the call go by, Meng received a text from the same roommate minutes later, urging him to come home.
Eventually, another friend called Meng, creating a contentious moment for both Tamerlan and Meng.
"Who is calling you?" Meng said Tamerlan asked him.
"If you don't want me to answer the phone, I won't answer the phone," Meng responded. "I won't say anything."
At that time, Tamerlan grabbed his gun and pointed it at Meng's head, urging him to answer the call.
"He said if I said anything in Chinese, he would kill me right now," Meng said.
After telling his friend in English that he felt sick and was staying at a friend's house that night, Meng said Tamerlan began to calm down, eventually stopping at a Shell gas station on Memorial Drive.
After determining that the gas pump was cash only, Dzhokhar entered the mini-mart to pay for gas, and Tamerlan set his gun in the driver-side pocket. At that moment, Meng made the decision to run.
"I saw that they were heading to New York … It may be my last chance … So I count down in my mind. One. Two. Three. Four. It's a really tough decision for me at that moment," Meng said. "Every time when I recall this … It' s the most difficult decision in my life."
Finally, Meng made his move. He unbuckled his seatbelt, opened the door and ran out of the car, just past the grasp of Tamerlan, he said.
Various security cameras captured Meng running across the street to the neighboring Mobil gas station, while Tamerlan ran inside the Shell market to grab Dzhokhar, who quickly fled the scene with his brother.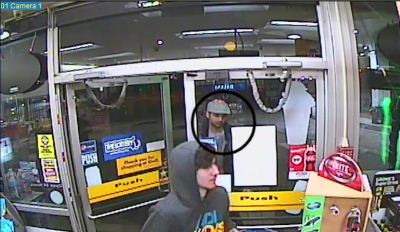 Mobil security video captured Meng bursting into the convenience mart, pleading with the clerk to lock the door and call 911. As Meng attempted to hide in a storage room behind the counter, the Mobil employee contacted law enforcement.
Within minutes, Cambridge Police Officer Michael Nickerson responded to the scene, entering the Mobil mini-mart and speaking with the cashier before later speaking with the still shell-shocked Meng.
"Me and my partner entered the gas station," Nickerson said. "We asked the clerk to bring the person out so we could speak with him … When he came out, you could tell that he was very upset … He was trembling."
As Nickerson and his partner began gathering information from Meng, Cambridge emergency communications supervisor Joseph Sullivan was beginning to track the hijacked Mercedes-Benz.
Upon learning that Meng's Mercedes-Benz had the manufacturers' own "mbrace" tracking system installed in it, Sullivan made a call to the program's representatives.
The Mercedes-Benz officials were able to "ping" the car's location after several minutes, revealing that the car was at 87 Dexter Street in Watertown, Sullivan said.
Sullivan immediately relayed the car's location to nearby police units and stayed on the line with mbrace workers until officers made contact with the vehicle at around 1 a.m., during which time a shootout began between the Tsarnaev brothers and responding officers.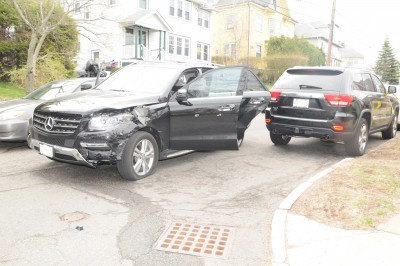 Thursday's proceedings opened with continued testimony regarding the murder of Collier, who was fatally shot on MIT's campus just hours after FBI officials posted the first video stills and photos of the suspected marathon bombers.
The prosecution called to the stand Renee Robinson, the medical examiner who performed the autopsy on Collier, to determine the severity of the wounds inflicted on the MIT patrolman.
One juror began crying upon seeing an autopsy photo of Collier, who was shot three times in the head and sustained three wounds to his right hand, according to Robinson.
While she could not determine the order of the gunshots, Robinson said the damage done from the three gunshots to the head were too grievous for anyone to recover from.
"He'd have no purposeful movements. He's essentially dead right away," Robinson said. "Major parts of his brain had been disrupted …. When you destroy vital centers of the brain, the rest of your body cannot function without the brain."
Based on the results of the autopsy, Robinson concluded that one gunshot wound, which struck Collier between his eyes, was fired from a gun that was approximately a foot from his face. She later said the other two shots to Collier's head were "contact-range" wounds, essentially fired at point-blank range.
In the minutes that followed the shooting of Collier and his transportation via ambulance away from the intersection of Main Street and Vassar Street, the MIT North Court campus area was quickly converted into a crime scene, with police officials combing for evidence.
Cambridge Police Detective Anthony Grassi responded to the scene of Collier's shooting and later helped set up the perimeters for the crime-scene investigation area.
Upon examination of Collier's police vehicle, Grassi said he found three empty shell casings on the ground behind the car, which he marked for evidence.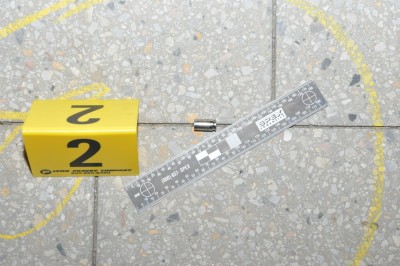 Grassi then looked inside Collier's car and discovered a fourth shell casing resting on the front passenger seat, along with a bullet fragment in the front passenger floor area. Photos of Collier's blooded driver seat were shown to members of the courtroom as Grassi testified.
While Grassi and others continued to gather evidence and search for witnesses, other police and video surveillance officials began to comb through MIT's wide swath of cameras in hopes of piecing together the events that led to Collier's death.
Video footage from MIT's Green Building was released during Wednesday's court session, highlighting two individuals who appeared to sneak up behind Collier's police cruiser, approach the driver-side window and quickly flee the scene just a minute later, at approximately 10:26 p.m.
Just under a minute after the two suspects left the North Court plaza where Collier was killed, another MIT camera situated on Ames Street captured a green Honda Civic speed away from campus.
Massachusetts State Police Trooper Michael Cashman, who investigated the Collier crime scene before later responding to the police shootout on Laurel Street in Watertown the following morning, focused in on the Honda as a key piece of evidence.
"At the time, myself and other investigators … Believed that that car was used as a gateway vehicle from the scene," Cashman said.
The car in question, which was later recovered on Laurel Street, was studied by Cashman and others in an attempt to determine whether the vehicle was tied to the area of Collier's death.
"Myself and other investigators had the Honda towed back to the scene [of Collier's murder,]" Cashman said. "It was in operable condition … We drove the Honda down Ames Street several times to use the same camera to get a comparison view to compare side by side."
Cashman later added: "It does appear to be the same vehicle."