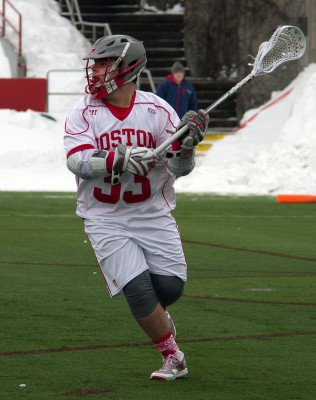 On the back of a 12-goal first-half run, the Boston University men's lacrosse team bested Lafayette College 17-8 in Patriot League play on Saturday afternoon.
With the win, BU (5-2, 2-1 Patriot League) is now enjoying a program best three-game winning streak, but Saturday's encounter did not start so positively. Lafayette (1-5, 0-4 Patriot League), who hasn't won since its first game of the season, got out on top of a sluggish Terrier defense in the game's initial stages.
BU sophomore goalkeeper Christian Carson-Banister was bested twice before three minutes could tick off the clock and Lafayette took full advantage of BU's young defense.
"We weren't focused from the first face-off," said BU coach Ryan Polley. "We didn't have our best practices Thursday and Friday and we are a young team that is learning how to deal with success as much as we are learning to deal with other things. I don't think we came in over-confident, but the focus wasn't all there."
Aiming to stop Lafayette's hot-streak before it got out of hand, Polley called a timeout and the Terriers quickly got their bearings straight. With a message conveyed of getting back to the fundamentals, the BU offense erupted and the defense rounded into form.
Twelve different BU players ultimately got on the scoresheet before the final whistle sounded, showcasing the Terriers' well-balanced attack. The Leopards could not target one player and had to deal with waves of BU players trying to fire past goalie Matt Cortese.
"We've been balanced all year," Polley said. "[Assistant] coach [Drew] Kelleher has been doing a great job with coming up with good game plans, we have two solid midfield lines, and are pretty deep at attack. I'd rather be balanced where teams can't gear up for one player and every game it seems like another player is doing great things."
As has been the story all season long, the attack trio of freshmen Ryan Hillburn and Jack Wilson along with sophomore Adam Schaal played a dominant role in BU's offense. They combined for six goals and three assists, but a different player stood out in spectacular fashion when around Lafayette's goal.
Sophomore attack Pat Myers, who had his freshman season derailed by a season-ending injury, rifled past Cortese three times and added two assists. While Myers' numbers stand out, the intensity and skill he demonstrated on Saturday reminded Polley of why the Bethesda, Maryland native can be such a valuable asset.
"Pat was scheduled to be a starter for us at attack, but had an injury over [winter] break and struggled to come back," Polley said. "He's been back for about two weeks now and makes us really hard to guard. He did a great job today, made great decisions, shot the ball when he should have, and made two beautiful assists."
Looking at the broader picture, the victory over Lafayette has placed BU firmly in the conversation for one of the top spots in the Patriot League standings. It is still early in the season and there is a lot of lacrosse left to be played, but it is an impressive feat considering BU missed out on the playoffs entirely last year.
With a 2-1 conference record and a three-game winning streak in hand, Polley said the Terriers are primed for all the challenges the Patriot League will throw their way.
"It shows some progression in our program, but we are only as good as our last game," Polley said. "We just had a great game against Lafayette and the league is now wide open. We are excited to be a part of the conversation and will be set for the dog-fights."
Looking to come out on top of the many battles that lie ahead, the Terriers are currently in as good of shape as they've ever been. They are scoring 12.83 goals a game and allowing only 8.3 goals a game, all while riding a freshman and sophomore class that gains experience with every passing game. BU even received votes in last week's national poll.
"We are playing at a high level and starting to find our groove a little bit," said Polley. "Guys are working hard on a weekly basis in practice and I'm happy for them."