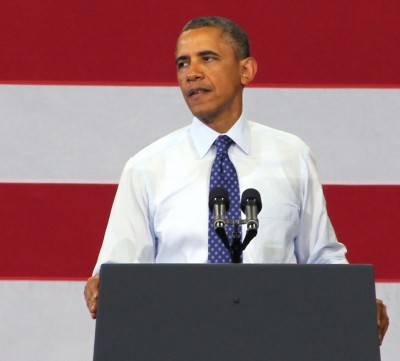 After signing an executive order Tuesday for a Student Aid Bill of Rights intended to help students better finance their education, U.S. President Barack Obama has reached out to college students across the United States to further delineate his administration's plans.
The Student Aid Bill of Rights, according to a fact sheet sent by the White House Office of the Press Secretary, highlights four overarching goals: a student's right to "quality, affordable education," a student's right to resources to pay for college, a borrower's right to an affordable repayment plan and a borrower's right to "quality customer service, reliable information and fair treatment."
"Higher education remains one of the best investments you can make in your future, but also one of the best investments you can make in your country's future," Obama told The Daily Free Press in a Wednesday conference call with college student reporters. "It's never been more important, and we have to prioritize it."
Included in the Student Aid Bill of Rights is the creation of a "responsive student feedback system," a website Obama plans to have created by July 1, 2016 to field questions and complaints about the federal system for loan servicers and institutions of higher education.
For the time being, the Obama administration is using online platforms to keep students involved, encouraging anyone who agrees with the values set out in the Student Aid Bill of Rights to show their support by signing their names at whitehouse.gov/collegeopportunity.
"We want to mobilize the energy and focus the attention of everybody nationally around the basic principles that can make it easier for young people to get the education they need," he said. "We can't allow higher education to become a luxury. It's an economic imperative that every American family should be able to afford."
U.S. Secretary of Education Arne Duncan also spoke on the call and said the Obama administration continues to worry about the cost of college in the United States.
"As the president said, we've worked hard and we'll keep working hard to do more to help on the front end to keep higher education accessible and affordable, and we want you to hold us accountable for that," he said.
Duncan also said the states need to be held accountable for reinvesting in higher education and offering students affordable options.
"They've cut their investments, universities jack up their tuition, and then universities themselves have to do a better job of containing costs and being more efficient and effective and using technology in different ways," he said. "So we all have a role to play here."
On the same day the executive order was signed, Obama spoke to a crowd of thousands at Georgia Institute of Technology, where he complimented the school for being "one of the best bargains around," but emphasized the need to continue reducing costs and providing students with fair loan repayment plans.
"I take it personally because when I look out at all of you, I see myself," he said. "I remember the fact that it took me 10 years to pay off all our [my wife Michelle and my] student loans. We were paying more for our student loans than our mortgage, even after Malia and Sasha were born. We were supposed to be saving for their college education. We were still paying off ours."
In Massachusetts, there were 998,000 students with outstanding Direct or Federal Family Education Loans as of January 2015, adding up to a total of $25,569,386,000, according to data from the U.S. Department of Education.
The refinancing and repayment of student loans, Obama said, is one of his motivations for the Student Aid Bill of Rights, a plan that aspires to simplify the Free Application for Federal Student Aid and streamline the Pay-As-You-Earn plan, which lets student borrowers cap their federal loan payments at 10 percent of their income.
The Student Aid Bill of Rights also emphasizes the America's College Promise, a proposal Obama initially made in his State of the Union address in January that would promise two years of free community college to "responsible students," affecting approximately 9 million people.
After Obama and Duncan spoke on Wednesday's call, Duncan joined several other White House officials to answer questions from students. They emphasized that the goal in education right now is to start thinking about a pre-K-14 system, rather than K-12. This school of thought would apply not only to the 18 and 19-year-olds looking to go straight from high school to college, but also to the adults working full-time and going back to school for a degree they couldn't previously afford.
A student on Wednesday's call from Stanford University questioned the incentive for private institutions of higher education, such as Boston University, to follow the trends of lowering tuition costs and helping students find affordable loan repayment options.
"As we talk about pulling costs down, institutions are going to need to respond to other institutions that are brining costs down," U.S. Under Secretary of Education Ted Mitchell said on the call. "We think that transparency, plus a little healthy competition, is going to influence all sectors of higher education, and also we look forward to helping to share with institutions, public and private, the initiatives that are leading to lower costs, higher outcomes and greater access."