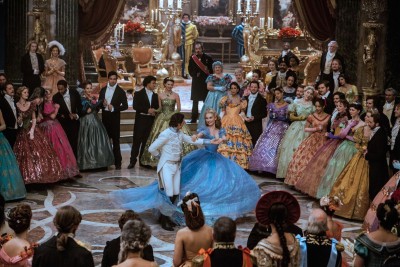 A classic since its release in 1950, Cinderella lives up to the taste of the modern viewer of all types. In this latest live action adaptation, Kenneth Branagh's "Cinderella" is brought out of the animated world and into the real one. The film features Lily James in what might be her defining role, as the pitied protagonist turned princess.
The film, familiarly enough, follows the story of Ella (James), an orphaned young women under the "care" of her stepmother, Lady Tremaine (Cate Blanchett), and at the demand of her two stepsisters, Anastasia (Holliday Grainger) and Drizella (Sophie McShera). Following her late mother's request to always put kindness and courage first, Ella gives up the comfort of her own room to sleep in the attic and, heeding every wish of her horrible stepsisters, cleans the messes they make for her to clean. She even allows herself to be called not by her given name, but instead by the demeaning "nickname," Cinderella, after the fireplace soot caking her face.
Though her good heart and innocence lends way to her helplessness, the modern-day "Cinderella" succeeds in a manner that the classic animated Cinderella simply does not. For one thing, she has personality. Her witty interactions with her famous mouse friends bring about a quirkiness one might not expect from a girl so beaten down by people living under what is rightfully her roof.
And although Cinderella's strength in standing up for herself is quite obvious near the end of the film, it even starts to show at the very beginning, when she informs Prince Charming (Richard Madden) that she herself would not hunt an animal just because society believes it is a normal thing to do. Though he is slightly baffled, Cinderella pushes on with her argument and convinces the prince that she does possess something more than outward beauty.
Even Prince Charming himself — expected to be a slightly bland, Ken doll-type figure — is actually given a backstory that allows him to come alive. His reasons for pursuing Cinderella are known to be deeper than her looks, even though his father initially demands he marry a princess and not some "country girl." This aspect makes him stand out not only as a prince, but also as a relatable and commendable man.
Though the film was predictable — does anyone really not know how Cinderella ends? — it did not lack excitement. Defining moments, such as the appearance of Cinderella's fairy godmother (unexpectedly, Helena Bonham Carter) and the arrival of that lost glass slipper, still, somehow, hide away some element of surprise.
Cinderella's shoes especially captured attention, with the glittery high heels becoming even more magical in the live-action film. Cinderella comfortably runs down the stairs in them at the tick-tock of midnight, fleeing to her safe-haven and still looking as put-together as ever — that is, until the spell is broken. Indeed, the whole film is brilliantly colored by lavish outfits that bring an added layer of visual appeal to the film. Especially at the ball, a party perhaps bigger than Jay Gatsby's, Cinderella's dress is a marvel. Even more eye-catching, though, were her stepmother's extravagant dresses. She wears grief quite wickedly well.
Overall, Branagh, the director, does much to channel his Shakespearean nose for character into the voices and personalities of his fairy tale cast. He especially works to provide a tangible backstory to Cinderella, her stepmother and Prince Charming. More could have been done, however, in terms of adding depth to other relevant characters, including Anastasia, Drizella and the fairy godmother. They were given minimal attention in the movie, and such characters at least deserve adequate screen time and personality, given the weight put on their supporting roles.
Nonetheless, the film excels beyond expectations, especially for a story so well known across generations. It's a magical fairytale indeed. Or in the words of the fairy godmother, "bibbidi-bobbidi-boo!"