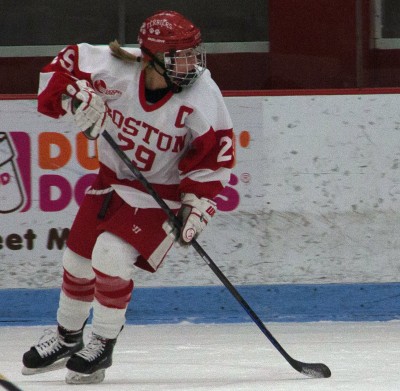 The No. 5 Boston University women's hockey team bowed out of the NCAA Tournament with a 5-1 loss to No. 3/4 University of Wisconsin in the quarterfinal round on Saturday afternoon.
The Terriers (25-9-3, 15-5-1 Hockey East) entered the tournament riding a four-game winning streak, but the Badgers (29-6-4) quickly silenced BU with two first period goals. Sophomore goaltender Victoria Hanson made a career-high 40 saves before yielding to freshman Mia Becker, who turned away three shots of her own.
BU did capture its fourth straight Hockey East Tournament title this season. The Terriers opened with a series sweep of the University of Vermont in the quarterfinal round by a combined score of 15-3. In Hyannis, BU defeated Northeastern University 6-1 in the semifinals and followed with a 4-1 victory over previously unbeaten in league play No. 1 Boston College in the finals. Senior captain Marie-Philip Poulin was named Tournament MVP after recording six goals and six assists in four games, including the 100th assist of her career. Despite the early ending to the season, BU head coach Brian Durocher said he was pleased with his team's successes in the 2014-15 campaign.
"I look at 25 wins, a Hockey East championship and getting to the NCAA Tournament as all real good benchmarks for a team," he said. "Without a doubt, this was a good year. I don't quite live by the fact that the only good year is the team that wins the whole thing. We have that goal as a program, but we also want to have accomplishments along the way. To win that many games and have a Hockey East championship, those are pretty tangible goals that we can be proud of and the kids can be proud of as well."
The collegiate careers of seniors forward Sarah Bayersdorfer, defensemen Caroline Campbell, Shannon Doyle and Shannon Stoneburgh, along with Poulin, came to an end with the loss to Wisconsin. This year's senior class, with the exception of Poulin, who took the 2013-14 season off to train for and participate in the 2014 Sochi Winter Olympics, did win the Hockey East Tournament all four years of their careers, and they left a lasting legacy on the program.
"They all made great contributions to the program," Durocher said. "[Bayersdorfer] has a great deal of team chemistry, work ethic and who we want to be as a program. [Stoneburgh] was a warrior out there and gave us four years of steady, defensive defenseman-type play. [Doyle] came here as an all-star defenseman and had two fantastic years that were interrupted by a year on the shelf. They all contributed and left a fantastic legacy here."
Poulin put together another stellar season in her return from Olympic competition. The Canadian Women's National Team member matched 27 goals with 27 assists for 54 points, which ranked fifth in the nation. Poulin was named a finalist for the Patty Kazmaier Memorial Award, given annually to the best collegiate women's player. She is also the highest scoring player Hockey East Tournament history and holds BU records for career goals (81), assists (100) and points (181).
"She just did her job every single day," Durocher said. "It really blossomed this year where she knows it's not only something that is important to Boston University, but she's going to be called upon on the national scene in Canada. It's all about being a great team player for that kid, and there's nobody you'd rather have as your leader than somebody like that."
Hockey East Rookie of the Year candidate Victoria Bach will highlight the returning cast for next season. Bach finished the year with 20 goals, which led the nation's freshmen, and 14 assists for 34 points, which was third among rookies. Bach tallied the lone goal in BU's 5-1 tournament loss to the Wisconsin.
"She's been a point-producer her whole life," Durocher said. "She's a very talented kid with the puck. She's very evasive, and she has a skating ability that can go forever. She's somebody that, as she gets stronger and gets that much more complete, she's going to continue to grow as a player. It was great to see her get number 20 the other day because that is kind of a benchmark. If you get 20, it's a pretty solid year."
Junior forwards Kayla Tutino and Sarah Lefort, Hockey East All-Stars and Poulin's linemates, will return for their senior seasons next year. Lefort finished the year with 23 goals and 27 assists for 50 points, while Tutino added 37 points on 14 goals and 23 assists. The Terriers will also acquire the services of junior Alexis Crossley, who sat out this past season due to Hockey East restrictions after transferring from the University of New Hampshire. Crossley recorded eight points with the Wildcats in her last season (2013-14).
BU will also return all three of its goaltenders, Hanson, Becker and freshman Erin O'Neil, who combined to post a 2.52 goals against average, .903 save percentage and four shutouts this season. With this strong core of players returning, Durocher said he is hopeful for another successful campaign next year.
"It will be a nice nucleus to work with next year," he said. "A lot of proven players, a lot of kids who have gotten plenty of experience here. I think it's going to be interesting to see the established players return and play just as well or maybe even a little better and then some people that I think have a window of potential to breakout and play better than they have. It's going to be important to have both of those happen next year."