Fifteen Massachusetts lawmakers are supporting a bill, pushed by the Marijuana Policy Project, that would regulate marijuana in a way similar to alcohol, according to a Friday state policy alert from the MPP.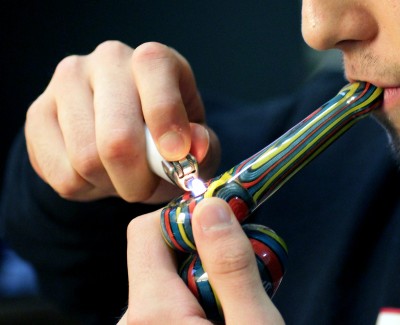 The proposed legislation titled "an act to regulate and tax the cannabis industry" would allow adults age 21 or older to possess and grow a limited amount of marijuana, legalizing its production. Retail stores, cultivation facilities, processing facilities and testing facilities would also be regulated and require licensing, said Matt Simon, the political director of the New England MPP, in an email.
The bill also encourages the purchase of marijuana through legitimate businesses in its aim to eliminate illicit market and illegal consumption, Simon said. It would tax those who engage in businesses as a marijuana processor and will allow up to 10 pounds of personal possession.
Simon said the organization, a national nonprofit political advocacy organization based in Washington, D.C., has advocated the issue for many years, arguing that marijuana is less harmful than alcohol and realizing the drawbacks of the prohibition policy.
"If alcohol is legal and adults can buy all the alcohol they care to drink, it makes no sense for marijuana to be criminalized and for adults who would want to make the safer choice punished," Simon said in a phone interview. "We've tried prohibition, and it didn't work. Over half a million Mass. residences are regular marijuana users, and they're spending billions of dollars a year buying marijuana from an illicit market."
Sponsored by Massachusetts Sen. Pat Jehlen and Massachusetts Rep. Dave Rogers, the H.1561 bill is co-sponsored by 13 other lawmakers who hope to start a conversation within the legislative body, according to a Friday statement made by Jehlen.
"H.1561 will allow a full an open legislative debate on this subject, providing an opportunity for policy makers to receive input from a wide variety of stakeholders," Jehlen said in the statement. "If marijuana is going to be legalized in Massachusetts, we should craft the law properly through an open and deliberative legislative process."
However, the MPP is prepared to push for a question on the 2016 ballot if the legislature fails to pass the bill, Simon said.
The organization tried to weather this issue in previous ballot initiatives in 2008 and 2012, neither of which involved legislative contribution, he said.
"If the legislature were to pass this bill, there would be no need for a ballot initiative," he said. "However, being realistic, given the governor's opposition and the history, it's highly unlikely that would happen. If nothing happens in the legislature, we'll focus on the initiative."
Randall Ellis, an economics professor in Boston University's College of Arts and Sciences, said the legislation is a better form of policy for the marijuana industry.
"Legalization is an important step for being able to reduce crime and more systematically regulate this industry. People may wish not to tax them, but that's not likely," Ellis said.
Ellis said he expects the bill to reap slight economic benefits from taxes, though these taxes probably won't be very high because "it will likely be too easy for people to grow their own, and that would limit on how high those taxes are."
He also said uncertainty would be one of the main challenges for the cannabis industry.
"I think that the main thing that's driving the challenge, challenging marijuana sellers, is the uncertainty," he said. "Certainty is worth more to these markets than lower prices because they're trying to invest in expensive stores, get some staffs, take up loans and equipment to have production capacity, and that's all hard to do in the face of uncertainty."
Several residents said passing the bill could be a good thing, but it should come about through a comprehensive and bipartisan conversation among legislators.
John Glinner, 30, of the North End, said he has a wavering stance on whether the state should pass the bill.
"I don't necessarily disagree with the proposed bill, but I do think that there are also risks in legalizing marijuana. More access to more amount of marijuana doesn't seem like a positive thing," he said.
Julia Romano, 24, of Brighton, said the topic is relevant enough to warrant greater attention.
"I personally agree to the bill, but I'd just like to see more conversation around it," she said. "It's a big and influential topic to the citizens of Massachusetts. I for sure know that despite its illegality, people here still use it, so it's about time to make it legal and get revenue from it, so it can produce more benefit to the community."
Jamie Perkins, 33, of Allston, said the precedent set by other states will bode well for Massachusetts if the bill is passed.
"It's a step forward that Massachusetts plans to tax and regulate marijuana," she said. "A few states have done so, and I really think there's no harm in following. As far as I know, it also holds less risk and health problems if compared to alcohol, so I don't see why not."