Unemployment rates in Massachusetts, though decreasing, are causing a housing crisis for populations that find themselves "chronically unemployed."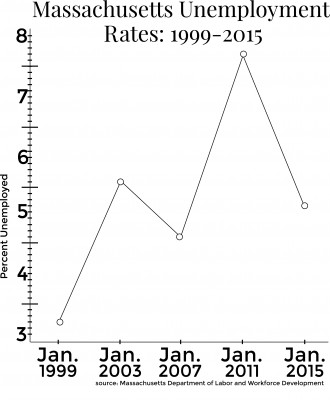 The Massachusetts Employment Population rate reached 62.3 percent in January, up from 60 percent in January 2014, according to data released by the Worcester Unemployment Action Group on March 10.
"The new unemployment figure, while it looks good on paper, masks the critical need for good jobs for working people," said Chris Horton, volunteer organizer for WUAG, in a March 10 press release. "The [unemployment] rate has dropped to 5.1 percent largely due to job seekers giving up and dropping out and would have to increase by over 4 percent of the working age population, about 230,000 more people employed, just to get us back to the level of 2000-2001."
The employment population ratio has been rising steadily since July 2013, according to the data.
"Unemployment driving down wages and conditions helps to create a situation where people can't afford to live the way that they have organized their lives so we see a lot of foreclosures," Horton said in a phone interview.
Horton said the high cost of maintaining a building is making it difficult for landlords to provide adequate housing for their tenants, contributing to the crisis.
"You have a lot of buildings that are just abandoned and landlords can't find anyone to rent to at the rent they need, so it's contributing to a housing catastrophe," he said.
Massachusetts Gov. Charlie Baker announced on March 12 the establishment of a task force to combat chronic unemployment in populations including African Americans, Hispanics, the disabled and veterans, The Daily Free Press reported Monday.
The average unemployment for these groups ranges from 7 to 12 percent, despite Massachusetts' annual average unemployment rate of 5.8 percent, according to a March 12 press release from the governor's office.
Samantha Ormsby, communications coordinator of the Executive Office of Housing and Economic Development, said in an email that unemployment affects nearly every aspect of a person's life, and the task force will address issues of affordable housing.
"We know that there is a demand for more affordable housing near urban centers, where people have easy access to public transit and a wide-ranging job market," she said.
The unemployment rates for the specified groups are a clear indication that statistics speak for themselves, said M. Daniele Paserman, an economics professor in Boston University's College of Arts and Sciences.
"I think this is the main explanation for that these groups also have a lower educational attainment, and the labor market for unskilled market has not been very good for the past 30 years," he said. "Any demographic groups that has a high incidence of unskilled workers, workers with a low educational attainment, will tend to suffer from chronic unemployment."
Ron Walker, Massachusetts secretary of labor and workforce development, said an integral part of increasing employment is giving members of the workforce a proper education.
"It's very clear that as a nation, if we don't credential 60 percent of our citizens, in 2020 or 2025 that we're going to have a real issue filling the jobs, and then of course we're going to look at the employers who are actually the customers and figure out what they need in today's, not yesterday's, model to make sure that we're developing a pipeline that they can fill the jobs that they have here in the Commonwealth," he said.
Several residents said unemployment and housing are complex issues that contribute to the well-being of the system.
Anita Lessard, 37, of Back Bay, said the economy is improving.
"It's the end of a recession," she said. "I think that what happened in 2008 [with the recession], it takes around 10 years to fully move past it, so I think we're starting to hit our stride."
Joseph Martelli, a senior in the College of Communication, said for students, the job market has a better turnover because there are always students graduating and leaving their jobs in the area.
"Each year, we have kids that keep graduating, and each year, we're not going to have those same positions once they're filled the previous year," he said. "It would be interesting to see which jobs are open and which jobs are available, and if those jobs are typically available each year because of high turnover or those jobs are long-standing ones that are going to be filled and then not open again for 10 more years."
Kristina Spinney, 27, of Charlestown, said in addition to unemployment, inadequate wages contribute to the housing crisis.
"It's getting more and more expensive to live here, to the extent that I don't know I even can continue to do so," she said. "Especially with the bid in for the [2024] Olympics, it's going to become even more expensive, so they need to start paying people the actual price of living."
Monika Nayak and Paige Smith contributed to the reporting of this article.