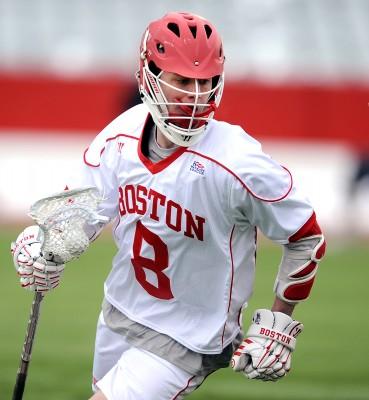 Several different factors have contributed to the Boston University men's lacrosse team's program-record three-game winning streak, none more so than the return of sophomore attack Pat Myers.
After suffering a season-ending wrist injury six games into BU's (5-2, 2-1 Patriot League) 2014 campaign, Myers is now healthy and looks to play a key part in pacing this year's Terriers as they enter a critical part of their Patriot League schedule.
Before he succumbed to injury, Myers was perhaps the most prominent bright spot in the Terriers' inaugural 2014 season. Using every bit of his 6-foot-4, 200-pound frame to weave his way through opposing defenses, Myers created a bevy of quality scoring chances for himself and his teammates.
He scored BU's first-ever goal in a 17-6 season-opening loss to Mercer University on Feb. 8, 2014 and recorded the program's first hat trick in a nonconference loss to Providence College. At home, against a ranked Lehigh University squad on Feb. 22, 2014, Myers kept the contest tight, scoring one goal and adding two assists in a narrow 10-7 defeat.
Against Colgate University on March 8, 2014, Myers continued his torrid pace, assisting on a first-quarter goal from then-freshman attack Ryan Johnston to tie up the game at 1-1.
Things then quickly went from bad to worse for the Terriers as Myers broke his wrist due to a harsh fall and the Raiders put together three unanswered goals in the second half on their way to a 7-5 win.
Myers' injury required surgery, sidelining the Terriers' top offensive threat for the remainder of their inaugural campaign. In just six games, Myers had racked up 15 points on seven goals and eight assists, tallying at least one point in every contest.
"Pat at the time was our best offensive player," said BU coach Ryan Polley. "He was our leading scorer and the quarterback of our offense. We had to shuffle some things around, and some players had to step up. It definitely made what we were doing offensively harder. We lost a great player."
As he underwent a long recovery process, Polley said in addition to missing out on valuable practice time, Myers faced the difficult task of being separated from his teammates.
"It's challenging when you're injured because you're not with the team every day when you're working on your rehab and you're trying to get better," Polley said. "It's just very difficult."
After suffering another setback over winter break, Myers finally made his return to the field in a nonconference matchup against the University of Vermont on Feb. 28, nearly one year since his freshman season was cut short. Coming off the bench, Myers notched an assist and one shot in the 15-7 win that kick-started the Terriers' current winning streak.
As he eases back into collegiate play, Myers' role on the team has shifted. Thanks to BU's increased offensive depth, Polley said Myers has been able to regain his "sea legs" and get re-acclimated to the speed of the collegiate game as a member of the Terriers' second midfield line.
"He's making the plays that are simple plays that are kind of getting him going a little bit before he can make the really high-level plays," Polley said. "He's done a great job of putting in the extra time and working to get his stick where it needs to be."
Going up against then-No. 18 Colgate (4-1, 2-1 Patriot League) in only his second game back in the scarlet and white on March 7, Myers assisted on a third-quarter goal from freshman attack Jack Wilson to help the Terriers take down the Raiders 18-11.
Then, Myers had what Polley called a "breakout game" in Saturday's 17-8 Patriot League win over Lafayette College at Nickerson Field, scoring three goals on four shots and adding two assists for a team-high five points.
Though the team struggled without Myers during the 2014 season, Polley said the opportunities that other players had to step up has contributed to the Terriers' offensive depth. This has been a crucial part of the Terriers' recent success, as through seven games in 2015, 17 different BU players have registered points.
"Everybody had to step up, and players got some opportunities that they may not have gotten," Polley said. "They did a great job, which has carried over to this year as we've gotten more and more players to go along with Pat and the guys we had last year."
The Terriers will have to continue to receive offensive contributions from a number of different players as they embark on a critical three-game stretch against conference foes Bucknell University, the U.S. Naval Academy and the U.S. Military Academy. All three of those teams will be competing with BU for one of six spots in the Patriot League Tournament.
Polley said the Terriers will only become an increasingly tougher team for opponents to prepare for as Myers' confidence keeps growing with each game.
"It means the world to have another option on offense. The strength of our team offensively is our depth," Polley said. "I don't think you can necessarily concentrate on one player without somebody else stepping up … I think we're becoming difficult to scout because we have so many guys that can step up and score goals and make plays and make assists."