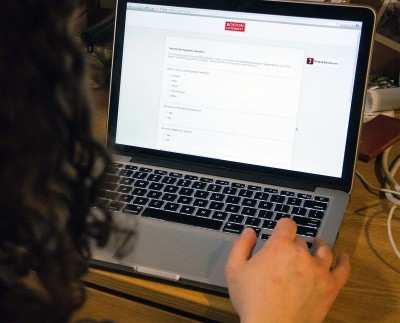 Boston University administrators launched a school-wide survey Thursday to address the issue of sexual assault on campus in an email from BU President Robert Brown and Provost Jean Morrison to the student body.
Brown said in the email that the confidential survey is meant to help the university determine sexual assault's prevalence on campus, when and where it happens and what BU does to address it.
"In addition to helping obtain a gauge of our community campus climate regarding sexual misconduct among students, answers to these questions will help the University to provide better support for people who have experienced sexual violence and to proactively plan and develop additional policies, prevention tools and education approaches," Brown wrote in the email.
BU launched the Sexual Misconduct Climate Survey Task Force in July 2014. The task force looked at national standards and other institutions' surveys and solicited student input to create one tailored to BU, Brown said in the email.
For every survey completed, BU will donate $5 to an area organization dedicated to addressing sexual violence, the email stated.
"We are committed to ensuring a safe, healthy and welcoming environment for our students," Brown said in the email. "Learning about the experiences of students and the degree to which students feel safe and respected will help us better understand how to prevent sexual misconduct and assist all students."
Several students said a confidential survey is a good step toward assuring BU has a sexual assault-free climate on campus.
"It's a good idea to I guess see how much it's actually happening because probably not a lot of people feel comfortable going and reporting things, because that whole system is unreliable a lot of the time," said Alessandra Setaro, a freshman in the College of Arts and Sciences. "But I don't know how many kids have brilliant ideas on how to combat sexual assault."
David Lowe, a junior in the School of Management, said gathering the student perspective on an issue like sexual assault is crucial.
"In colleges and schools, you never realize what exactly is going on, and you'd probably be surprised, so it's really good that the school is taking initiative to see what the students actually see and what they think is going on," he said. "It's beneficial to our student body."
Emily Latinsky-Ortiz, a freshman in CAS, said it is critical to discuss the issue of sexual violence on campus.
"It's definitely a thing on campus that we all should be talking about," she said. "[It's] human empathy."
Ritesh Singh, a junior in the College of Engineering who is currently doing a research project on the issue of sexual assault, said he likes how BU is taking an interest in exploring the area. The administration can still more effectively avoid incidences of sexual violence, though, he said.
"While most of the controversy in the news deals with the consequences of sexual misconduct, I feel as though the university has an obligation to do more to prevent incidences," he said.
Rachel Schlueter, a freshman in CAS, said she does not know how effective the survey will be in gaining an accurate perspective of the sexual assault climate at BU.
"The resources are there with [Sexual Assault Response and Prevention Center], but there's always going be a level of hesitance," she said. "When it comes to sexual assault itself, it's really hard for the victim to kind of gain that confidence. Once you start reporting it, you're opening up this whole other world."