The No. 3 Boston University men's hockey team overcame a sluggish start and outlasted the University of New Hampshire, 4-1, in a Hockey East Tournament semifinal matchup on Friday night at TD Garden. With the victory, BU advances to the Hockey East championship game, to be played on Saturday night at the Garden.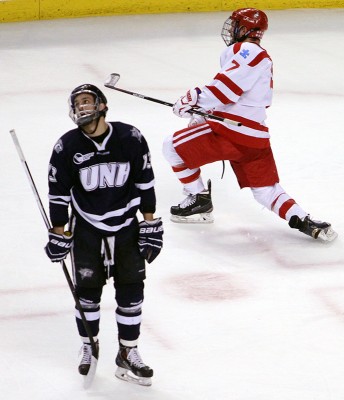 Freshman center Jack Eichel and senior assistant captain Evan Rodrigues each recorded two points in the win, while freshman forward Chase Phelps notched his first goal since Nov. 29. Junior captain Matt Grzelcyk also had an assist to extend his point streak to 10 games (eight goals, seven assists).
The Terriers (24-7-5) recorded just eight shots on goal in the first period, and fell victim to sloppy turnovers and a lack of speed. UNH (19-19-2) capitalized on BU's play, and got on the board first after a BU turnover led to an open chance in the slot for forward Tyler Kelleher.
Kelleher's shot initially hit a piece of BU goaltender Matt O'Connor's leg, but trickled through O'Connor's five-hole to give the Wildcats a 1-0 lead 14:34 into the game.
Due to O'Connor's staunch play in net, however, that would be the only goal the Wildcats would record all night. If it weren't for O'Connor, who finished with 32 saves, things could have gone significantly worse, said BU head coach David Quinn.
"I thought in the first 10 minutes they [UNH] could've had three goals," Quinn said. "I thought they really set the tempo."
Senior assistant captain Cason Hohmann snagged a goal back for the Terriers three minutes later, with a quick shot from the left circle past an outstretched UNH goaltender Danny Tirone to tie the game.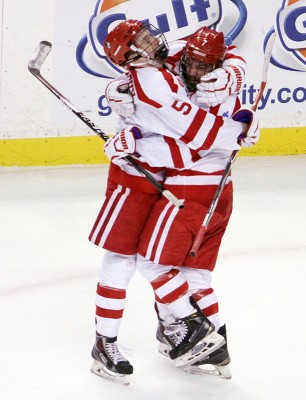 "I didn't know what was gonna happen with it," Hohmann said. "I got hammered, didn't really see where the puck went, and I got up and looked up and Grizzy [Grzelcyk] had it, and I just went through the back door. [Grzelcyk] made a great play, he's a great player. I knew he was gonna put it on my tape."
Phelps put BU in front for good with his tally at the 9:53 mark of the second period. His linemate, sophomore Nick Roberto, threw the puck on net from the right side and Phelps took care of the rest for his second goal of the season.
With 6:15 left, Eichel sealed the game for BU with a rebound goal to put BU up 3-1. Eichel, who was just named the Hockey East Player of the Year and Rookie of the Year, snatched up a shot from Rodrigues that had just rung off the post. The goal extended Eichel's point streak to 11 straight games.
Eichel added an empty netter with 2:27 remaining in the game, after Rodrigues' initial shot bounced off the post.
On Saturday, the Terriers will face the University of Massachusetts Lowell in a rematch of the 2013 final in pursuit of their eighth Hockey East title. It is the third time in seven years that BU has met Lowell in the Hockey East final. BU's last Hockey East title — in 2009 — came against the River Hawks.
But before BU can knock off the two-time defending Hockey East champions, the Terriers will need to fix a few things first, according to Quinn.
"If we're going to have any success and win championships, we need everybody," Quinn said. "Even the guys not dressed. They've got to make sure they make practice competitive and we need to be ready go from the drop of the puck tomorrow night, that's for sure.
"We can't have those starts if we're going to win championships moving forward."