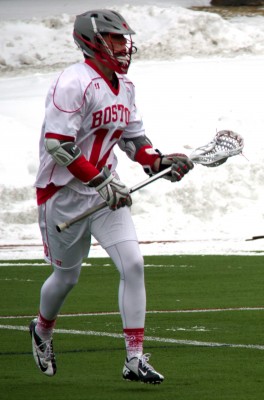 The No. 19 Boston University men's lacrosse team won its fourth game in a row Saturday against Bucknell University, once again showcasing its explosive offensive power and ability to come back.
The Terriers (6-2, 2-1 Patriot League) out-scored the Bison (6-3, 3-2 Patriot League) 11-9 after back-to-back scoring for a majority of the game. Thanks to goals from seven different Terriers, the contest would be one of six games where BU has tallied more than 10 goals this season.
"We can score a lot of different ways," said BU coach Ryan Polley. "We have a really strong attack unit that's doing a great job. We have a first line midfield group that's doing a good job. We're getting production from our second line, we're getting transition goals, we're getting goals off of the faceoff and we're scoring man-up. I think the key to our offensive production is just our balance and variety of ways we can score goals."
Monday, the team earned a No. 19 national ranking for the first time in program history. This is largely in thanks to the team's offense, which scores an average of 13.12 goals per game.
"It feels good, certainly a lot of hard work," Polley said. "We talked about it as a coaching staff and in our team meeting today, and it feels good. I don't want to take away from the significance of it, a lot of hard work, some good play and development, and a lot of things went into that, but it's not going to help us beat [the United States Naval Academy] or make the Patriot League."
Underclassmen shine
The Terriers' top five scoring leaders are a young bunch, as they are made up of freshman attack Jack Wilson, sophomore attack Adam Schaal, sophomore midfielder Cal Dearth, freshman attack Ryan Hilburn and freshman midfielder Hayden Ruiz. These five players account for almost 70 percent of the goals and points that BU has accumulated during the season so far.
Against Colgate University on March 7, it was Schaal who scored five straight Terrier goals to give them the 5-3 lead at the beginning of the second quarter. Hilburn would also tally four throughout the game, followed by Wilson and Dearth with three and two goals respectively.
Slow starts fuel hard-fought comebacks
In their last four games, the Terriers have found themselves in very similar scoring situations. At the beginning of each game, it has been the team's opponent who tallies first, sometimes twice in a row before BU is able to find the back of the net.
Against the University of Vermont on Feb. 28, the Catamounts (3-6) struck first, but then alternated goals with BU until the score was 3-2 for UVM. However, the Terriers battled back, netting six in a row giving them an 8-3 lead.
Against Colgate (4-4, 2-2 Patriot League), the Raiders tallied twice at the beginning of the first quarter, but the Terriers were able to come back with three in a row shortly after.
In a déjà vu situation, both Lafayette College and Bucknell would add to the scoreboard first, with BU being able to combat the deficit and end up on top after the four quarters ended both times.
"We just take it one play at a time," Polley said. "If we give up a goal right off of the bat, or we don't get off to a fast start, we don't really worry too much about it. It's a long game, and in lacrosse, you can score very quickly. It's such a momentum game, and we're more worried about just putting good plays together and sticking to our process throughout the game … As long as we just continue to do what we've done as a group, which is not thinking about the outcome, but just worrying about the process, we'll be fine."