The trial of Dzhokhar Tsarnaev, the 21-year-old accused of placing two bombs at the finish line of the 2013 Boston Marathon, killing three people and injuring more than 260, picked up Tuesday morning with continued testimony from Matthew Levitt. Tsarnaev has pled not guilty to all 30 federal counts for which he has been charged.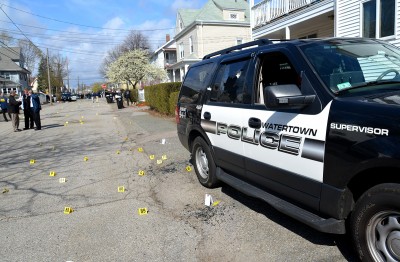 Matthew Levitt
Levitt, an expert in terrorism from the Washington Institute for Near East Policy, continued his Monday testimony about his familiarity of Muslim beliefs with respect to the writings found inside the boat in Watertown where Tsarnaev was found hiding on April 19, 2013. Tsarnaev allegedly wrote, " … I don't like killing innocent people it is forbidden in Islam but due to said [hole] it is allowed." Levitt said the global jihad movement redefines the concept of innocence.
"You are no longer innocent if you are walking down the street as a citizen of the United States," he said.
He explained that the rationale for many extremist groups is that if the West would stop killing innocent Muslims, there would be no need for reprisal attacks.
The defense asked if Levitt was given files from the computer of Tamerlan Tsarnaev, the defendant's deceased older brother.
Levitt argued that the origin of the material is irrelevant.
"At a certain point, it doesn't matter where you got them if you internalized them and were radicalized by them," he said.
Colleen Tanguay
Tanguay, a 13-year veteran trooper with the Massachusetts State Police Crime Scene Services, processed the crime scene on Laurel Street in Watertown after a police shootout during which Tamerlan died.
Tanguay testified that she works with federal, state and local agencies to help with their investigations. They assist with processing crime scenes including photography, videography, tire tracks and footwear impressions.
Crime Scene Services works by dividing the area and assigning a photographer, videographer and scribe to each area. Tanguay said there are upwards of 250 items of ballistic evidence and 450 total items of evidence and that there were bullets found in houses and cars from the night of the shootout.
The jury was presented with photographic evidence of the empty shell casings, backpacks, boxes of ammunition, green Honda and Ruger model P95 45-caliber semi automatic pistol found on Laurel Street.
David Cahill
Cahill is a Lieutenant with the Massachusetts State Police and has been on the force for 28 years. He responded to the shooting of Massachusetts Institute of Technology Police Officer Sean Collier on April 18, 2013, and he then went to Laurel Street in Watertown.
He recovered two projectiles and a 9mm weapon from the scene. The jury was presented with photographic evidence of the front seat of Collier's cruiser with a discharged 9mm cartridge case sitting in a pool of blood. The next photo showed a similar casing wedged in the passenger seat.
The next day, Cahill said, additional projectiles were recovered.
"The next day, Officer Collier's autopsy was performed, and additional projectiles were recovered from the medical examiner's office," he said.
The police recovered 266 casings on the scene on Laurel Street. Fifty-six of those casings were 9mm. They also recovered 95 bullets. Approximately six of them were 9mm projectiles.
"Upon examining all 56 casings, we determined they were from the same unknown weapon," Cahill said.
At the time, police were firing 40- and 45-caliber weapons.
Matthew Riportella
Matthew Riportella has worked for the Boston branch of the FBI for two-and-a-half years on the Organized Crime Task Force, and he participated in the Boston Marathon bombing investigation.
On April 23, 2013, he visited a firing range in Manchester, New Hampshire and spoke to the owner, Jim McCloud, Riportella said.
Riportella was given access to paperwork and surveillance video, including a receipt with Tsarnaev's name, address in Cambridge, date of birth and cell phone number. The caliber of the weapon on the receipt says 9mm. The weapon cost $170.75.
Video surveillance shows both Tsarnaev brothers entering and leaving the firing range.
Timothy Dowd
Dowd, a sergeant and 20-year veteran of the Massachusetts State Police is assigned to the collision analysis and reconstruction section.
Using specialized station and GPS equipment, Dowd recorded the GPS coordinates of each piece of evidence within three centimeters and created an aerial diagram of the scene at Laurel Street.
Christopher Donahue
The first witness called to the stand after the mid-day lunch break was Christopher Donahue, who has worked with the Massachusetts State Police crime services for the past nine years. Donahue was responsible for taking photographs of the crime scene at 40 Laurel Street in Watertown.
Donahue was shown a series of photographs of the scene and asked to identify the location of bullet holes on right side of the house. Pictures of the interior revealed how the bullets had gone clear through the wall and entered the second-floor room. Several photos showed a cracked television screen.
Donahue also recovered a box of ammunition from the crime scene. He said, after testing the box for fingerprints, he matched a partial palm print and a partial fingerprint to Tsarnaev. There were still seven live rounds in the box. An air gun retrieved from the crime scene also bore Tsarnaev's right index fingerprint on the trigger. Tamerlan's prints were found on a magazine Donahue found at the scene.
Jennifer Montgomery
DNA analyst Jennifer Montgomery was the next witness called to the stand. She testified that blood found on the Tsarnaev brothers' car keys was a match to that of Collier.
Miguel Colon
Employed by the Watertown Police Department since 2006, Colon arrived at the 40 Laurel Street crime scene at approximately 12:45 p.m. on April 19, 2013. When he arrived at the house, he saw Sgt. John MacLellan and Officer Joseph Reynolds already engaged in a gunfight.
"When I arrived on the scene, I observed Sgt. MacLellan exchanging gunfire, and his vehicle was moving," Colon said.
Colon said he tried to get the suspect's attention by shining his spotlight on him. The suspect then opened gunfire on the spotlight, resulting in a hit to Colon's car door, which was open.
During Colon's testimony, both the prosecution and the defense tried to clarify his position in the neighborhood's streets as he witnessed the gunfight and pursued the suspect, who Colon identified as Dzhokhar Tsarnaev.
Mark Preble
Preble, vice chancellor and chief financial advisor at the University of Massachusetts Dartmouth, where the defendant was a student, was also called to the witness stand to testify on various documents pertaining to Tsarnaev's time as a student at the university.
The jury was presented with a page from Tsarnaev's application for on-campus housing. Then, Preble was asked to identify a report logging Tsarnaev's entry in and out of Pinedale residence hall between the months of August 2013 and April 2014, as recorded by the university's identity card-swiping system.
The state also presented a document that Preble identified as a part of the academic appeal process. According to Preble, when students are in danger of losing their financial aid due to poor academic performance, they can file an appeal. Tsarnaev's appeal, read, in part:
"This year, I lost too many of my loved relatives. I was unable to cope with the stress and maintain schoolwork. My relatives live in Chechnya, Russia, a republic that is occupied by Russian soldiers that falsely accuse and abduct innocent men under false pretences [sic] and terrorist accusations. I am at a point not where I can finally focus on my schoolwork. I wish to do well…"
Kimberly Franks
Franks, an FBI special agent at the criminal investigation unit in Washington, D.C. was the last witness of the day. Assigned with the task of evidence recovery, Franks and a team of FBI agents arrived at UMass Dartmouth on April 21, 2013 to search Tsarnaev's dormitory room.
"On a search, especially this one, there is a lot of communication back and forth between members of the team," Franks said. Her team consisted of approximately seven members. Campus security guards were also present.
In Tsarnaev's room, located in the Pinedale residence hall, Frank's team processed many pieces of evidence, included packaging for a Smith & Wesson BB gun, a receipt from Dick's Sporting Goods for the gun, a box of BBs and several personal papers to help establish which side of the room was Tsarnaev's.
Franks is expected to continue her testimony on Wednesday.