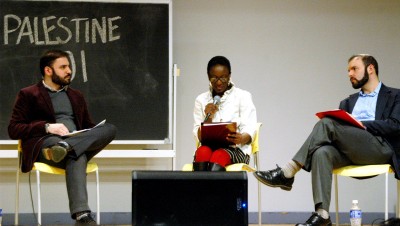 Boston University Students for Justice in Palestine hosted a discussion-based panel called "Palestine 101: #NotAReligiousConflict" on Tuesday evening in the College of Communication.
About 100 students attended the panel, which was intended to provide a variety of perspectives on the Israeli-Palestinian conflict.
The panel consisted of Christian, Muslim and Jewish religious leaders, who spoke on behalf of their respective religions. Each speaker noted that despite their religious differences, all panelists regarded human rights in similar ways.
Othman Mohammad, a Palestinian physician, spoke on the Muslim prophet Muhammad's beliefs, including the prophet's value for human life and emphasis on justice. Mohammad also highlighted the medical problems and lack of food for Palestinians.
"The whole goal behind the prophets being sent to people is to establish justice," he said. "This is a primary pillar on human rights in Islam. The sanctuary of human life is very clear in the Holy Scripture and is more sacred in the eyes of God. [Muhammad] spent his life trying to eliminate racism."
Mohammad quoted texts from the Quran depicting times when the prophet Muhammad stood up for human life, and emphasized minimizing war and focusing on justice to get peace.
Karlene Griffiths Sekou, a pastor, spoke about the importance of human rights in Christianity and Jesus's mission to spread love, help the poor and help the oppressed as an act through God.
"I am here because I am extremely passionate about human rights," she said. "The figure of Jesus as the central figure of Christianity is that this divine embodiment stood to bear witness in direct imposition to a political, social and economic caste system instituted by dominate rulers."
Rabbi Joseph Berman stressed the Jewish belief that every human being is created in the image of God and referred to a traditional Jewish sage, "What is hateful to you, do not do onto your neighbor."
Berman said he wants Israelis and Palestinians to have peace and equality.
"There needs to be a solution that respects human rights, equality and self-determination for all people who are living there and for Israeli Jews and Palestinians," he said. "There are multiple ways that could happen. As someone who is a U.S. citizen, I don't feel it is my place to dictate what the solution should be. What I want is for the U.S. to play a positive and constructive role."
Jose Godoy, a sophomore in the School of Management who helped organize the panel, said it was important that multiple religions were present and open to discussion.
"We really wanted to have the three sides represented," he said. "This was a great idea to get a religious perspective and see what religion has to say on human rights."
Ibraheem Samirah, a second-year student in the Henry M. Goldman School of Dental Medicine who helped mediate the talks, said he was happy about the turnout and the impact it had on attendees.
"People were interactive. People understood what this conflict means at the emotional level," he said. "We organized this event to increase awareness."
Several attendees said they appreciated the opportunity to hear multiple perspectives speak together about the conflict.
Zainab Kazmi, a junior in the Sargent College of Health and Rehabilitation Sciences, said hearing different viewpoints from the different faiths was an important step in discussing the Middle East conflict.
"I am pretty active in the Islamic Society [at BU], and I met a few people in SJP, so I came to support them," she said. "I hear the Islamic perspective of what happens in Palestine a lot, but hearing the perspective from different faiths brings a better understanding of what's going on."
Cassandra Villarreal, a junior in the College of Arts and Sciences, said she didn't know much about the situation in the Middle East before attending the panel and she came wanting to hear different sides of the situation.
"I am on the E-Board of the Islamic Society [at BU], and we co-sponsored this event, and I know a couple of people who are active with SJP through them," she said. "I don't know much about the Israeli-Palestinian conflict, but having these perspectives is the best way I would want to learn," she said. "I don't like hearing one source, so hearing all three is the best way to delve in."
Correction: In an earlier version of this story, the Henry M. Goldman School of Dental Medicine was incorrectly referred to on first reference. The article has been edited to reflect this change.