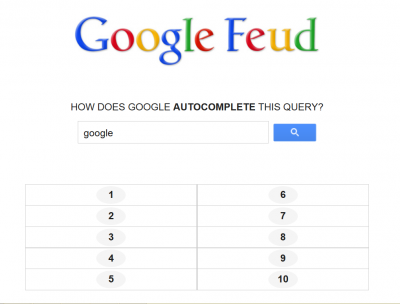 As if Google autocompletes weren't already entertaining enough, now there's a game that manages to go beyond: Google Feud.
The brainchild of College of Communication and College of Arts and Sciences graduate Justin Hook, Google Feud is an online game that takes the shape of a Family Feud survey board, with multiple hidden answers that a user guesses to answer a single question. In Google Feud, however, the game revolves around the most popular Google autocomplete, the search engine's attempts to complete a user's search request based on what other users have searched for. For example, the top three answers to, "I like guys with ___________," include "long hair," "big noses" and "tattoos." Guess how Google users filled in the blanks, and you get the most points.
Hook came up with the idea for Google Feud in early 2013 while working part-time as the producer of "The Greg Fitzsimmons Show" on SiriusXM. Looking for a way to entertain himself through comedy, Hook was particularly inspired when he heard about a game that involved the use of public Twitter data.
"I thought it would be fun to play with a massive data source like that," Hook said. "Once I found out Google's autocomplete data was publicly available, I created Google Feud rather quickly."
However, although Hook says the game is not designed to be one that you play to win, he still enjoys when players make it into a competition.
"[Show host] Chris Hardwick pitted three comedians against each other in Google Feud during an episode of Comedy Central's '@midnight,' and the results were hilarious," Hook said.
But that's just one of the bursts in popularity that Google Feud has recently experienced.
The game, upon original release, did not gain much traction. Hook said it had gotten a few thousand hits, and that was all he had expected. However, recent front-page features on BuzzFeed, The A.V. Club and other popular websites have given the game an immense amount of attention, so much so that at one point the website crashed for a short while due to the sheer amount of hits.
"One morning, I woke up to find so many people playing the game that it was crashing entire web servers," Hook said. "So I made an SOS call to Jeff Greco."
Hook met Jeff Greco, another COM alum, while they were working together on the butv10 series "BU Tonight," a late-night talk show. The two later worked together in BU's Department of New Media, now the Interactive Design department.
Hook asked Greco, who he said is more experienced in web production and interactive media, to look at the coding for Feud to see if he could adapt it to handle the new influx of players and the millions of games now being played.
"I hopped in and wrote a new version of the game that looked the same to the user, but would be less server intensive," Greco said.
According to Hook, he nailed it. With the success of the new coding, Google Feud's popularity keeps on growing, even making it into Jimmy Fallon's monologue on "The Tonight Show."
To ensure the game does not tire out or become boring to play, Greco said he and Hook keep a copy of Google autocompletes and update the data frequently.
"The nice thing is that these autocomplete answers are changing frequently with the general public's curiosity," Greco said. "We get to hold a mirror up to what's happening … The most popular 'Robert' today might not be the most popular 'Robert' next week."
So anyone worried about becoming a Google Feud champion and running out of challenges to win need not worry — Hook said there is always fun within the Feud.
"What makes Google Feud fun, I think, is trying to guess the bizarre ways Google autocompletes its sometimes very mundane searches, and trying to get in the mindset of the 'average' Google user," Hook said, "who is, apparently, insane."