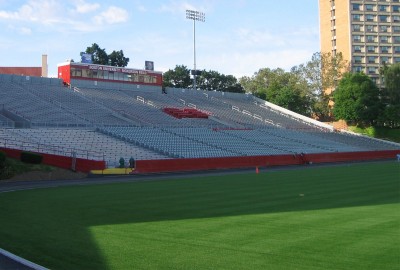 The information in the following Boston University club sport highlights were taken from the BU Club Sports Event Calendar from March 18 to March 25.
Saturday March 21 – Sunday March 22
BU men's club soccer falls to BC 3-0 in season opener
In its first game of the spring 2015 season, the Boston University men's club soccer team lost to Commonwealth Avenue rival Boston College by a score of 3-0. The Terriers had some issues finding their game in the tilt, failing to find the back of the net even once at Nickerson Field.
BU women's ultimate frisbee places eighth in weekend tournament
The Boston University women's ultimate team hit the road and found itself in southern New Jersey for a tournament against teams from the Boston area to Canada. On the first day, BU won two of its four games, bumping it to the fifth place bracket in the tourney for Sunday. After losing to Ottawa Ultimate 8-5, the Terriers fell to the seventh place bracket where they jousted with Brown University and Brandeis University for seventh. The team was unable to win these games — though lost to Brandeis by just one point — but showed improvement as the day went on, progressively minimizing the point differentials.
BU figure skating takes second place at the University of Delaware
The Boston University figure skating team came in second place at Delaware on Sunday, effectively snatching the spot from rival Dartmouth College. The Terriers were losing to Delaware by just 5.5 points after Saturday, and though Sunday brought with it some tough skates, it gave BU areas to work on for nationals in the coming weeks. Of the team, 80 percent placed first or second in his or her group.
BU men's club soccer shuts out Northeastern 1-0
On a quick turnaround Sunday, the men's club soccer team took the BC game in stride and shifted focus to crosstown rival Northeastern University. The Terriers were able to shut out the Huskies and, even though they only won by a goal, generated a number of chances throughout the game. In the second half, BU was able to break through. Senior forward Peter Luce forced a turnover at midfield, dodged a defender and fired the ball into the netting with his weak foot for the contest's sole marker. It would be enough, though, and BU picked up its first win of the season.
Quick hits:
Taken from @BU_ClubSports on Twitter
The Boston University equestrian team went to Worcester State University and pieced together a showing good enough to have eight qualifiers for regionals.
The Boston University cycling A team got going this weekend with a trip to Philadelphia for the Philly Phlyer Race in the third week of the Eastern Collegiate Cycling Conference.