Massachusetts has been deemed one of the states with the worst overall reform policies, according to national report released on March 19.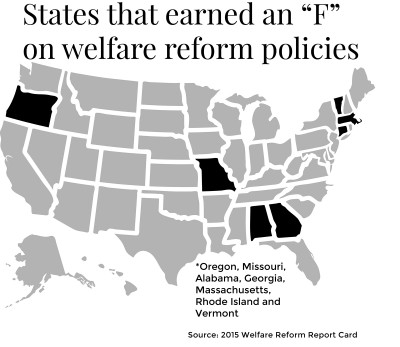 The Commonwealth was one of only seven states in the nation to be given an "F" overall grade and was ranked 49 out of the 50 states for its welfare reform, the Heartland Institute  determined in its 2015 Welfare Reform Report Card.
"Massachusetts's current set of welfare and anti-poverty programs disincentivizes work, trapping welfare recipients in long-term poverty," wrote Logan Pike, the Heartland Institute's state government relations manager and one of the report's producers, in an email. "Legislators should reform Massachusetts's welfare system by adopting policies that improve opportunities for upward mobility and self-sufficiency."
The conclusions were drawn by examining five aspects of each state's welfare reform policy: service integration, or the way in which services are delivered to the public; work requirements; limits on eligibility; cash diversion programs, or the policies that allocate cash to applicants for short term needs; and sanctions to secure compliance, the document states, he said.
The report was produced by Pike, Diane Bast, Matthew Glans and Gary MacDougal, all from the Heartland Institute, who, over a two-year period, compiled and analyzed data from each state's department of social services, U.S. Census  reports, state budget information and the U.S. Department of Health and Human Services , Pike said.
"Successful welfare reform can save lives and produce positive effects on multiple generations," the report stated. "It can save taxpayers billions of dollars and help address such serious social maladies as crime, alcoholism and teenage pregnancy. And it can demonstrate that government programs can be successfully devolved from the national government to states."
Massachusetts received an "F" grade for four of the five individual policies, excluding service integration, for which the Commonwealth received an "A." Overall, the Commonwealth's welfare reform conditions have deteriorated over time, according to the report.
"Massachusetts fell 10 places from 2008 to 2015. Its grade for work requirements fell and the state has done little to change policies while other states have improved theirs," Pike said. "Massachusetts should adopt work requirements, empower caseworkers with a cash diversion option, impose time lifetime limits on eligibility for aid and do more to enforce eligibility rules."
Other poor-performing states include Missouri, Oregon, Rhode Island and Washington, according to the report.
"Many states that earned an A or a B overall have adopted policies that move more people from dependency to self-sufficiency and incentivize work," Pike said. "These states have immediate work requirements, a cash diversion program, strict sanctions in place, strong integration with other social services and have limited lifetime aid eligibility."
Pike said states' welfare aid should include policies to help individuals become more independent. The most successful states, although each state is different, implement policies and integrate services that aid recipients in permanently transitioning into the workforce, Pike said.
"Lawmakers should consider strengthening welfare work requirements, tightening lifetime limit eligibility requirements, providing a short-term cash diversion program, implementing strict sanctions and integrating other social services," she said.
The Massachusetts Department of Transitional Assistance assists individuals and families in need by working to meet their basic needs, increase their income and ultimately improve their quality of life, wrote DTA spokesman Thomas Mills  in an email statement. In 2014, the legislature executed a welfare reform law  to foster economic independence among low-income individuals.
"[The 2014 welfare reform law] focuses on workforce training for DTA's clients, among other issues. Since the law was signed, the Department has been meeting with stakeholders as we begin to implement the changes the law makes," Mills said. "The Department plans to fully implement the law over the course of 2015. The Governor's FY16 [2016 fiscal year] budget proposal supports the Department's efforts to implement the law."
On March 4, Massachusetts Gov. Charlie Baker  and Lt. Gov. Karyn Polito  proposed  a fiscal year 2016 budget, which increased local aid by 3 percent, according to the budget overview.
Later, on March 12, Baker signed an executive order to target chronic unemployment by establishing a task force dedicated to "economic opportunity for populations facing chronically high rates of unemployment." The task force, a March 12 press release stated, is responsible for creating a strategic plan to combat the issue.
Ed Walz, communications vice president at First Focus , a Washington, D.C.-based organization focused on child welfare, said there are other areas of welfare reform that should also be of concern to state legislators nationwide, especially child welfare.
"The policies that were adopted in the mid-'90s emphasize incentives for parents, the work incentives and lifetime caps, without ever really considering the potential harm to children," he said. "I don't think there is as much of a thoughtful conversation about ensuring that we can meet the needs of children and families … It's an issue of concern for folks, but I don't think that leaders are generating a thoughtful conversation about how to get there."
Several residents said Massachusetts should be doing better in welfare reform and those who are more privileged need to rethink those policies.
Joe Corrigan, 39, of the South End, said those not affected by welfare policies tend to not think about them.
"We live in a very privileged society, so our exposure to programs like that is limited, and frankly, people who are in that privileged position don't take a lot of time to stop and take stock in how those programs are actually being affected and how those dollars are hitting the ground, so I suspect that there's always need for improvement," he said.
Natalie Wittenburg, 24, of Allston, said she was surprised by Massachusetts' low grade.
"I would think that Massachusetts would do pretty well, but overall, we could definitely do better with the homeless and providing homes," she said.
Cailtin Hemdal, 20, of Kenmore, said it is extraordinarily difficult to make a life in Boston while being paid minimum wage.
"I work a minimum wage job, and I know others that work minimum wage jobs, and I know it's really hard for them to make rent, especially living in the city," she said. "It's expensive to get places, it's expensive to pay rent, so I think reexamining that could definitely be beneficial."