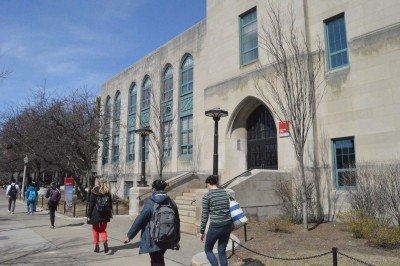 Boston University's Metropolitan College has reached its 50th anniversary after half a century of providing a variety of learning experiences for students.
Celebrations, which will begin during the fall 2015 semester, will highlight some of the contributions and achievements of the school, said Lubomir Chitkushev, the assistant dean of MET.
"Half a century is a major milestone," he said. "The 50th anniversary will be an opportunity to thank and recognize many people who have contributed to MET excellence over all those years."
MET offers traditional and online classes geared toward working professionals with busy schedules, and differs from the typical university experience, Chitkushev said.
"MET classes are mostly at graduate level, so the student population is mature, dedicated, engaged and usually with excellent professional experience," he said. "MET has a very diverse student body which consists of mostly graduate students in professional programs, with almost half of them online, as well as with a number of international and undergraduate students."
Within the past decade, MET has established new programs of study that are part of the "latest educational trends" in multiple industries, Chitkushev said.
"MET of today is more global than ever, serving larger and more diverse populations of students than ever and offering the cutting-edge academic programs through the latest innovative teaching technologies," he said. "All encompassed are great achievements for a college so new and so unique."
Chitkushev said the master's program in criminal justice was the first full online degree at BU, followed by those in management and computer information systems, which have been named among the top online programs by U.S. News and World Report.
Joseph Boskin, an emeritus professor of history in the College of Arts and Sciences who has taught in MET, said he was surprised to hear that the school opened 50 years ago.
"I didn't know that MET was reaching its 50th anniversary, but I've been around since it started. I taught there for 41 years," he said. "I had no idea it started only nine years before I came on there."
Boskin said he has enjoyed teaching in MET because of the students he has encountered and the learning that occurs in the school.
"There is a different kind of arrangement because students come from a variety of places," he said. "The Metropolitan College is an extraordinary college at the university because it fills in all the gaps in the university curriculum. What the other departments don't do, MET does. It is also a highly innovative college because it does things that the rest of the university doesn't do."
Having staff and researchers with practical experience contributes to the foundation of the learning environment at MET, Chitkushev said.
"MET is all about innovation and exploration of new areas, programs and delivery methods, which makes it a very unique place for studying, teaching and engaging in applied research," he said.
Several MET students said they were not aware about their school's milestone, but expressed how being in MET has been a positive experience.
Luis Cuello, a second-year student studying management studies, said he likes how he can continue pursuing an education to further his career with classmates who are doing the same.
"I want to pursue consulting or a promotion in my current job to a management position," he said. "Most of my classes are at night, like I have day classes and night. Most students are older … [and] a lot of them already have jobs, so it's cool to have classes with all of them."
Carmen Sotomayor, a second-year student who plans to apply to medical school, said she appreciates the "consistency" MET provides in its studies and the resources it makes available to students.
"My intention is to be a pediatric oncologist in the future," she said. "I very much like the flexibility that the Metropolitan College provides to students. It is kind of difficult to fit schedules of people who are working and have other backgrounds, but the advisers are really nice, and they try to help us get into our career changes."