Existing bike lanes on Commonwealth Avenue will be replaced with protected bike lanes known as "cycle tracks" between the Boston University Bridge and Packard's Corner in a project known as the Commonwealth Avenue Multi-Modal Redesign, the City of Boston announced in a Wednesday press release.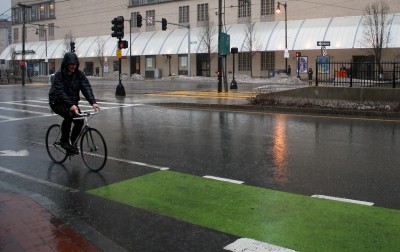 "Comm. Ave. is a true multi-modal street. It's full of people on trains, buses, walking and bicyclists. It's also one of our highest crash areas for cyclists in the city," Boston Mayor Martin Walsh said in a Wednesday press conference. "We've decided to implement a protective bike lane on Commonwealth Avenue  from the BU Bridge to Packard's Corner. The design for Commonwealth Ave. calls for a protected intersection, the first in Boston and some of the first in our country."
The physical implementation will call for a redesign of that area of Commonwealth Avenue, including safer intersections for bikers and automobiles.
"This [the redesign] utilizes a sizable separation between bikes and cars at intersections to reduce 'right hooks,' a common cause of bicycle/motor vehicle crashes where motor vehicle drivers turning right crash with cyclists continuing straight," the release stated. "This is a cutting edge safety feature built into the design along with bike boxes and a corner deflection island to maximize safety while accommodating turns and providing better visibility for both motor vehicle drivers, cyclists and pedestrians."
President of the student-run bicycling advocacy group BU Bikes, David Miller, a junior in the College of Engineering, was a primary advocate for the project and stressed the importance of the redesign for commuters who use Commonwealth Avenue daily.
"A lot of students who live in Allston, myself included, use that stretch every day to commute. When you're biking there, you have to be on your toes," Miller said. "Unfortunately, it's more often the case than not that you have to be watching for drivers who have a hard time seeing you. It can be very dangerous for cyclists."
Miller said he advocated for the separated track to ensure safety.
"We were advocating for some kind of cycle track, where the bike lane is physically separated from the moving lane. Most commonly, this uses a row of parked cars to separate the lanes," Miller said. "The bottom line was that there needed to be a physical barrier."
Many biking advocacy groups have been pushing for these measures for over two years, with BU Bikes serving as one of the leaders in the advocacy initiative.
"Our role as advocates was just to on a day-to-day basis get signatures on the street, and encourage students to petition. We also organized the meeting in December to talk about this issue, inviting many biking advocacy groups and the city. At that meeting, we talked about what benefits the cycle tracks would bring to Comm. Ave, and the city listened," Miller said.
BU has been an avid proponent of bike safety, and was behind the mayor on this decision to make this project a reality, said BU spokesman Colin Riley.
"BU has been working on this for years. We appreciate all the efforts to balance the needs of all users of Commonwealth Avenue," he said. "We're now taking a close look at the most recent design improvements with a focus on improved safety and better enforcement, the keys to the successful redesign of Commonwealth Avenue."
Galen Mook, founder of CommonWheels in Allston, a cycling advocate and a 2009 BU graduate, also approved of the new design, calling it "a pivotal moment for the Transportation Department."
"It's taking a very holistic view of transportation, and the outcome is that this will benefit all users," he said.
Mook has advocated for this project from its inception two years ago, and described the process of getting the city to pay attention to the issue as difficult.
"I've been aware and advocating for this project for over two years, we've been a little disheartened by designs the city had proposed in the past. After a good bit of advocating, we took the mayor on a bike ride on Comm. Ave towards the end of November," Mook said. "That experience really helped him understand the dangers of the poor design of the road from a cyclist's perspective."
BU will be among the first in the country to have a protected intersection, which is a piece of the redesign of Comm. Ave.
"[The redesign is] very progressive of BU to be thinking of the safety of their students as the top priority, and to be willing to put such an innovative street design in the middle of their campus is a bold move," Mook said.
Several students said safer bike lanes are critical for bikers on BU's campus and the initiative is a long time coming.
Spencer Showalter, a sophomore in the College of Arts and Sciences, said the added safety makes the idea for redesign obvious.
"I always found Comm. Ave. to be a really dangerous road, especially when you add all the students coming and going," Showalter said. "I think changing the design to make it safer is a no-brainer. It just makes sense."
Lisa Lau, a senior in CAS, said biking on Commonwealth Ave can be scary, and the project would help a large population of commuters.
"With so many bikers all over campus, it's smart to make sure they'll all be safe. Drivers on Comm. Ave. are known for being fast and furious, and especially in that area of BU, it can get really scary for a biker," Lau said. "If they put bike lanes in, it would encourage more people to use their bikes and streamline traffic. I think that would be a good use of resources."
Aastha Thakkar, a freshman in CAS, said the proposal should have gone into effect a long time ago.
"Comm. Ave is really dangerous for bikers. I think they should have already done something to make sure they're safe," Thakkar said. "Bikers are out on the road with the cars, and they're not allowed to use the sidewalks, so it makes it really hard. More people will start using their bikes if they make a protected lane."