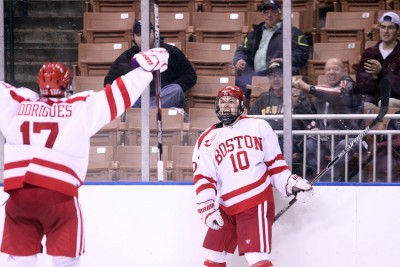 MANCHESTER, New Hampshire — It played out as most of us would expect — if you could actively foresee a thrilling overtime hockey contest.
The No. 2 Boston University men's hockey team was staring at a familiar situation going into the third period of Friday's NCAA Northeast Regional contest against No. 17 Yale University — down by a single goal with the season on the line.
The Terriers' (26-7-5) track record over the final period has been well established this season — outscoring opponents by a 65-24 margin going into their tilt with the Bulldogs (18-10-5).
Once again, BU followed the narrative, scoring two goals in the third before junior forward Danny O'Regan pushed the Terriers past Yale in overtime Friday evening at the Verizon Wireless Arena.
"I think this game, in a lot of ways, was a microcosm of our season," said BU head coach David Quinn. "I thought we looked a little nervous early, give a lot of credit to Yale for the way we played early, I thought were at their "A" game, they were just a half-a-step quicker, winning a lot of battles. Then it was funny, once they went up 1-0, I thought we just started playing better.
"It was almost like the pressure was off. We're a lot more comfortable being down then we are ahead for some reason and I just thought after that, we started playing."
In a contest that pitted the nation's top offense against the top defense, the stingy Bulldog D-corps appeared as the early victor, stymieing BU's imposing forwards while jumping out to a precarious 1-0 lead off of a power-play strike from defenseman Nate Repensky at 13:19 in the second period.
However, Repensky's special-teams strike proved to be the shot to the arm that the Terriers needed.
"It was eerie the way the feeling kinda changed on the bench when we went down 1-0," Quinn said. "Everybody seemed to be a little bit looser and we started to do the things we needed to do if we're gonna generate offense and have some of the success we've had through the season."
After a few shifts of sustained pressure in Yale's zone, BU finally broke through against goaltender Alex Lyon.
A flurry of Terrier attempts were batted down by Lyon, but the ECAC Goaltender of the Year could do little to stop a put-back shot from junior forward Ahti Oksanen, who knotted the score at 1-1 at 8:21 in the third.
Just under three minutes later, the Terriers capitalized again, with senior assistant captain Evan Rodrigues besting Lyon with a wrist shot from just outside the left circle, handing BU its first lead of the contest.
The Bulldogs would not roll over after Rodrigues' tally, with forward Frankie DiChiara forcing the puck past BU junior goaltender Matt O'Connor at 13:12 in the final period.
The game would carry over into overtime, where BU punched its ticket to its first NCAA Regional Final since the 2008-09 campaign.
While both squads exchanged scoring chances, BU's first line of O'Regan, Rodrigues and freshman center Jack Eichel hemmed the puck into Bulldogs zone, unleashing a bevy of shots against Lyon.
Eichel's quick wrister ricocheted off the Yale netminder and careened to the right of Lyon, where an opportunistic O'Regan quickly tapped it into the cage to hand BU the dramatic win.
It might have the followed the status quo of a typical BU comeback, but O'Regan said that Friday's dramatic victory was without a doubt cut from a different cloth.
"Just shows our resilience and when we do the right things, work hard and make simple plays," O'Regan said, adding: "This late in the season, Hockey East playoffs, now this tournament, we're down late in the game, and I know it was in my head, I'm sure it was in a bunch of guys' heads, but we don't want this to be our last game that we play together, especially for our seniors."
"We just didn't want it to end."