MANCHESTER, New Hampshire — The No. 2 Boston University men's hockey team is going back to TD Garden. And this time, it'll be for the biggest trophy of all.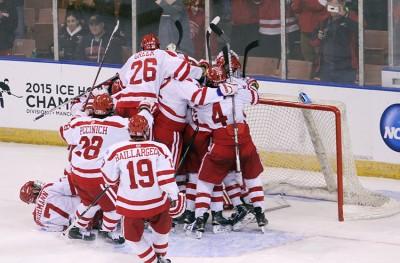 Thanks to the heroics of senior assistant captain Evan Rodrigues, who notched the opening and game-winning goals of the contest, BU (27-7-5) earned a berth in the Frozen Four with its 3-2 victory in the NCAA Northeast Regional final over No. 7 University of Minnesota Duluth on Saturday at Verizon Wireless Arena.
The Terriers advance to the Frozen Four for the first time since 2009, where they will face the winner of the West Regional, No. 3 University of North Dakota. Duluth (21-16-3) ended its season with the loss.
"We know that there's still a big challenge ahead of us," said BU coach David Quinn. "But we're certainly going to enjoy this over the next few days."
The game-winner came with 2:24 remaining — and with one second left on a power play. After a holding minor on UMD defenseman Andy Welinski was called, Rodrigues toe-dragged around a defender in the right circle and sent a puck in — past a screen from junior forward Ahti Oksanen — for the BU victory.
Rodrigues (three goals, one assist in the tournament) was named the Most Outstanding Player of the Northeast Regional for his efforts. Junior forward Danny O'Regan (one goal, two assists) and junior captain Matt Grzelcyk (one assist) were also named to the Northeast Regional All-Tournament Team.
Rodrigues' first goal came after freshman defenseman Brandon Fortunato won a puck battle and passed it up to the senior. Rodrigues then swatted the puck past diving UMD goaltender Kasimir Kaskisuo to give BU a 1-0 lead just over seven minutes into the game.
"It was a great play," Rodrigues said. "The puck came across and he [Fortunato] pinched up on the D, there was a battle for the puck and he just wacked it. It went flying up in the air and I took a nice swing at it."
Just 37 seconds into the second period, Duluth earned a goal back when defenseman Willie Raskob blasted a shot from the point past an out-of-position BU junior goaltender Matt O'Connor. BU tied the game again less than three minutes later, however, with a close-in shot from junior forward Matt Lane.
UMD forward Kyle Osterberg tied the game at 2-2 at the 7:31 mark of the second period when his shot bounced off of O'Connor's glove and trickled behind him into the BU net.
"It was kind of like a heavyweight fight," Quinn said, describing the flow of the game. "We controlled the first few rounds. Almost had a couple of opportunities to deliver a knockout punch. Then they'd come back and dominate for about 10 or 12 minutes. Then we'd come back and dominate for about 10 or 12 minutes."
Rodrigues' goal would be the difference-maker, but the Bulldogs earned chances after pulling their goaltender with 1:37 remaining. A huge scrum near the BU net with around 30 seconds left in the game nearly sent in a puck for a Duluth tie, but after a review, there was concluded to be no goal.
The Terriers return to TD Garden for the national semifinal on April 9. BU is a perfect 4-0 in that building this season, and has won a Beanpot title and a Hockey East Championship on the Garden ice.
BU's biggest wins — and its trophies — that have come on its road to the Frozen Four have come through a series of nail-biters. And the Terriers have relied on a number of heroes along the way. They've had eight wins when they've been tied or trailing to begin the third period, and have had seven overtime wins this season.
Saturday's game was barely different. Quinn perhaps put it best when he opened his postgame press conference.
"Well," Quinn said, "I'm running out of things to say."