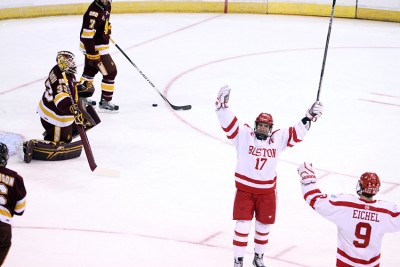 MANCHESTER, New Hampshire — When senior assistant captain Evan Rodrigues corralled the puck in the low right circle on a late third-period power-play chance, junior captain Matt Grzelcyk hoped he would fire the puck on net.
But as Rodrigues has shown, that's not his style.
Instead of shooting immediately, Rodrigues displayed the patience he's had on many occasions this year for the No. 2 Boston University men's hockey team. He waited, toe dragged to avoid a diving No. 7 University of Minnesota Duluth defenseman and only then did he put the puck on net.
And for the 21st time this season, the senior assistant captain got the result he wanted. His goal with 2:24 remaining in the third period all but clinched a BU (27-7-5) berth in the Frozen Four.
"It was unbelievable," Grzelcyk said of the goal. "It's something that he's done quite a lot over his four years here. To have that patience down that stretch — we've really relied on him, Jack, Danny and guys who can perform in the clutch.
"As soon as I passed it to him, I wanted him to shoot because he seemed to be wide open, but he made a great play and just a great shot after that."
The goal ended a four-point (three goals, one assist) weekend in which Rodrigues was named the Northeast Regional's Most Outstanding player. A season ago, this accomplishment might have seemed unfathomable.
Rodrigues, like so many others on last year's 10-win team, had poor years, at least statistically. He finished with 14 points, only two higher than his freshman season output. As head coach David Quinn has said more than few times this season, Rodrigues probably did lead the country in something — missing the net.
Yet Rodrigues stayed the course, and more than not, he's not shooting wide of goal. He's not leading the nation in that this year, but he is second overall in points, only behind his teammate, freshman center Jack Eichel. His propensity to score in big situations can't be understated either. In both Beanpot games and the two at the Northeast Regional, Rodrigues had a point on every game-winning goal.
"After what we went through last year, coming into this year I knew I didn't want my senior year of my career at BU to not be what I expected to be," Rodrigues said. "I've been putting as much work as I possibly can to make this a special season. I think I've just gained more and more confidence throughout this year and I'm getting to play with two great linemates."
To score his first goal Saturday night, though, Rodrigues probably needed a golf coach and some vibrato more than confidence. At the 7:17 mark of the opening period, Rodrigues stood well positioned in the slot, as freshman defenseman Brandon Fortunato looked to feed him the puck. Fortunato sent a chip pass to Rodrigues, who batted the puck out of midair and past Duluth (21-16-3) goaltender Kasimir Kaskisuo.
Although it was his 60th point of the year, the upper-cut whack was something that hasn't been seen from Rodrigues. With a smile and a laugh, Rodrigues said he knew his golf-like shot was going in the whole way.
"At the end of practice we play games where we bat pucks up in the air and just start whacking them," Rodrigues said. "So I kind of knew I had a beat on it and I'd make contact."
After BU's win over Duluth, the team sits just two wins away from a national championship. This team's senior class, which has battled various ups and downs throughout the course of its four years, is so close to one last positive note that could potentially erase all of the negatives. Rodrigues' patience just might pay off again.
"Me and Cason have been through quite a bit of adversity starting our freshman year," Rodrigues said. "Then we came back, we had a good Sophomore year. We were one goal away from making it to the tournament. We were one of the hottest teams in the country going into that game and that was kind of heartbreaking. Then, obviously, last year was the exact opposite of what BU hockey is.
"To get back to the Garden and into the Frozen Four for our Senior year, you couldn't cap it off any better way."