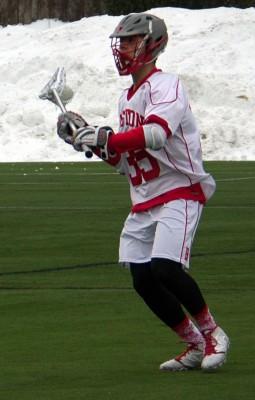 In what marked a battle for first place in the Patriot League, the No. 19 Boston University men's lacrosse team was trumped 14-6 by the United States Naval Academy on Saturday.
The game, which was televised nationally on CBS Sports Network, also signified the Terriers' (6-3, 3-2 Patriot League) first loss in over a month and the end of a four-game unbeaten streak. While BU had plenty of momentum going into the conference encounter, Navy (7-3, 5-1 Patriot League) grabbed control of the encounter early and often.
Midfielder Colin Flounlacker, who finished the day with three goals and one assist, got the best of freshman goalkeeper Colin MacDougall with a shot from the left of the cage. MacDougall, who was handed the start in place of sophomore goalkeeper Christian Carson-Banister, was then quickly scored upon again by Navy midfielder Alex Heyward.
Before BU could get their bearings straight, it was already staring a 2-0 deficit right in the face.
"I thought we started slow, and a lot of that was Navy played really well," said BU coach Ryan Polley. "They did a 10-man ride and really pressed us in our clear, and we were 0-for-5 clearing in the first quarter. I thought that really wore us down, and we had to play a ton of defense. We never had the ball because we kept turning it over."
Although BU's defense was bending and showing signs of nerves, the offense found its way into the game when sophomore midfielder Cal Dearth ripped a right-handed shot past Navy goalkeeper John Connors. Despite signs of life, the Midshipmen punished BU yet again when Flounlacker fired past MacDougall with 2:10 left in the first quarter.
Several more goals were traded before the stroke of halftime, though, and BU entered the locker room down 5-3. There was undoubtedly work to be done, but the Terriers were by no means out of the game entirely.
"We calmed down a little bit and talked about it being a new game, but we certainly had to match their intensity, compete for groundballs and do a better job on the ground," Polley said.
The Terriers began the second half with a sense of urgency and hope, but the more experienced and physically stronger Midshipmen approached the third quarter with efficiency of the highest caliber.
Navy scored seven goals on MacDougall by the 2:32 mark of the third to open up a nine-goal lead. Freshman and sophomore attacks Ryan Hilburn and Adam Schaal eventually each got a goal back for the Terriers, but the damage had already been done.
"In the third quarter, they just had the ball the whole time, and we couldn't get stops," Polley said. "They made an adjustment where they dodged out of midfield more, and they ended up scoring six of their seven goals from midfield in the third quarter. We let guys get their hands free, make some shots and didn't give our goalie much of a chance."
Hilburn scored again in the beginning of the fourth quarter to record BU's sixth and final tally, but Navy again showed its might and extended its goal total on the afternoon to 14 through attacks Patrick Keena and Dave Little. By the time the final whistle came around, the 14-6 scoreline had been decided and BU's hopes of grabbing sole ownership of the conference lead had vanished.
It was an afternoon where a normally strong and comprehensive BU side struggled to muster up a consistent performance. While dejected by the performance, Polley emphasized that it is important for his team to put the performance behind them and turn all attention toward their next game, which takes place Saturday against the United States Military Academy.
"This week was a tough week for us because we started to receive some public recognition, media attention, there were articles about us, and we were on national TV," he said. "For a young team who hasn't been through that before, it can serve as a distraction.
"We talk about rolling our sleeves up next week where the game won't be on TV, nobody is going to be talking about us, and getting back to work. We'll work towards getting better this week and preparing for Army on Saturday."