About 200 Greater Boston area residents convened at Harvard Business School's Burden Hall Tuesday evening, where a panel of Olympic experts from the City of Boston outlined major priorities and plans for the city's infrastructure going forward with its bid for the 2024 Olympic games.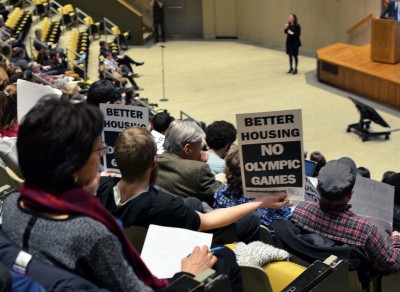 Moderated by the city's liaison John Fitzgerald of the Boston Redevelopment Authority, Boston 2024 representatives David Manfredi and Nikko Mendoza were joined by two-time paralympic athlete Joe Walsh for the City's third community meeting surrounding its 2024 Olympic bid, where they emphasized their focus on community engagement and further explained their proposed budget and infrastructure plans.
"What the games really provide is a forum for planning on a very big scale," said Manfredi, co-chair of Boston 2024, who stressed the vehicle the Olympics can provide for lasting infrastructure improvements. "And to really understand how you can look out to 2030 and out to 2040, look at the possibilities for convention, look at the possibilities for infrastructure … for new housing and use the games as a catalyst to achieve some of those goals."
At the panel, Manfredi outlined Boston 2024's major principles being considered during the process of creating a feasible plan for the hosting the 2024 Olympic games. These principles include sustainability, walkability and accessibility, legacy value and leveraging existing values, he said.
Although he acknowledged that these plans are subject to change, he said that as of now, the city plans to designate 33 competition and non-competition Olympic venues, 26 of which are within two kilometers of a commuter rail or Massachusetts Bay Transportation Authority station.
"Our approach is … to make the games walk-able, but more importantly transit-friendly and make the most transit-accessible games ever," he said.
Manfredi showed plans for a "Waterfront Cluster" and a "University Cluster," with a cluster referring to a group of venues in a small area. The Waterfront Cluster would be made up of the University of Massachusetts Boston, which is the proposed Olympic Village, and the South Boston Waterfront. Meanwhile, the University Cluster would be composed of Harvard University, Boston University, Massachusetts Institute of Technology and Beacon Yards.
"The University Cluster is somewhat the intersection of three great universities: Harvard, BU and MIT," he said. "Not in a traditional sense, but in a sense whereas the universities almost touch each other."
Manfredi said as of now, Boston 2024's plans for BU include the use of Agganis Arena.
Beacon Yards, which Manfredi explained has been a vacant rail yard for generations, is also part of the University Cluster.
"Good planning can make land available where it is … valuable, where it has access to transit, and where it is adjacent to these universities," he said.
Mendoza, Boston 2024's vice president for engagement strategy and external affairs, explained that the City's engagement with people of Boston could have been stronger in the earlier phase of its planning, and the City is now working to strengthen its public involvement.
"We absolutely recognize that perhaps we don't always agree. There are many questions that we still need to answer for all of you, but we're absolutely committed to doing that," she said. "Rich Davey, our CEO, has said many times that Bostonians want to be engaged early and often. We did not get the early part right."
The City's total budget for the Olympic Games is $9.1 billion, with sources of revenue being sponsorship, sources of revenue, ticket sales, public/private partnerships and federal budget. She said the city would discontinue its bid plans to host the Olympics if federal funding is not provided for security at the games.
Mendoza emphasized plans for the games to serve as catalysts for areas of the city's infrastructure in need of renovation.
"These games could be a significant catalyst to … [execute] necessary transportation projects that have already been discussed that … are recognized as instrumental and necessary for the city of Boston as well as the greater Boston region," she said.
The MBTA's Red, Orange and Green Lines could see significant improvements as a result of the Olympic games, should Boston receive the bid, Mendoza said.
The games will create about 1,900 construction jobs per year, approximately 5,000 games operation jobs and more than 4,000 tourism jobs, Mendoza said.
She listed the 10 principles of Boston 2024's "Commitment to Our Future," including infrastructure improvements, affordable housing units and support by the majority.
"I think the most important thing here that I want to make sure you all know about … is number 10 here, that a majority of the people of Massachusetts support bidding for the 2024 Olympic and Paralympic games," she said. "We at 2024 are supporting a statewide referendum to be placed on the statewide ballot in November 2016."
The City's next community meeting is scheduled for April 28th at Roxbury Community College.
Several attendees expressed concerns about the City's transparency surrounding the games and the impacts of the prospective Boston 2024 Olympics on issues, such as affordable housing and climate change.
Daniel Kontoff, 54, of Brighton, said the environment cannot afford the potential effects of the Olympics should it take place in Boston.
"We don't have funding for the MBTA. How can we fund the Olympics?" he asked. "We have to look at climate change. It's a reality, not a fantasy. We have to look at the future. Olympics are based on fantasy. There's nothing wrong with sports, but we can't afford it."
Cassie Hurd, 30, of Allston, said residents can't afford to have increased housing costs.
"I'm with the Boston Homeless Solidarity Committee, and we have concerns surrounding displacement, homelessness and housing," she said. "Affordable is a very relative term. What is affordable to some people is not affordable to other people, so our concern is for increased low-income housing. The Olympics have a history of displacing individuals directly through forced evictions but also indirectly through rising housing costs."
Tim Robertson, 25, of Cambridge, said while the committee's engagement was late, he is finally seeing improvements in the way Boston 2024 is involving the public.
"A lot of the responses were basically concerned around the community impact and the concern that most of the community was not engaged appropriately beforehand," he said. "It's good that they're doing it at some point, but it would have been better if they would have engaged us sooner. The community seems to have concerns that are not being addressed."