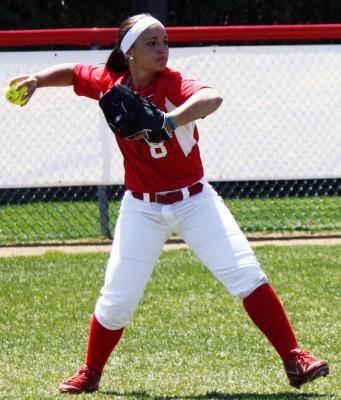 After playing 22 non-conference games in the warm climates of Arizona, Texas and Florida, the Boston University softball team will finally begin Patriot League play with a Wednesday doubleheader at Lehigh University.
A three-game series with Lehigh (19-3, 3-0 Patriot League) was originally scheduled for March 21 and 22 before being postponed to Wednesday. The first game is set for 2 p.m.
The Terriers compiled a 6-16 record in four different tournaments over the first month of their 2015 season, dropping their first 13 contests before winning six of the last nine. Wins over Iowa State University (4-3), Long Island University Brooklyn (11-3 in six innings) and Seton Hall University (4-2) highlighted a 3-2 finish to the Michele Smith Spring Break Invitational, while also defeating the University of Maine (5-2) and Quinnipiac University (11-2 and 13-2, both in six innings) in the Florida Gulf Coast University Spring Break Classic.
"The way we ended spring break, it felt like we were getting into a groove and playing with each other," said BU coach Kathryn Gleason. "I've been so proud of how the kids have kept their energy level and their enthusiasm and they haven't shown any frustration that we haven't been outside or play games. They just really dedicated themselves to practice and getting better. We're going to reset, and it's a whole new season for us going into the conference season."
Due to the unprecedented winter weather, the Terriers' last seven scheduled contests have been postponed or canceled. BU last played on March 15, a 6-1 loss to the University of Tennessee at Chattanooga in Clearwater, Florida, while Lehigh played a home series on Saturday and Sunday, but Gleason does not anticipate that this discrepancy will have any effect on the game.
"I think we're well rested, and it just gives us some more energy and fire to get going, be ready to play and just appreciate the opportunity to play," Gleason said. "It really is a whole new ballgame and a whole new season for us."
BU started the season as the favorite to win the Patriot League, and Lehigh finished second in the preseason poll. While the Terriers have started slowly this season, the Mountain Hawks have come out firing, winning 19 of their 22 games and currently riding a 10-game win streak.
Junior Alexis Watanabe leads the Mountain Hawks in both batting average (.467) and slugging percentage (.533). Freshman Nicole Yozzo has been successful on 13 of her 15 stolen base attempts while recording a .455 average and 21 runs scored. Senior Emily Bausher and sophomore Christine Campbell have combined for a 1.37 ERA and a 17-3 record in the circle.
Lehigh picked up three Patriot League wins with a series sweep of Lafayette College last weekend. The Mountain Hawks shut out the Leopards (0-3, 1-19 Patriot League) in the series while scoring a total of 21 runs.
"We know every game is a battle," Gleason said. "From one through seven, it's a battle. The records and the history are put aside. They're very well coached, and they've added some speed to their lineup this year. They present both power and speed, and we need to handle that, so that's something we've worked on in practice. But we just want to focus on playing the game."
BU freshman outfielder Emma Wong continues to lead the Terriers with a .407 average and .519 slugging percentage. Senior first baseman Emily Felbaum and sophomore catcher Gabi Martinez hold the team lead with three home runs each, with Wong recording the team's only other long ball. Senior Lauren Hynes has pitched 61 innings for BU this season, earning a 4.82 earned run average and three complete games.
"We're not a team with a superstar," Gleason said. "It's a team effort. Each and every day, each and every game, each and every inning, it's somebody different stepping up. That's what we talk about all the time. It's a team. At the end of spring break, our offense started to come around, and it was contagious. Even if they hit the ball hard and were out, they could count on their teammate behind them to pick them up. It's a total team effort, and that's what we're going to be condensing into the next six weeks."