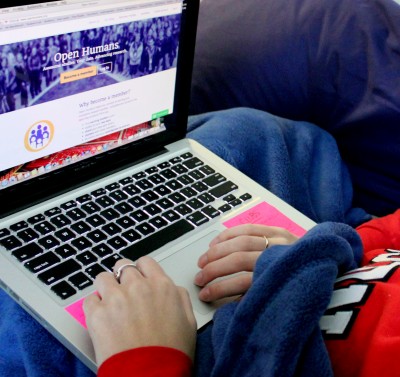 Sharing information is commonly associated with posting to social media sites such as Facebook, Twitter and Instagram. Now, thanks to researchers from the Harvard Personal Genome Project, people can also share their personal health information online through Open Humans, a platform for open source medical data.
Open Humans, formally launched March 24, is an online platform where people can publicly share their biological data to be used in medical research studies. The project was founded by Jason Bobe, director of community for the Personal Genome Project and Madeleine Price Ball, director of research for the Personal Genome Project. Part of the intent behind the Open Humans project is to encourage more people to participate in research studies, Bobe said, for the benefit of society as a whole.
"We have really exciting and interesting questions that we hope people will find engaging," Bobe said. "We hope this project will help people understand that even healthy people have a role to play in advancing medical research."
Currently, members of the Open Humans community have the choice of participating in three different research studies: the Personal Genome Project at Harvard, which investigates genetic variations and their effects on health, American Gut at the University of California, San Diego, which focuses on bacterial microbiomes in the human digestive tract and GoViral at New York University, which tracks the spread of viruses across U.S. cities.
What makes the project unique is its policy of equitable data sharing, Bobe said. While many research studies do not follow up with participants and maintain a shield of anonymity and secrecy, Open Humans aims to facilitate the open exchange of information between people willing to share their health data and researchers who can use that data for studies. Members are provided copies of their results, which they can then donate so that other researchers may use them in the future.
"You have a federally protected right to access your own medical records, but no such right exists in the research community," Bobe said. "We really feel that when people have the ability to access and share their health data, beyond the limit of a single research study, they can really get involved and help advance medical research."
The Open Humans project is funded by the Robert Wood Johnson Foundation and the Knight Foundation. John Bracken, vice president of media innovation for the Knight Foundation, commended the Open Humans network for its use of the Internet to connect researchers and their subjects.
"Think about the opportunities that this project presents for Americans to come together and learn and be informed," Bracken said. "When more people participate, when they have access to and pool their data, it accelerates research and generates more knowledge about health."
Despite its potential benefits, though, the extremely public nature of the data being shared raises serious questions about members' privacy. In order to address this problem, the founders devised an informed consent process for the site, which includes a quiz, to ensure that people understand the risks involved before signing up.
"Your DNA is basically a 6 billion digit social security number," Bobe said. "That's really important for people to understand, particularly when we're making publishing decisions. We've really advocated for informed consent documents where sharing is an explicit goal of providing this data."
The website offers several different privacy options. Members can choose to share their information only with the studies they sign up for, or to make their data a public resource that anyone can access. Bobe said he also acknowledges that different people have varying levels of comfort when it comes to sharing medical data, but that those most open stand to make the greatest impact.
"I think it will have an impact, because that's how the Human Genome Project was. Because they made everything publicly available, that's how the field moved forward," said Rekha Raghunathan, a second-year grad student in molecular and translational medicine in BU's School of Medicine. "So, similarly, if you can access the specific data people share on this site, you can use that information for your research and move it forward."
In Bobe's eyes, though, the Open Humans network is about more than just sharing medical information — it is also about changing public attitudes toward research. Bobe said he hopes to transform medical research from an austere topic to a cultural activity that can engage the public.
"We want to make participating in research a cultural activity that people just do, the same way they go to sports games, or go to concerts, or go to the library," Bobe said. "I hope that this platform will help raise awareness about the social and personal value of participating in medical research and get more people involved."