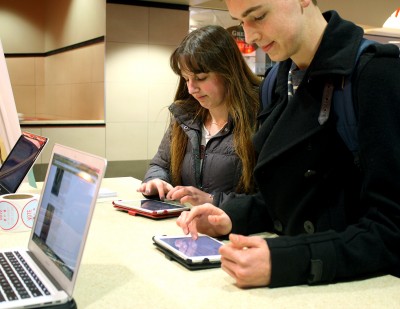 As a piece of the Student Government election ballot, Boston University students have the opportunity to vote in a referendum about whether the university should divest from fossil fuel investments.
The referendum, which opened with the rest of the SG ballot this past Monday and will run through this coming Monday, will gauge voters' opinions about stopping investment in the fossil fuel industry, but it will not have any legislative or immediate effect, the ballot question stated.
Students For a Just and Stable Future, a BU student group dedicated to addressing climate change and other environmental concerns, brought the idea of a referendum to the SG Senate in February. Senate passed the proposal to put the question on the ballot with 23 votes in support, seven against and two abstentions, The Daily Free Press reported on Feb. 17.
Rachel Eckles, vice president of SFJSF, said voting in support of divestment is just another way for students to be able to truly make a difference in such a big issue.
"What students tend to think is that these issues are way too big for them to do something about. Being a part of a larger institution that does have a lot of power in society is a very useful medium to make these changes happen," Eckles, a sophomore in the College of Arts and Sciences, said. "BU can make a serious change by divesting."
Stephen Chang, the chair of the Senate, said multiple groups on campus helped prepare the referendum.
"The Senators decided to send the proposal to our Elections Oversight Committee to refine the wording and work on the mechanics," Chang, a CAS junior, wrote in an email. "The Chair of the Committee worked with the SEC and the divestment group on the details."
Opposing and supporting information about the divestment and the referendum are available on the Student Election Commission's website. Students can vote through the student link on the same page where candidates for the SG elections are chosen.
Claire Richer, the president of SFJSF, said she is hopeful that students will vote yes to show their support for divestment.
"The divestment campaign is happening across a range of universities, and many universities who have done a referendum like this one have seen success in students voting yes," said Richer, a senior in CAS. "Most people don't know what divestment is, so we're trying to spread the word a little more this week."
Eckles said the referendum comes at a crucial time, with the Board of Trustees Advisory Committee on Socially Responsible Investing currently discussing the issue of fossil fuel divestment.
"Two years ago, the Board of Trustees formed a committee called ACSRI that discusses divestment and other investment issues," she said. "They are currently discussing fossil fuels in an official capacity, so if this referendum results in a student opinion that yes, the school should divest, then it could really encourage the committee."
While some may think that divestment could damage the university's endowment, Eckles said, in the long run, such a decision should not financially hurt the university.
"I have been doing a lot of personal research recently, and I have found out that rarely does divestment hurt endowment in the future," she said. "You want endowment to be diverse, and divesting would make it less diverse, but I personally think divesting now would be better for our endowment. We don't know where these companies are going in the future."
Several students said they support the idea of the university divesting from fossil fuels.
Nahar Chowdhury, a junior in the Questrom School of Business, said divesting and not supporting fossil fuel companies would be a better move in the long run for the environment.
"It's definitely better to no longer invest in fossil fuels," she said. "It's definitely more sustainable and definitely better for the environment to encourage use of alternative energy, instead of fossil fuels."
Jimmy Scheckowitz, a sophomore in CAS, said his initial response to divesting was a positive one, though he cannot foresee what exactly it would do in the long-term.
"I guess it could be some kind of commitment to support some other source. Reliance on fossil fuels is pretty striking so yeah, it could be a good thing," he said. "I just wonder where it's going to lead to necessarily. I can't really imagine what's going to happen that far in the future, but it certainly doesn't seem like a bad thing."
Michaela Spannaus, a senior in the College of Communication, said divesting from fossil fuels would be in accordance with BU's recent efforts to be more environmentally friendly.
"BU is a pretty sustainable campus, and they pride themselves on how far they've come in that respect," she said. "Even if you look around, you can see all of the steps we've made to become a more sustainable campus. That would just be one more step in us becoming that much more green in our efforts to save the environment."
Correction: An earlier version of this story incorrectly referred to Students For a Just and Stable Future on first reference. The story has been edited to reflect this change.