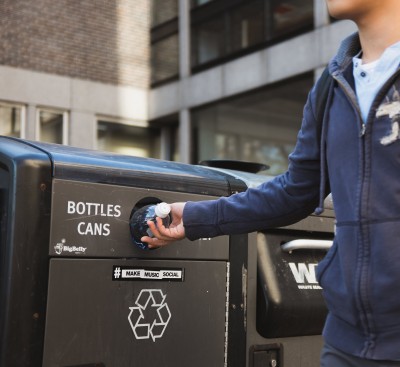 Although a recent study suggests that university sustainability movements may harm a school's finances and stifles conversation, several officials at Boston University agree that their sustainability efforts are positive rather than negative.
The report, released by the National Association of Scholars, said colleges and universities often trick students with promotional materials or programs designed to "'nudge' into new patterns of behavior" that are in line with sustainability goals, a March 25 press release from the association stated.
Lisa Tornatore, the outreach coordinator at Sustainability@BU, said the study fails to account for green improvements that programs like BU have made.
"I absolutely think BU sustainability is helping us," she said. "If I didn't, I don't think I would be in this job. Sustainability at BU has really helped the university, specifically reduce operating costs as well as reduce our greenhouse gas emissions."
BU reduced its greenhouse gas emissions by 25 percent since 2006, which is six years ahead of the goal benchmark for 2020, The Daily Free Press reported on Oct. 24, 2014. The university shares the goal with the City as part of Boston's Climate Action Plan.
The ultimate goal of sustainability, Tornatore said, is to reduce the university's environmental footprint. With over 18 student organizations that represent different facets of sustainability, BU offers many opportunities for students to get involved and create a community through the lens of sustainability, she said.
Peter Wood, co-author of the study and president of the NAS, said he hopes BU will not be one of the many institutions that censor and criticize those who disagree with sustainability.
"The sustainability doctrine is something that sounds very good to people who only have the superficial acquaintance with it," he said. "But once you begin to look more closely at sustainability, you find out that it is an anti free-speech doctrine, that it is a 'we know the answers, and we are not going to allow you to ask any further questions,' doctrine. Those things undercut good education."
Henrik Selin, the associate director of the division of international studies at BU and an associate professor of international relations, teaches policymaking on environment and sustainable development. Selin said the study is likely skewed based on NAS's history, mission and ideological leanings.
"The report is incredibly biased and does not add to the very important debate about campus sustainability in any productive or meaningful way," he wrote in an email. "The report also gravely misrepresents what campus sustainability programs, such as the one at BU, actually seek to achieve."
The NAS report stated that 695 institutions have signed the American College and University Presidents' Climate Commitment, requiring signatories to reduce their carbon footprint to zero and incorporate sustainability into everything they do, Wood said. BU has not signed the commitment.
"[BU] appears to be a kind of passive recipient of this doctrine. It has a number of faculty members who are nationally recognized leaders in the sustainability movement, but it has none that are critics of that movement," Wood said. "Why doesn't BU show some leadership in presenting to the world both sides of an important debate?"
Tornotore said BU is working to educate students on issues such as climate change and fossil fuel divestment.
"[Divesting from fossil fuels] is a serious decision the university is considering," she said. "Regardless of which side of the argument you're on, and especially if you're on the fence … there are two educational events the committee has scheduled in April."
Wood said universities will not affect fossil fuel companies by divesting, so institutions should keep their stocks from those companies.
The question of divestment from fossil fuels is currently on the Student Government ballot and available for students to vote on through the BU Student Link. The referendum vote does not hold any legislative power.
Several students said they do not view BU's sustainability efforts as unhelpful or harmful to the university.
Alex Heubeck, a senior in the College of Engineering, said he does not agree with the report's proposals.
"If anything, even if [divesting from fossil fuels] doesn't have an effect, talking about it makes people more conscious and responsible for what they're doing," he said. "Even if it doesn't have an effect on the bigger case, it has an effect on them personally, which matters … They [BU] definitely make an effort to make people conscious about sustainability."
Patrick Johnson, a senior in the College of Arts and Sciences, said while Sustainability@BU has some good aspects, it ultimately misses the big picture.
"In general, sustainability programs are pretty mute," he said. "In reality, the majority of contribution to climate change doesn't come from individuals. It comes these very large social institutions. We can all overnight stop showering and stop using light bulbs, but it won't really change much. BU's sustainability program is not focusing on the core issues. It's making a collective issue into an individual one."
Caroline Birsner, a senior in CAS studying environmental analysis and policy, is involved in several sustainability initiatives at BU, including Divest BU. Birsner said she has read the NAS study and feels the report unfairly criticizes university sustainability programs.
"I definitely disagree with what the authors said," she said. "Their fundamental argument is that universities are being too academic and making sustainability too much a part of our curriculum. They are criticizing universities for being too academic, which is just bizarre to me … Academic initiatives in sustainability are what we should be doing."