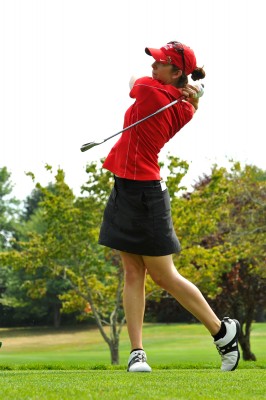 The Boston University women's golf team finished in sixth place in the Middleburg Bank Intercollegiate tournament this week. The Terriers recorded a team total of 959 over three rounds and were the highest finishing Patriot League team.
The tournament took place at the 5962 yard, par-72 Plantation Course at the Kingsmill Resort in Williamsburg, Virginia, with 36 holes played on Monday and 18 holes played on Tuesday.
BU started the tournament strong on the opening day. Sophomore Adela Cejnarova fired two rounds of six-over 78 and sat in a tie for 15th individually. Junior Emily Tillo shot rounds of 82 and 76 while freshman Phyllis Tang recorded an 80 and 81 in the first two rounds. Senior Kristyna Pavlickova (83-83) and senior Flor Canedo (91-100) rounded out the day one scoring for the Terriers. As a team, BU shot a two-round total of 641 and was tied for sixth place after the first day of competition.
"After the first round, I wasn't very pleased with my game," Tillo said. "I knew I left a lot of shots out there, and my short game was not where it needed to be. I just took a step back and asked myself how badly I wanted to play well and how bad I wanted it"
On day two, the Terriers continued their strong play. Tillo made the biggest jump up the leaderboard out of any player in the tournament with a final-round best even-par 72, which earned a tie for 10th place overall. Cejnarova continued her consistent play with a third-straight 78 and finished in a tie for 18th. Tang, Pavlickova, Silverman and Canedo also contributed rounds in the 80s, as BU broke out of a tie with the United States Naval Academy to capture sixth place alone in the tournament.
"I think [Tuesday] really turns the corner for us emotionally for us heading into the spring," said BU coach Bruce Chalas. "Emily [Tillo] continued her tremendous play all year and all spring. She's been playing great. I was happy to see Adela [Cejnarova] play three good, consistent rounds. She's worked hard on her game this year and the last week-and-a-half in particular. Her ball striking the last three rounds was great. Phyllis [Tang] continues to be real consistent for us."
BU started the season with a win at the Dartmouth Invitational in New Hampshire. A team-total of 595 was the best 36-hole score in program history, including a program-record 291 in the first round that gave the Terriers a 17-shot lead. All five Terriers shot under 80 in both rounds and all finished in the top-18 individually.
BU later finished sixth in the Yale Fall Classic, seventh in the Diane Thomason Invitational and seventh in the Courtyard Classic to round out the fall.
Cejnarova was named Patriot League Golfer of the Month in October 2014 and recorded a team-best scoring average of 77.83 in the fall. She tied her own program-record low round of three-under 69 in the first round of the Courtyard Classic. Tillo took home the same award in September after winning the Dartmouth Invitational with an even-par total of 144 (70-74).
"I love that course," Tillo said of Hanover Country Club, site of the Dartmouth Invitational. "I seem to always have positive memories from that course, so that was great to not only win individually but win as a team. That keeps you going the rest of the season, and it keeps you motivated. That's why you practice, that's why you play your hardest, because you want to win and you love the thrill of competition."
The Terriers started the spring strong as well, finishing 15th out of 40 teams at the Kiawah Island Classic. Tillo made a hole-in-one en route to a final-round 73 in South Carolina. She also tied for sixth individually at the North Florida Intercollegiate, held in her hometown of Jacksonville, with rounds of 74, 77 and 71.
BU will now take on Brown University on April 11 before completing its regular season in the Battle at the Bay tournament the next two days at Metacomet Country Club in Providence, Rhode Island. The Patriot League Championship is scheduled for April 18 and 19 in Annapolis, Maryland, where a win will earn an automatic bid into the NCAA Regionals in early May.
"We're really excited about that opportunity," Chalas said. "We've been talking about it all year and it's definitely high priority. We're taking a short trip to Pinehurst to practice this weekend and I think that's going to get us in good shape for Brown and then the Patriot League tournament."