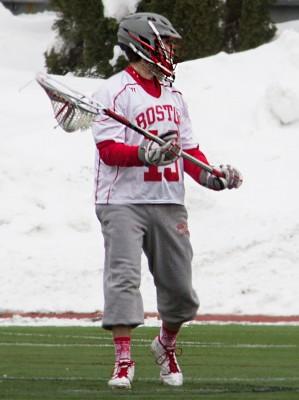 The Boston University men's lacrosse team will look to bounce back from a tough loss on Saturday, as it takes on the No. 15 United States Military Academy in an important Patriot League match this Saturday in West Point, New York.
The Terriers (6-3, 3-2 Patriot League) had a chance to claim sole possession of first place in the League rankings this past Saturday, but were unable to slow down the No. 18 United States Naval Academy in a 14-6 loss. Freshman attack Ryan Hilburn was able to notch a hat trick in the game, and fellow freshman and goalkeeper Colin MacDougall had 15 saves in his first collegiate start.
BU coach Ryan Polley said the fact that the Terriers went into the game ranked No. 19 in the nation, their first ranking in program history, played a significant role in the loss.
"I think a lot of it had to do with our team being hunted for the first time," he said. "For the first year and a half, we were the team that was chasing after teams ahead of us, and for the first time, that changed. Navy really respected us and were bummed we were ranked ahead of them, so we were the hunted.
"I think there were some added distractions with some things we've never experienced before being ranked, like the game being on national television and playing in a bigger stadium. There were a lot of things that we just hadn't gone through before. It was a learning experience for everyone."
Polley also said his team simply was not the better team on the field Saturday.
"But at the end of the day, give Navy all the credit," he said. "They were the better team, and they played better, and that was probably the most telling thing as to why we lost. Give them a lot of credit."
The Terriers will try to get back on track without their starting goalie, sophomore Christian Carson-Banister, who is dealing with an arm injury. Carson-Banister is second in the Patriot League in save percentage with 55.6 percent and only lets up 8.09 goals per contest.
"Christian is going to be probably week-to-week from here," Polley said in regard to Carson-Banister's injury. "He most likely will not play this weekend, and then we'll hopefully get him back in another week or two."
Although MacDougall proved he could compete at the collegiate level, Carson-Banister's injury comes at a bad time, as the Terriers get ready to face one of the best offenses in the nation. The Black Knights (7-3, 3-2 Patriot League) average 7.7 assists and 20 points per game this season, both good for first in the Patriot League. Army is led by senior John Glesener and sophomore Cole Johnson, who combine for an average of roughly seven points per game. Polley said slowing down Army's offense will be the key to the game.
"We have to account for their best player, Glesener," he said. "He's a first team all-league guy. Their offense has become a little harder to guard this year because they're so balanced. They have a lot of guys who could score, so we're going to have to have a really good day as far as our defense goes.
"We got to keep them in front of us and challenge all shots," Polley added. "We're going to have to be aggressive and do a little better job with our 1-on-1 defense, which was a problem against Navy, and contest all shots."