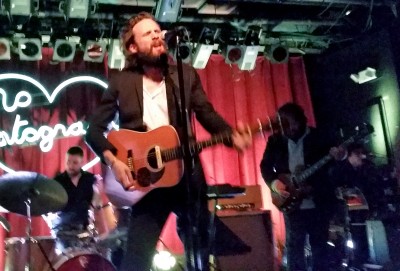 "I've got nothing to hide from you," Josh Tillman belts on his knees, as he facetiously attempts to shelter his head under his suit jacket.
Tillman — better known as folk-pop artist Father John Misty — is performing his song "When You're Smiling and Astride Me." The line, teetering between authentic sentimentalism and tongue-in-cheek flippancy, perfectly reflects Tillman's persona.
At his performance at the Paradise Rock Club on Tuesday night, Father John Misty gave the audience a crafted performance, while bringing to life the simultaneously introspective and charming personality that makes his music so attractive.
His newest album, "I Love You, Honeybear," which was released in February, presents a transition in Tillman's life. "Honeybear" provides a clear and honest look into Tillman's relationship with his wife, while also retaining signature absurdist lyrics. In "Bored in the USA", Tillman sings, "How many people rise and think / Oh good, the stranger's body's still here / Our arrangement hasn't changed." The new level of candidness about relationships, combined with his bizarre storytelling, is daring and original, and it definitely shone through during Tillman's act.
Before Tillman appeared on stage, garage-rockers King Tuff opened the night. Outfitted in denim vests and long hair almost reminiscent of the glam metal days, Tuff — a moniker for Kyle Thomas, who toured with a bassist and a drummer — was a surprising choice for an opener, considering Misty's acoustic, folk attitude.
Nevertheless, the crowd quietly enjoyed them, even though they didn't dance as intensely as King Tuff's target audience might have. One audience member, presumably there solely for King Tuff, tried moshing in the middle of the floor, shoving the mortified onlookers around him.
While the music of Tuff and Misty may differ, Tuff felt like a surprisingly apt companion in terms of his, to quote one audience member, "lovable" spirit. Thomas at one point gave a shout out to his mother, who was in the crowd, and had apparently made cookies for the band earlier on. Despite more aggressive music, their jovial temperament matched Misty's and set the mood for the main act.
Father John Misty came on in a tight black suit, with long black hair contained behind his ears. His beard felt like a remaining token of his bygone days with folk band Fleet Foxes, and his boldness, if not heard in his music, was undeniable on stage. He danced dramatically, often falling to the floor for the emphasis or swinging around the microphone stand in a manner more characteristic of a pop star than a folk singer.
At one point, Tillman got on his knees and took the hand of a girl in the front row of the audience, pressing it against his heart as he crooned one of his more romantic tunes. Another time, he took the phone of a girl recording his performance and sang right into the camera until he finished the song. It was hard to tell if this was done to publicly scold her for being glued to her phone during his performance, or to give her a priceless video to show her friends. Perhaps it was both.
While Tillman made full use of the center of the stage, his band stood unassumingly in the background. Equipped with two guitarists, a bassist, drummer, keyboardist and a violin and mandolin player, the band filled out the orchestral, large-scale sound felt in "Honeybear." The diversity of instruments that the band members utilized — ranging from a slide-guitar to a key-tar — reflected Father John Misty's genre-stretching tendencies. While most of his music is based in folk, Tillman is not afraid to switch over to a more electronic sound, found in "True Affection," or a country twang, especially with "Strange Encounter."
Perhaps what's so charismatic about Tillman and his show is that the audience can tell he really does have nothing to hide. His intimate performance, complete with generous audience interaction and full-hearted confessional lyrics, certainly made it seem that way.