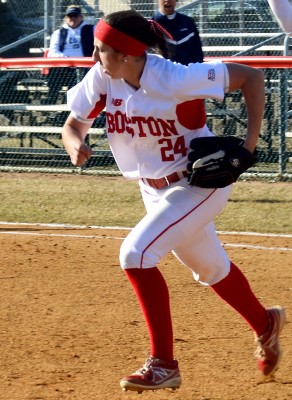 Finally playing a consistent schedule after the long winter, the Boston University softball team is still searching for consistency after dropping two of three games to the College of the Holy Cross this weekend.
"The overwhelming theme of the weekend was just putting all three facets of the game together," said BU coach Kathryn Gleason. "Offensively, we did what we need to do to win all three games. I think the pitchers started us off on a better tone. But the defense, they just need to pick up the ball."
The Terriers (7-21, 1-4 Patriot League) started their weekend with a 6-3 loss to Holy Cross (3-8, 2-4 Patriot League) in the first of a three-game set. BU jumped out to one-run leads in both first and second innings, but costly errors allowed Holy Cross to pull ahead in the middle innings. Sophomore shortstop Brittany Younan, senior left fielder Mandy Fernandez and senior first baseman Kendra Meadows each recorded two hits while sophomore pitcher Makinna Akers gave up six runs, three of them earned, on nine hits over five innings of work.
"It's really difficult, especially with the conditions we were dealing with yesterday," Gleason said. "We had wind gusts of 50 miles per hour. It was some tough conditions yesterday. We knew that going in because we hadn't played in the Northeast in a while. But I thought they did a great job responding. I was proud of them for that."
BU then rebounded strong in the back end of the Saturday doubleheader as a six-run second inning propelled the Terriers to a 9-1 five-inning win. Down 1-0 in the second, freshman designated player Jilee Schanda drove in junior first baseman Lauren Hynes for the tying run. Sophomore centerfielder Moriah Connolly later singled in sophomore catcher Gabi Martinez for the eventual winning run. Younan added a two-RBI double and later stole home to cap off the big inning. Junior Melanie Russell pitched five strong innings for the win, allowing just the one run on six hits and six strikeouts. Seven different Terriers crossed the plate at least once in the game, while four players recorded multiple hits in the win.
"It's contagious," Gleason said. "We tweaked the lineup a little bit and put Moriah [Connolly] up there to lead us off, so we were going speed right away. I thought it was a good lineup combination, and we got contributions from all throughout the lineup."
The Terriers could not keep the offense rolling into Sunday afternoon though, as Holy Cross picked up an 8-4 win. The Crusaders jumped out to a 3-0 lead in the top of the first inning, but BU then chipped away at the lead as freshman right fielder Emma Wong recorded an RBI groundout in the bottom half and Connolly singled in a run in the second. Holy Cross extended the lead to 4-2 before senior second baseman Emily Felbaum drove in two runs with a triple in the third inning. Holy Cross then took the lead for good with a run in the fourth and added three in the top of the seventh to seal the win.
BU has won two games in a row just twice this season, but lost two in a row just once since spring break as well. The Terriers have scored more than five runs in five games this season but have given up more than five runs on 16 different occasions and have allowed more than 10 runs in five games.
"We've been inconsistent on the mound, we've been inconsistent on defense and we've been inconsistent at the plate," Gleason said. "Inconsistency is the keyword, not only from inning to inning but from game to game. I think if we focus on practice and being consistent then we'll get what we need to get done. We're just at being consistent in all three facets of the game."
The Terriers now have 23 games to play in 28 days before the Patriot League Championship Tournament, and Gleason said she is confident that her team can find some consistency over the final month of the season.
"We're a good team, I still believe that," Gleason said. "When we put all three of those things together, we'll be where we need to be. There's a lot of season left, there's a lot of schedule left and a lot in front of us. April is going to be a busy month."