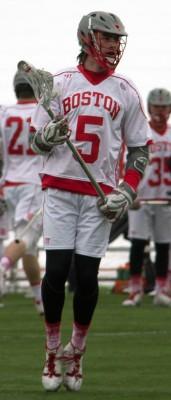 After spending the last two-and-a-half weeks on the road, the Boston University men's lacrosse team will return home to the friendly confines on Nickerson Field on Tuesday night when it welcomes Harvard University.
The game marks BU's (6-4, 3-3 Patriot League) penultimate nonconference contest, but most importantly, it will serve as an opportunity for the Terriers to burst out of a minor slump. After working up a four-game unbeaten streak in the tail end of February and the majority of March, BU is coming off two lopsided defeats.
The rut began with a 14-6 road loss to the United States Naval Academy on March 28 and was furthered by a 17-8 road loss to the No. 13 United States Military Academy on Saturday. With two uncharacteristic results like that, BU coach Ryan Polley said the Terriers have their sights set on righting the ship and taking the Harvard (5-5) game one play at a time.
"We really need to get back to trying to get one stop at a time because some things are lingering from not doing that," he said. "We need to take it one offensive possession, one faceoff, one ground ball at a time. It's really important that we get back to that mentality because it was so successful for us earlier in the season."
As important as returning to their style of play will be, the Terriers will also need to shore up the defensive side of the game. Freshman goalkeeper Colin MacDougall, who has played the last two games in place of injured sophomore Christian Carson-Banister, has let up an average of 15.5 goals.
While MacDougall has struggled with keeping the ball out of the back of the net, a great deal of responsibility also falls on the Terriers' ailing defensive corps and team clearing difficulties. However, Polley said the message is clear: everyone in the program needs to look inward and raise the bar when the other team is in possession.
"It has been a combination of a few things," Polley said. "Everybody has to step up when someone like Christian goes down, and we haven't across the board. The message isn't about our defense or Colin in particular, but about guys stepping up, making plays and paying attention to detail. We just have to compete at a higher level."
On the offensive side of the ball, the Terriers were similarly below par against Navy (7-4, 5-2 Patriot League) and Army (8-3, 4-2 Patriot League). After reaching double-digit scoring in six of their first eight games, they could only muster up seven goals scored on average in their last two games.
That statistic has largely been buoyed by the stellar play of freshman attack Ryan Hilburn and sophomore midfielder Cal Dearth. They combined for eight goals and four assists against Navy and Army, but the rest of the offense has been relatively stale.
The laboring offense could very well be helped by Harvard's own defensive struggles, as the Crimson are currently allowing 13.33 goals a game. Goalkeeper Bryan Moore lets in 12.04 goals in per game, but Polley said it will still be challenging to get the best of a strong Harvard side.
"They're a great team that is very balanced, great at attack and has great defense," Polley said. "They've had some guys out who have come back and have a nice mix of experience and youth players who are doing some great things for them. This is a great challenge ahead of us."
On the offensive side of the ball, the Crimson's goal-scoring ability will likely cause concern for the Terriers. They are scoring 13.5 goals per game and are led by a combined 59 goals and 32 assists from the attack trio of Devin Dwyer, Ian Ardrey and Deke Burns.
On top of the stellar play of Dwyer, Ardrey and Burns, Harvard is coming off an impressive 10-9 win over No. 10 Cornell University on Saturday. Just prior to that, they dropped a bitterly close 21-18 loss against No. 9 University of Albany on March 25.
Given the Crimson's strong form and a highly motivated Terrier side, Polley said Tuesday night's game is shaping up to be a highly contested affair in which the emphasis will be on improving in all facets of the game.
"We are most concerned with getting our mojo back and playing good lacrosse because we haven't played up to our ability the last two games," Polley said. "Whether it's because of us playing great teams or not preparing the right way, the most important thing is getting back to playing strong lacrosse. We just have to play better across the board, and it will be our focus in the lead-up."